by Martin Waligorski
Introduction
Of all artifacts at the Imperial War Museum in London, the beautifully preserved German WWII Jagdpanther especially catches the eye. I took some pictures of the vehicle for the IPMS Stockholm Web Site. Here they are.
The SdKfz 173 Jagpanther was the result of the choice of the Panther tank chassis for the development of a tank destroyer able to mount the excellent 88 mm PaK 43/3 L71 gun. The basic chassis, power train and lower hull were used intact and new superstructure was designed. To simplify production, the glacis plate was extended up at the same angle, this allowed the use of the standard Panther bottom hull and nose plate. The original sides of the Panthers were set at too much of a slope to allow for a large fighting compartment and thus a new and simpler hull side plate and sponson assembly was designed. This same development was adopted for the Panther G, and provided better side protection at less cost and effort. The main armament was the 88 mm gun mentioned above. A bow MG 34 in a ball mounting was provided and most vehicles had a two piece barrel to facilitate changing worn barrel sections.
The Jagdpanther was the finest German tank destroyer of the war. Fast, well armored and well armed, it was an extremely effective weapon, very popular with its crews. Only 382 were built and there were never enough to meet demand.
The IWM example is the command version of an early vehicle. It was built by MIAG in July of 1944 (chassis number 300054) and served in the sPzAbt 559.
SdKfz 173 Jagdpanther in Detail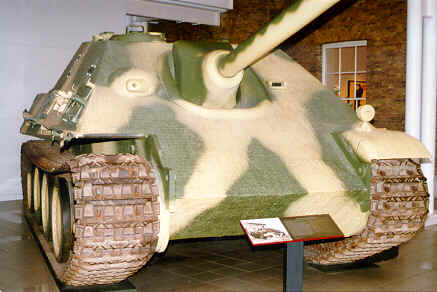 The general view of the Jagdpanther at the Imperial War Museum in London shows that the vehicle is in pristine condition.
Photo: Martin Waligorski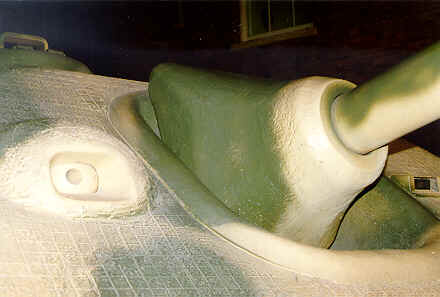 Close view of the mantlet protecting the gun. This is a standard production vehicle with a small nearly flush mounted mantlet; late production examples had a larger bolted design. Of note is also fine pattern on the armor plate. It is a non-standard application of Zimmerit peculiar to early Jagdpanthers..
Photo: Martin Waligorski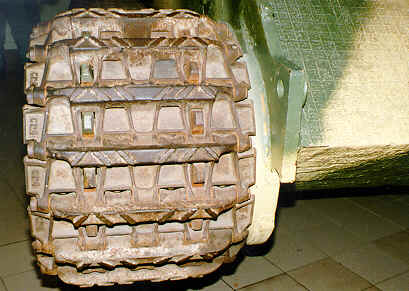 This photo demonstrates the detail of the track links.
Photo: Martin Waligorski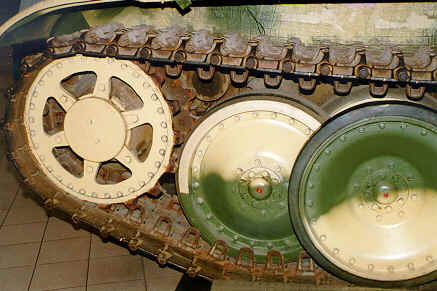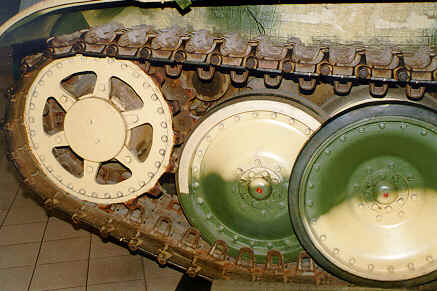 The sprocket wheel and overlapping road wheels at the front part of the vehicle. These where identical to those used on the standard Panther tank.
Photo: Martin Waligorski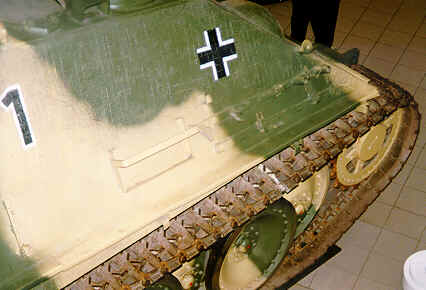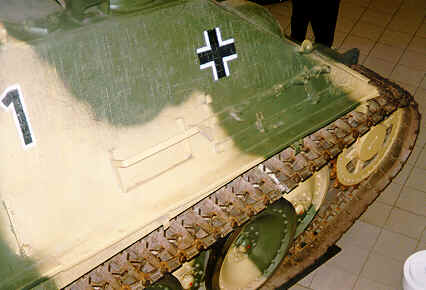 Lokking up, this is the right side of the hull…
Photo: Martin Waligorski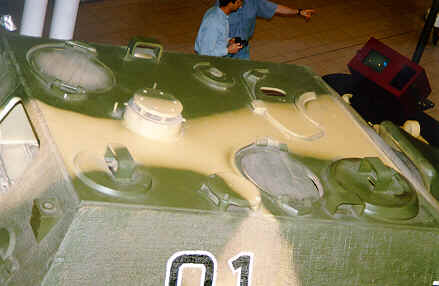 …and the top of it, showing a multitude of hatches.
Photo: Martin Waligorski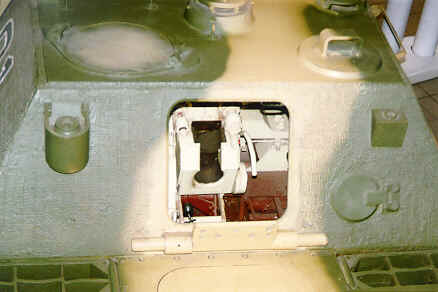 This hatch at the rear side of the fighting compartment has been deleted, allowing the viewer to see the rear part of the gun with its loading mechanism.
Photo: Martin Waligorski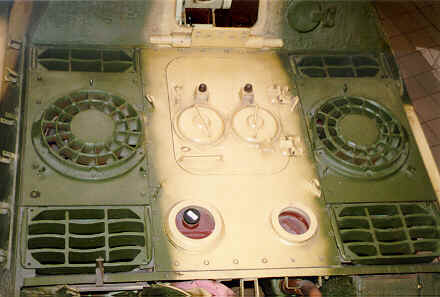 The top engine cover is full of detail which should be interesting for the modeller.
Photo: Martin Waligorski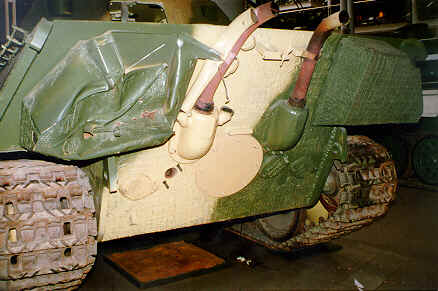 The rear view of the tank destroyer shows the impressive (single) exhaust pipes. The purpose of the elastic backpack at the left side of the photo is not known.
Photo: Martin Waligorski