by Urban Fredriksson & Martin Waligorski
---
   

From the Editor
Urban Fredriksson's Color Reference Charts were first published on the web as early as 1991 – on rec.models.scale newsgroup. The material was then published on the web as part of the newsgroup's FAQ. In 1998, Urban gave us his kind permission to revise and update the charts. Since then they have been hosted at the IPMS Stockholm's site. The charts have been excessively updated since, with new contents, more user-friendly format and on-screen colour samples, these charts are an one-of-a-kind, indispensable piece of colour reference for modellers.
Introduction
---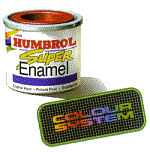 This part of Urban's Color Reference Charts focuses on authentic military colours organised by country and time period. It also contains general information, helpful hints, the description of FS 595b standard and its use in modelling.
The Part Two deals with model paint ranges and colour conversion between different paint manufacturers. It can be accessed through the link below.

Color Reference Charts – Part II
For clarity, the helpful information about using the charts has been included in both parts.
General
---
This section contains general information about the charts and helpful hints about using them.

Using the charts
General help, notation conventions, sources.

A Few Notes About Accuracy
How accurate are these colour references? Is there an absolute reference?

Using Model Paints
Which type of paint should you use?
Federal Standard
---
United States Federal Standard 595a/595B (also abbreviated FED-STD-595B) has become a de facto standard for communicating colour information between researchers of historical camouflage colours and modelling enthusiasts around the world.

Federal Standard 595B to model paints
Among scale modellers worldwide, the FS.595a/595B is a no.1 colour reference system.
Authentic Colours by Country
---
Color matches for military aircraft colours divided by country and time period.

Australia
Royal Australian Air Force colours

Finland
Finnish Air Force Colours from World War II to modern

France
French aircraft colours from World War I until World War II

Germany
German Air Force WW I, WW II and Modern colours

Israel
Contemporary Israeli aircraft colours

Italy
Italian Air Force colours from beetween-the-wars period to modern

Japan
Japanese Army and Navy Aircraft colours, World War II period

Poland
colours of the Polish Air Force between 1919 and 1939.

Soviet Union / Russia
Aircraft colours of the Soviet Air Force from World War II to modern

Sweden
World War II period to Modern Swedish Air Force colours

United Kingdom
Royal Flying Corps, Royal Navy and Royal Air Force colours, Word War I to Modern

United States
USA, pre-World War II to modern aircraft colours