by  Janne Nilsson
The 100-years' War brought several large battles to the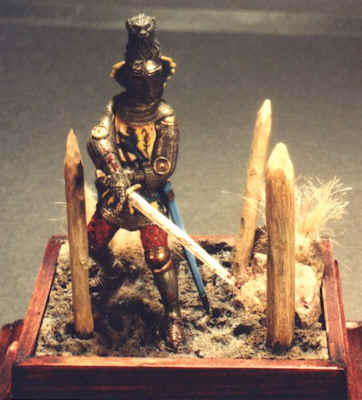 French soil. Many of them count today as merely clashes, but some were historical events which determined the outcome of entire campaigns. One such battle took place at Crezy in 1346.
Louis de Never took part on a French side and found his death in this very battle, probably hit by the English arrow.
The English won the battle of Crezy mostly because the French fatally ignored the devastating power of the longbowmen. By the way, the very same mistake had been repeated at Agincourt in 1415.
You can find my figure of the English longbowman in October 1997 issue of this magazine.
The white metal figure of Louis de Never has been manufactured by Pegaso Models. The scale has been specified as 54mm, which would mean that the the original would be over 2m tall! More correctly, I believe the scale to be 60mm, which roughly corresponds to 1/30.
The idea for this vignette came, as many times before, from the figure's pose. Knowing that the battlefield at Crezy was a muddy field, I placed Louis the Never in such environment, taking a step back between the pointed poles. Such poles were often used at medieval battlefields as an obstacle against cavalry.
The metallic finish of the knight's armour was easier to achieve because I could utilize the metallic qualities of the base material. I used several coats of Gunze Smoke acrylic and tedious polishing to achieve a more realistic sheen of the metal surface, at the same time obtaining some nice shadow effects. These were later enhanced by applying a thin wash made of artist oils and white spirit.
I painted remaining details of the figure and base with Humbrol enamels.
The base was built up with Celluclay, and the grass simulated by my usual method, by using some fine flax fiber. Some tiny stone bits and poles carved from wood (what else?) completed the simple composition. But an effecive one, won't you agree?
This article was originally published in IPMS Stockholm Magazine in December 1998.