Emhar 1/72 Whippet Medium Tank
by Mark Davies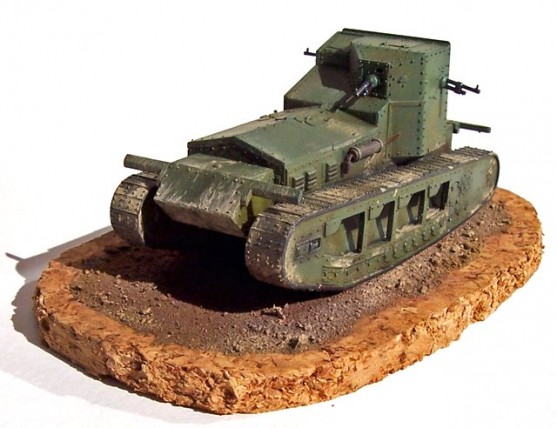 The Whippet medium tank was a lighter and longer-ranged vehicle than the other larger Mk I to V rhomboid shaped British tanks. With a usual crew of three it was intended to be a faster and more nimble vehicle able to exploit breakthroughs. Whilst appearing little more modern than the Mk I to V tanks, the Whippet was in fact developed from the first British prototype tank known as "Little Willie".
It was powered by two 45 hp engines, one driving each track. A steering wheel, when turned, braked one track and advanced the throttle of the other engine. In practice problems with matching speed of the two engines when locked together and heading straight made maintaining direction difficult, plus engine stalling during turns was a problem also.
The Whippet was used with some success late in WW1. After the war a handful went to Japan, and 17 were sent as part or the Expedition Force to fight the Soviet Union. Of these 17, 12 were captured by the Red Army and some were still in service in 1930. The British also deployed some to Ireland – which was perhaps the first use of tanks to quell "domestic" civil unrest by a nation.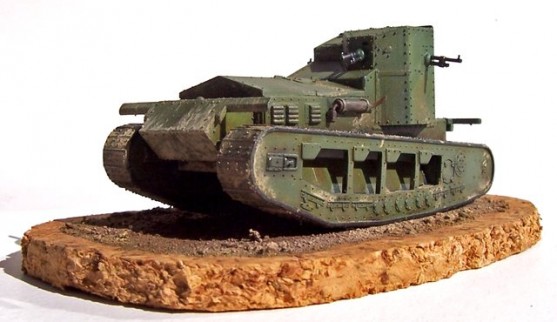 I returned to modelling 10 year ago at middle age after a 25 year break, and have been building 1:72 aircraft. Since then I have just over 100 planes finished and 1,100 unbuilt. During this time I have been tempted on and off by 1:72 AFV kits, and occasionally buying some. But I have never got around to building one until now.
I thought that perhaps a simple tank model might be a good modelling option compared to some of my aircraft projects, as I had just knee and shoulder surgery a few days previously, and there would be no seams to sand. I checked through the 1:72 AFV kits I had acquired, and liking clunky looking AFV's decided that the Whippet would be a good choice to build.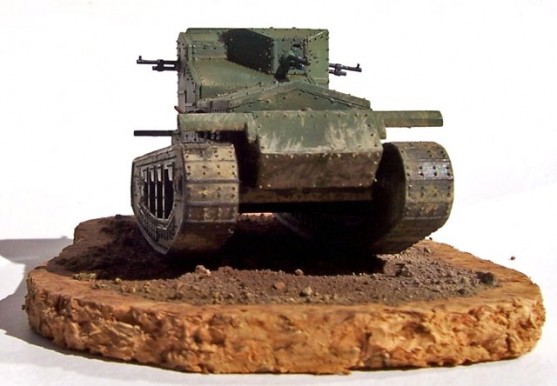 I can't comment on the Emhar kit's accuracy, but it looks the part and appears to be well produced and simple kit. I did find that fit was not quite as good as it looked to be on the sprues, and the plastic is quite soft, but it goes together well enough. The two-part tracks and mud-chutes are tooled in such a way that the track is thicker in appearance on the inside than the outside, and perhaps the four Hotchkiss guns are a little thick for scale appearance. I was not too concerned, as this build was all about simple fun and quick results. In fact it only took a couple of days to finish. Refinements were limited to drilling out the gun barrels and exhaust pipes.
The model was airbrushed Gunze mat black, then a suitable green (I can't recall which one). The tracks were then brush-painted in Gunze Metal Red. I used acrylics as a base for oil paints and turpentine washes to come later. The exhaust pipes were painted with Humbrol Scenic Track Colour and burnished with graphite dust from a pencil. Weathering was done using oil paints from a cheap 12-pack of paints, to give the green some tonal variations and introduce mud and other staining. The larger mud splashes and stains were achieved with real mud. This was ground up clay from under my house mixed with some water.
The kit provides markings for several British and one captured German vehicle. I'd got carried way weathering before I realised that British options all had red & white striped tactical markings on the track fronts and engine cover. Having seen photos of tanks without such markings I decided to leave the model as it was without markings.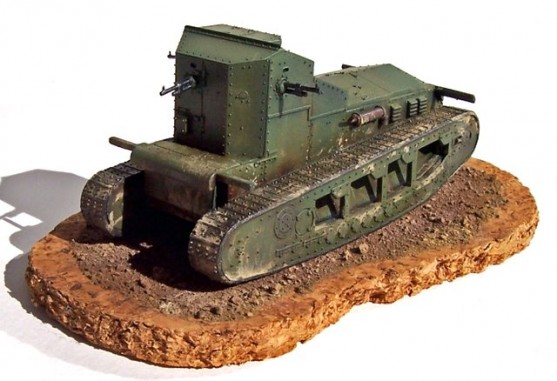 This was an enjoyable, simple and quick build. I recommend the kit to anyone who wants an interesting WW1 tank in the collection. I know I will be making a few more small scale AFV's from now on.
© Mark J Davies, 2008
This article was originally published in IPMS Stockholms Magazine in April 2008