by Christopher Holland
I took a little side-step from ordinary modeling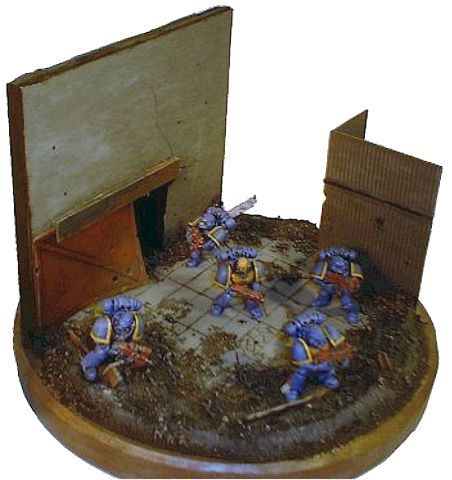 by doing a Space Marine diorama. Amazingly it got me first place in the Small Scale Dioramas at the IPMS Open 2001 in Stockholm.
Here we have five Space Marines on patrol on some far-off planet. As you can see the area has suffered from heavy CDR proton bombardment. The figures come from a Games Workshop set, and they are painted with Citadel colors, except for the washing and drybrushing that I did with Humbrols. The buildings and the base are painted with Citadel, Humbrol and oil paints.
The base is a round piece of wood that I gave a rusty color and the buildings and street tiles are from sheet styrene. The biggest wall is glued to a piece of wood for stability. The rubble is a mixture of celluclay, white glue, sand and pebbles. The rusted metal bars sticking up through the rubble are strips of styrene put together and drilled full of holes.

This article was originally published in IPMS Stockholm Magazine in Marchr 2002.