text and drawings by Martin Waligorski
model photos by Peter Alsterberg
Not only D-Day
Many aircraft color schemes require painting multicolor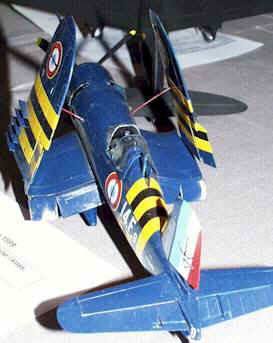 stripes of different kinds. The most well-known examples are of course D-Day stripes, but the stripe markings were widely used on other occasions. Multicolor Reich's Defense tail bands or black-and-yellow stripes of Suez Campaign are other examples.
Except for the regulation-enforced military markings, many individual and unit aircraft schemes featured stripe motifs, sometimes very colorful. What especially comes to my mind are the USAAF 8th Air Force Assembly Ships. On some of these B-24 Liberators the entire surface of the aircraft was covered with multi-color stripes. It would be a challenge to model one of those!
Some modellers find it quite hard getting the stripes even and straight, especially on the curved surfaces like around the fuselage. The solution could be decals, but these often tend to misalign, not cover properly and generate problems on compound curves anyway.
Achieving great results by painting is not at all difficult, it only requires careful preparation and good masking material. Here is how.
Planning
The method which I'm about to describe leads to well-aligned, straight edged stipes of uniform width. Before you start, check your references and think for a moment if that is what you want. Many frontline-applied markings like D-Day stripes were painted very hastily by ground personnel which used only most rudimentary measurement and a paintbrush. I such cases the results on real aircraft were often less than perfect (to say the least). Should you wish to replicate such job on your model, it's better to go for the similar application by hand-painting and Mk. II Eyeball, and be happy with any imperfections you might produce.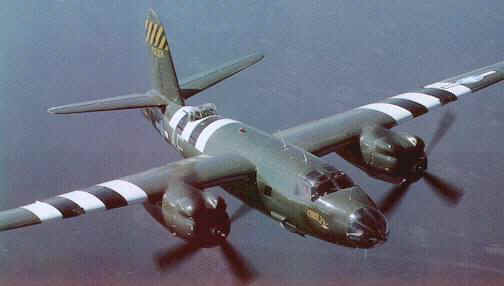 This picture shows a preserved B-26 Marauder with perfectly aligned D-Day stripes,  but this is not the way they used to be back in June 1944.
Ok, you have been warned. Now I will describe how to make perfect D-Day stripes, because they form a good example. If you don't know how D-Day stripes looked like, take a look at the adjactent photograph.
The technique
Here comes the step-by-step description of the process.
As with many things in life, success builds on preparation. The first step is to cut out lengths of masking tape of uniform width, corresponding to the width of a single stripe.
To do this, I stick several lengths of masking tape (I prefer Tamiya masking tape, but your favouroite brand will do) onto a clean glass sheet or ceramic plate. This provides a good hard working surface for cutting.
Then the tape should be trimmed to desired width with a steel rule and a hobby knife with new, pointed blade. When cutting is ready, I check the width once again using a precision compass and discard the pieces that I'm not satisfied with. The remaining bits are left on the glass – this way I preserve the tape's sticking qualities.
A good tip is to make plenty of spare length to provide for mistakes.
Step two is to spray the striped area of the airframe with the background color. For D-Day stripes that would be white. This should be done prior to painting the rest of the camouflage, this way you can save yourself some extra masking further on.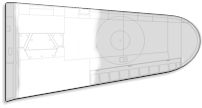 On to step three. I mask off the white area by putting all five stripes of my masking tape side by side. The alignment should be very tight, with no gap or overlap between the stripes. Some tweaking might be needed to get everything straight at this point, especially on the curved surfaces like around the fuselage or wing leading edges. That's why plenty of spare tape was needed in step one. Also, my previously mention preference of Tamiya masking tape comes from it's elastic qualities, which allow it to be curved to some degree making it easier to mask in such places.
The result should be the entire stripe area (5 stripes) completely masked off.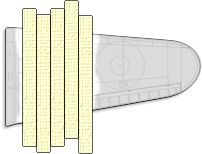 Step four. Now it's time to proceed with the remaining paint job. I airbrush the camo patern on the entire model.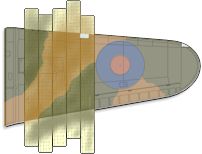 Step five. When everything is dry again, I get back to the stripes. Actually it's time to start painting them! Carefully remove the two tape masks in the middle (where the black color should go), leaving the three white stripes still masked off – one in the very middle, and one at each extreme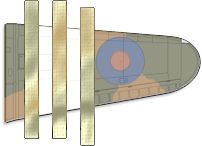 Now I can airbrush the black color over the stripe areas. Aha! Don't forget to mask off the surrounding areas of the airframe to avoid the black overspray. This masking is very easy – I use 3Ms Sticky Notes or Parafilm M for lare coverage masking like this.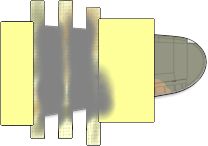 In the final step, remove all masks, and voilá – beautiful stripes of sharp edges and perfectly uniform width!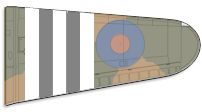 Conclusion
Upon seeing my F4U-7 model, one of my club colleagues commented "You must have had plenty of time to do this". Well, not really. There is nothing especially difficult in the described method, and it doesn't take much work to do. The only drawback is that you have to wait for the paint to dry between steps.
And a final comment: as many masking techniques, this one requires a dependable masking material. If you haven't got a favourite yet, try experimenting on some scrap parts first before attempting a multi-stage masking job like this one on the real model.
Paint your stripes yourself next time!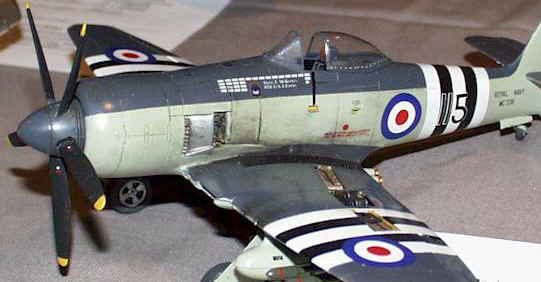 Another example of very nicely executed stripes is this 1/48 model of Hawker Sea Fury by Mats Langueville.
Black-and-white markings of the Korean campaign were applied using techniques described above.
This article was originally published in IPMS Stockholm Magazine in September 1999.