Text by Martin Waligorski
Photos: US Navy
"Photo Album" is a new-old article formula on these pages. Yes, we have tried it before once or twice, but never really got the concept off the ground. With new image sources available, I hope this time we're capable of providing at lasting series. The aim with the albums is to stimulate modelling inspiration rather than provide complete reference. Take it as such. – Ed.
Since the inception of an aircraft carrier, its deck has always been an action-packed place. Planes were hauled from the hangar deck to the flight deck, fuel pumped, bombs armed and loaded on waiting aircraft. It's a world of heavy equipment and tightly choreographed activity as planes are readied for flight, launched, or stowed away after landing. It didn't matter if the weather was bad, the night was pitch black or the ship rolling in heavy seas. For the crews, decks were often wet and slippery. Ladders steep and unforgiving.
In an environment like this, disasters such as plane crashes, fires or personal injuries was an ever-present risk. Aircraft carrier landings have been called "controlled crashes," already in the 1940s. Aircraft could miss the wires, got damaged on abrupt landings, or ditch in the water.
Even early on, US aircraft carriers had a photographer on duty when receiving aircraft. He was usually perched on the top deck of the island structure – in the area named Vultures Row. Some say that pilots making a landing learned to take a quick look at the photographer. He never wasted a film or missed an accident. If he looked bored, the landing approach was OK. If he stood up the pilot had better do something quickly…
This is a set of photographs taken on such occasions, between the 1940s and 1970s. With two exceptions, I have selected incidents that, to the best of my knowledge, have not resulted in human casualties. However, many pictures show just how thin the line was.
Contrary to what might seem, the crashes were not an everyday occurrence. USS Enterprise alone had completed over 16,OOOth landings during its first three years of service, until 1941. However, it's the accidents or near-accidents that inevitably received greatest attention and etched themselves in the memories of the crews more than any successful landing.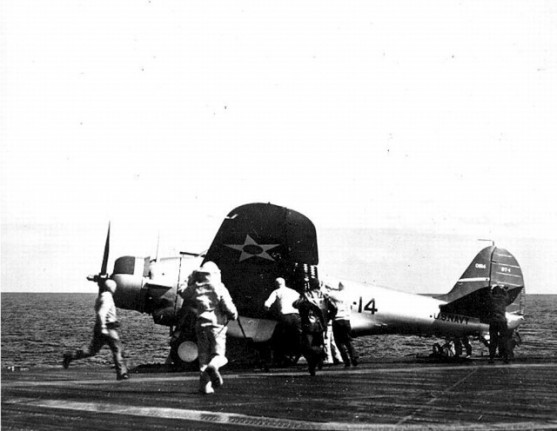 Dramatic deck landings are just as old as carrier aviation itself. Here, Northrop BT-1 bomber of Bombing Squadron Five (VB-5) goes into the starboard catwalk during a landing accident on USS Yorktown (CV-5), circa 1940.
Note man in asbestos suit and other members of the flight deck crew running to assist.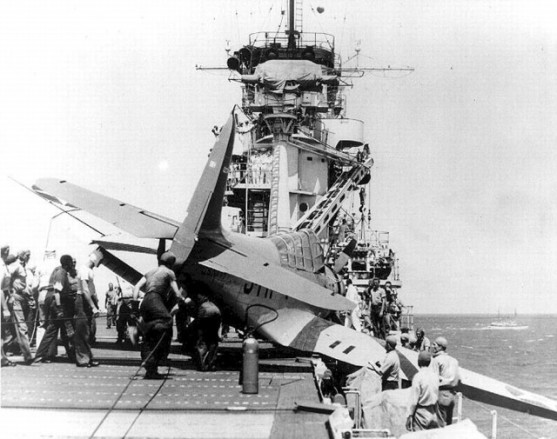 Douglas TBD-1 Devastator of Torpedo Squadron Five (VT-5) in the starboard catwalk of USS Yorktown, 3 September 1940, following a landing accident. Pilot was Electrician's Mate First Class (Naval Aviation Pilot) C.M. O'Brien. The after end of the carrier's island is in the background.
Ultimately assigned to Torpedo Squadron Eight (VT-8), This aircraft was lost on 4 June 1942 during the Battle of Midway.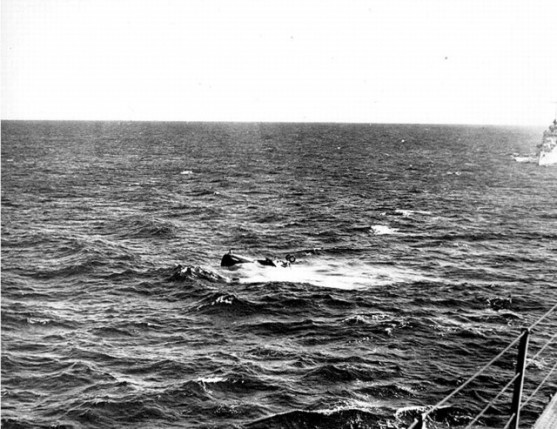 Another Northrop BT-1 of Bombing Squadron Five's, plane number 5-B-16 ends up upside down and sinking after going over the side of USS Yorktown during flight operations in the Pacific, 23 July 1940. USS Perkins is seen coming up at the right edge of the picture to rescue the plane's crew, Lieutenant (Junior Grade) Thomas D. Cummins (Pilot) and Radioman Third Class Donald MacKillop.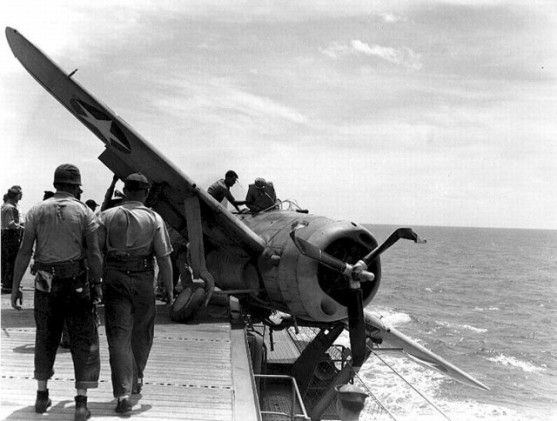 Brewster F2A-3 Buffalo fighter rests in the flight deck gallery walkway after suffering landing gear failure while landing on board USS Long Island, off Palmyra Island, 25 July 1942.
This plane is from Marine Fighting Squadron 211 (VMF-211).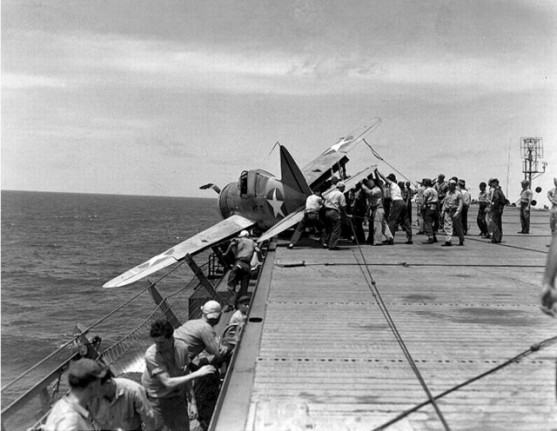 Another view of the same F2A-3. Note marking "MF-5" on the plane's fuselage and the very weathered paint. VMF-211 was the last Navy or Marine Corps unit to operate the F2A in a front-line capacity.
The carrier's SC radar antenna is visible atop her stub mast at right.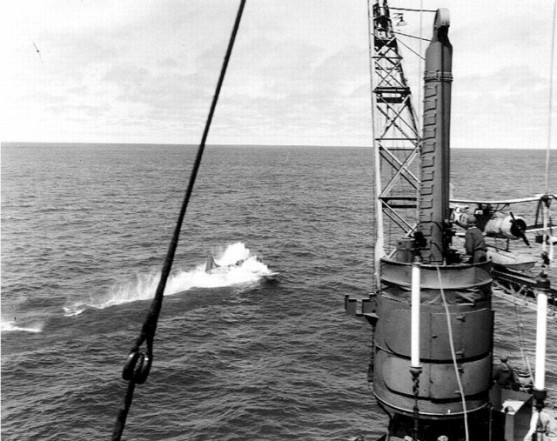 An SBD-3 scout bomber, probably flown by the Bombing Squadron Three (VB-3) Commanding Officer, Lieutenant Commander Maxwell F. Leslie, ditches alongside USS Astoria during the Battle of Midway, specifically at 13:48 hrs on 4 June 1942. This was one of two VB-3 planes that ditched near Astoria after they were unable to land on the damaged USS Yorktown.
The phot was taken from atop Astoria's after superstructure. Note her port aircraft crane, and an SOC floatplane on her port catapult.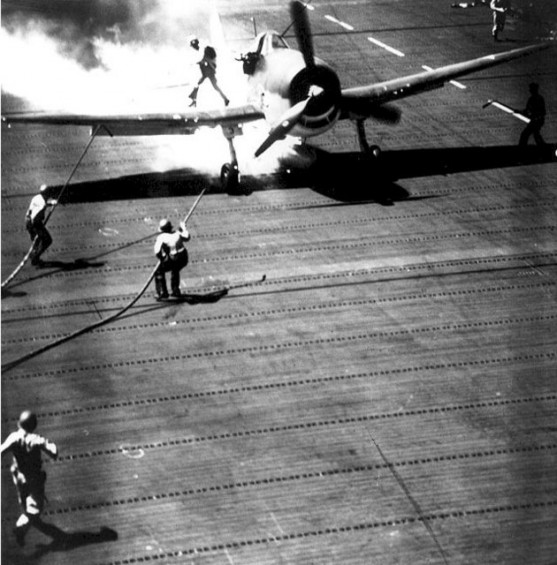 Gilberts Operation, 24 November 1943. Pilot evacuates his burning F6F-3 fighter aboard USS Cowpens (CVL-25) after landing. The pilot was Lieutenant (Junior Grade) Alfred W. Magee, Jr., USNR. The fire started as the Hellcat approached Cowpens for an emergency landing, and the pilot was unaware of it until after touchdown. Firefighters are seen here rushing to the plane. They put out the flames in a minute and a half, with no casualties.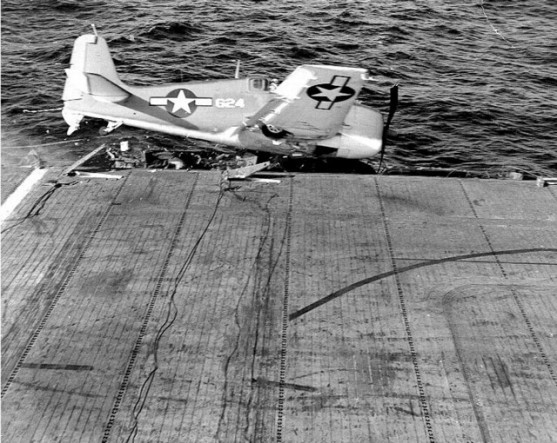 This photo illustrates just how dangerous and fatal the landing accidents could be. Grumman F6F-3 Hellcat goes over the side of USS Barnes (CVE-20) on 22 October 1943, after the pilot attempted to regain flying speed after receiving the "Cut" signal from the Landing Signal Officer.
The pilot, Ensign Olinyock, A-V(N), and a crew member, F1c Olin Victor Bulgrin, were killed in this accident. Several other crew members were injured.
Note triangular flight deck crash barrier supports partially extended below the plane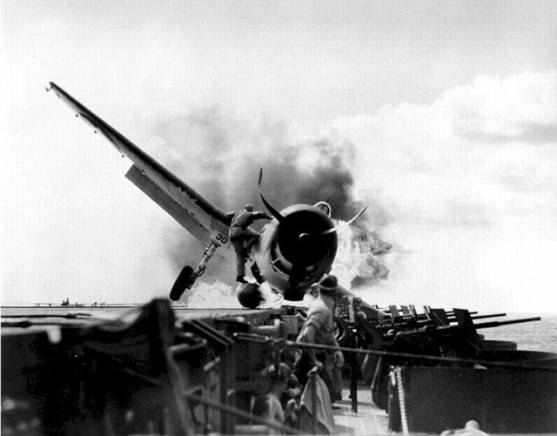 Another Hellcat in trouble, which this time is about to receive a happier ending.
This photo shows the crash landing of F6F-3, Number 30 of Fighting Squadron Two (VF-2) aboard USS Enterprise (CV-6), into the carrier's port side 20mm gun gallery, 10 November 1943. The plane's ruptured belly fuel tank caused instant fire.
Lieutenant Walter L. Chewning, Jr., USNR, the Catapult Officer, is climbing up the plane's side to assist the pilot from the burning aircraft. The pilot, Ensign Byron M. Johnson, escaped without significant injury. USS Enterprise was then en route to support the Gilberts Operation.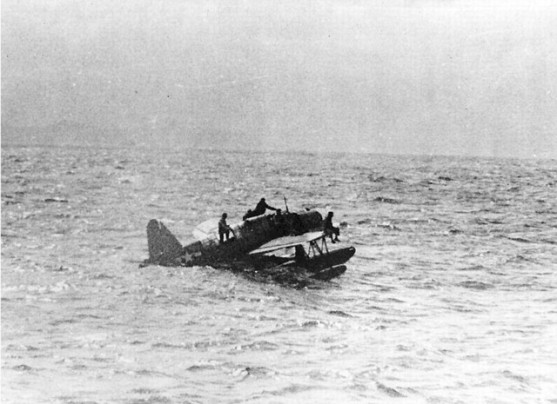 Not quite a deck landing accident, but an interesting scene anyway. Vought OS2U Kingfisher floatplane from USS North Carolina (BB-55) off Truk with nine aviators on board, awaiting rescue by USS Tang, 1 May 1944. The plane had landed inside Truk lagoon to recover downed airmen. Unable to take off with such a load, it then taxiied out to USS Tang, which was serving as lifeguard submarine during the 29 April-1 May carrier strikes on Truk.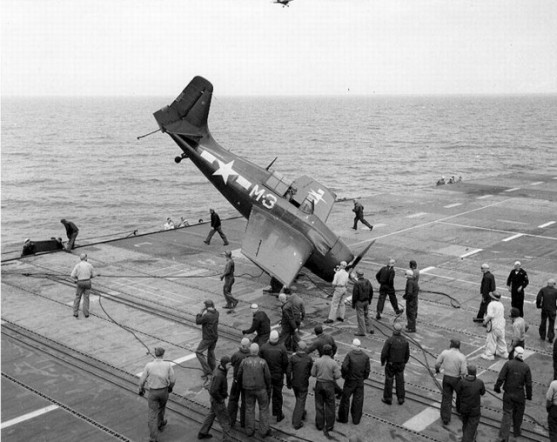 General Motors FM-2 Wildcat fighter (licence-built Grumman F4F Wildcat) comes to a most spectacular standstill after a barrier crash on board USS Sable (IX-81), during pilot training in the Great Lakes, May 1945.
Another FM-2 can be flying past in at the top edge of the photo.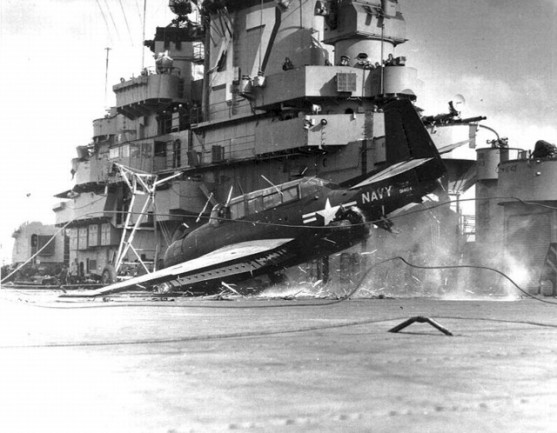 Anatomy of the hit. General Motors TBM-3E Avenger captured in the very moment of crash into the barrier while landing on board USS Philippine Sea during operations in the Korean war zone on 17 January 1951.
Note: details of the carrier's island, with a Le Tourneau crane parked nearby; splintered wooden decking below the plane; and hydraulic fluid spilling from the plane's port side landing gear leg (seen in the air just below and in front of the tailplane).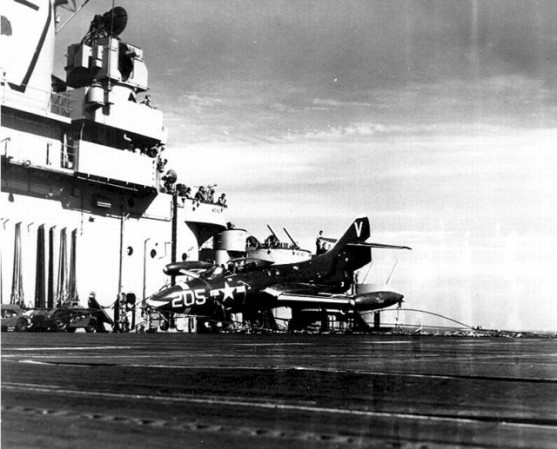 Introduction of heavy jet aircraft to naval aviation in the 1950s additionally decreased the landing safety margins.
Grumman F9F-2 "Panther" of Fighter Squadron 112 (VF-112) goes into the crash barrier of USS Philippine Sea while returning from a mission over Korea, 19 October 1950.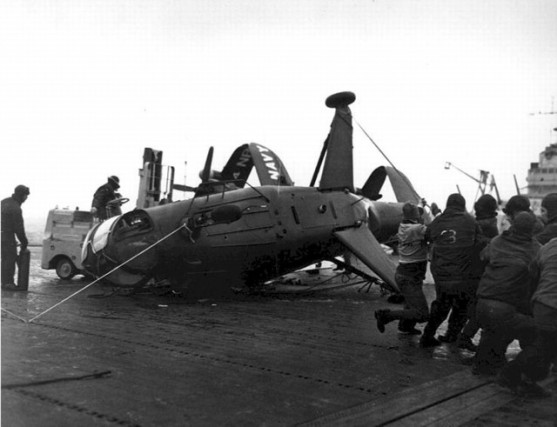 Helicopters brought their own variety of risks, like this Sikorski HO3S-1 helicopter of squadron HU-1. It tipped over on the the forward flight deck, of USS Philippine Sea on 9 January 1951.
Note crewmen using a forklift and ropes in an attempt to pull the helicopter upright.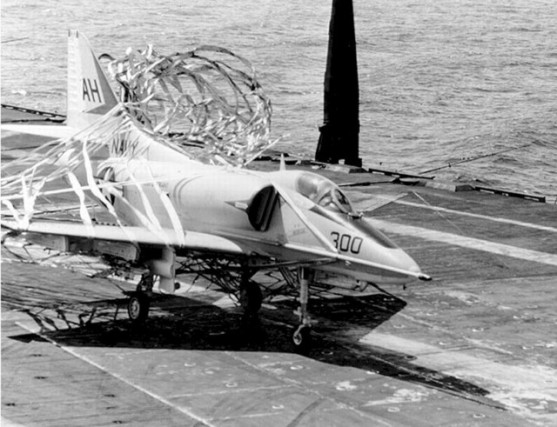 USS Oriskany (CVA-34) in the Gulf of Tonkin, 20 October 1967. Navy pilot Lieutenant (Junior Grade) Denny Earl, with both legs shattered by North Vietnamese anti-aircraft fire, successfully lands his A-4 "Skyhawk" attack plane aboard the Oriskany.
The introduction of nylon emergency barrier in the 1960s was a great step forward in landing safety. It finally assured that the wounded pilot would not have to make more than one attempt to land his plane.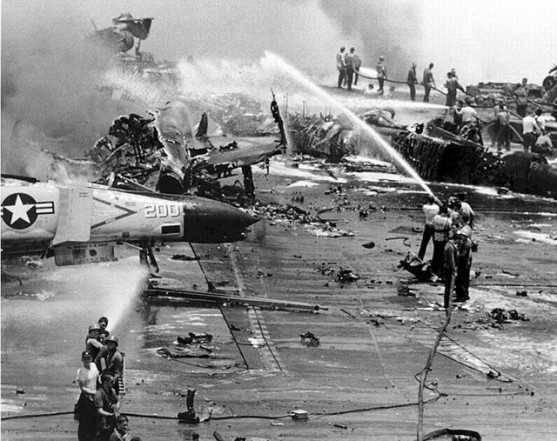 Last in this photo album is the image of the greatest deck disasters of them all. It happened onboard USS Forrestal (CVA-59), in the Gulf of Tonkin, 29 July 1967.
It was just about 10:52 a.m., and the launch that was scheduled for a short time later. Suddenly, a Zuni rocket accidentally fired from an F-4 Phantom parked on the starboard side of the flight deck aft of the island. The missile streaked across the deck, amazingly hitting directly into a 400 gallon belly fuel tank on a parked A-4D Skyhawk. The ruptured tank spew highly flammable JP-5 fuel onto the deck which ignited spreading flames over the flight deck under other fully loaded aircraft. A bomb dropped to the deck and rolled about six feet and came to rest in a pool of burning fuel. The horrific conflagration which followed left 134 crewmen dead with 62 more injured.
This article was originally published in IPMS Stockholm Magazine in February 2003.