by Tomasz Gronczewski
 Iron dog?
It is really hard to find a more controversial fighter aircraft of the World War II period than Bell P-39 Airacobra. It was loved by ones, hated by others and gained radically different opinions from pilots flying it. To some extent, the Bell fighter may be compared to Brewster Buffalo. Now it seems that early Allied losses suffered over Pacific caused unfair and wrongful opinion about both aircraft. Simply something had to be guilty. Experiences gained over other war fronts proved that properly handled Airacobras and Buffalos could be extremely worthy combat machines.
Although there is no agreement on Airacobra fighting capabilities, many pilots considered P-39 as better than at least one other US fighter of the era: P-40. One of the first pilots who scored with Airacobra was first USAAC ace Boyd Wagner. He had mixed emotions about Bell fighter. Despite pointing out several technical flaws of P-39, he stated that Airacobra was better than P-40E in all respects except of maneuverability. He was who called Airacobra Iron Dog and appreciated its advantages as low level anti bomber interceptor.
USAAF aces scoring with Airacobras
It is surprising how many later USAAF aces opened their scores flying the Bell fighter. However, only one pilot William F. Fiedler Jr. managed to down five opponents flying the Airacobra, making him the only true ace on the type. Fiedler was fighting against Japanese over Guadalcanal with 347th Fighter Group.
George Welch – Pearl Harbor defender
There were only so few US pilots that managed to get airborne during Japanese attack against Pearl Harbor. George "Wheaties" Welch was not only lucky enough to climb with a P-40B, but skilled enough to down four aggressors during that day of infamy. This famous action was only a brilliant start of an outstanding flyer's career.
Exactly a year after Pearl Harbor Wheaties took heavy toll on Japanese aircraft again. This time he was flying the Airacobra with 8th Fighter Group and shot down three enemy planes over New Guinea. As an outstanding ace he was allowed to move from P-39 equipped 36th FS to 80th FS flying new Lightning fighters. Just three further combats in summer of 1943 sufficed to rise his score to sixteen confirmed victories.
Immediately afterwards Welch was moved to the States, and then he decided to test new fighters for North American Aviation. Wheaties did maiden flights for such aircraft like P-82B, P-82E and F-86. Sadly his test-pilot career showed to be more risky than aerial combat. On October 12th 1954 he was killed in flying accident during F-100 testing.
In 8th FG he was assigned with P-39D-1 s/n 41-38359 "K" nicknamed Miss Helen the Flying Jenny. He used this plane to score his triple kill during first anniversary of Pear Harbor. After his move to 80th FS he was assigned with P-38G-15 s/n 43-2203 "E". This Lightning was used to score his final four victories and may be to score earlier victories no. 8 & 9 as well.

Bell P-39D-1 Airacobra, Ser. no 41-38359, 8th Fighter (Pursuit) Group, New Guinea, 1942, pilot George Welch
Welch's P-39D-1 carried typical scheme of the era. Olive Drab upper surfaces and Neutral Gray under surfaces. National insignia were located probably in four positions. Standard "U.S. ARMY" should appear on the bottom wings. At the time when the photo was taken, the plane was heavily weathered. Unfortunately I don't know any photo of the rear part of "Miss Helen" so weathering style was based on other P-39Ds of 8th FG.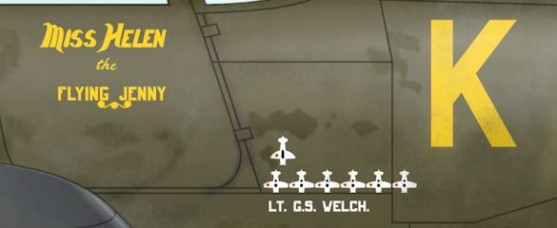 Those times 8th Fighter Group pilots often used flamboyant white aircraft symbols to mark victories. George Welch was no exception. Note that his first victim downed over Ewa seemed to be quite large at least for him.

No, I don't know any photo of "Miss Helen's" port side. Drawing this side I was basing on other Group's Airacobras. Note that P-39 pilots used to get off out of the cockpit to the starboard side because of throttle location. It caused not typical practice of adorning what was called later "wrong side" of the aircraft. Looking at Welch's squadron mates' Airacobras I assume that "Miss Helen" carried only letter "K" and Welch's name on the port board.

Bell company used to paint serial numbers using different style of 9 inch characters. Picture above shows what I could figure out of several Airacobras photos. This style was common on medium and late production P-39s.
Boyd Wagner – 1st USAAC ace
Like George Welch, "Buzz" Wagner was one of those USAAC pilots who gained fame during the first days of Pacific war. At the time of Pearl Harbor, Buzz stationed thousands miles westward – at the Nichols Field in Philippines as a member of 17 Pursuit Squadron. On December 12th 1941 Wagner took his P-40E against Japanese raiders and managed to shoot down four Nate fighters in one day. On December 16th Buzz downed another one Nate. This victory made him the first USAAC ace of the war. On December 22nd an explosive shell hit the windscreen of his P-40E and broken glass wounded him. Nevertheless injuries were light enough to allow him to escape to Australia in January 1942.
Immediately after his arrival he was assigned to the recently reformed 17 Pursuit Squadron (Provisional), but due to flip of the coin he did not move to Java with it. Instead of that he joined the headquarters of 5th Fighter Command.
In late spring 1942 Wagner took two squadrons of Airacobra equipped 8th Fighter Group, and moved with them to New Guinea still being officially assigned to 5th FC. On April 30th 1942 he downed three Zeros while flying P-39, while Graham Greene of 35th PS destroyed another one. These four kills were first victories of the 8th Fighter Group. Because of his strange assignment status his three victories were not credited officially and thus they are not counted in USAF Historical Study, but now Mr. Frank Olynyk considers them as valid. On the other hand it is hard to prove fully their authenticity as far as survived Japanese loss reports show less than four downed Zeros claimed by 8th FG on that day.
Soon after his last controversial kills Wagner was withdrawn from the front and moved to the States. Sadly it didn't saved his life as he was killed in flying accident on November 29th 1942 in Florida.

Bell P-39F Airacobra, Ser. no 41-7170, 8th Fighter (Pursuit) Group, New Guinea, 1942, pilot Boyd Wagner
Because of extremely chaotic situation over Philippines in December 1941,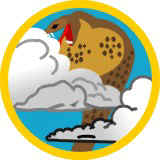 no details of Wagner's P-40s are known. His subsequent aircraft are less enigmatic. He scored his final triple kill while flying a P-39. According to Mr. Olynyk it was of "D" variant but in summer 1942 he was seen in P-39F s/n 41-7170 and all of his aircraft comparison reports were based on P-39F variant. This is also the aircraft shown on the profile, designated "X" and carrying the 39th Pursuit Squadron badge on the cockpit entry door.
By the way, Wagner stated that P-39F was slightly better than P-40E in all respects except of manoeuvrability. On the other hand Bell aircraft was plagued by several minor but arduous technical problems.
Richard Suehr – Biologist and ace
Dick Suehr was not a rogue, Dick Suehr was a graduated biologist before joining Air Corps. But his life ran far from family's expectations. He joined USAAF before Pearl Harbor day, and was commissioned a 2Lt on October 31st 1941. Initially he was assigned to 57th PG, but after Japanese attack he requested to join any front line squadron. Thus he was assigned to 33 PS (Provisional) which headed southwest to Australia. But during ferry flight he force landed, was wounded and spent a few days in a hospital. Afterwards he was transferred to the 39th FS of the 35th FG, which was supposed to stop Japanese advances in New Guinea.
There Dick Suehr started to fly unconventional Bell P-400 Airacobra fighters. The neglected aircraft was good enough to allow Dick to score his first aerial victory in June. But in October 1942 whole 39th FS was lucky to receive Lockheed P-38F fighters as first Fifth Fighter Command outfit. With Lightnings everything went smoother and Suehr downed four further Japanese planes during Spring of 1943. In Summer 1943 Suehr returned to the States, but he re-appeared over Pacific in late 1944 as a member of 49th Fighter Group. On January 1st 1945 Dick Suehr was forced to ditch in the Ocean, but he managed to swim to the nearest coast and was rescued after three days.
Richard Suehr survived the war, and served in USAF until 1968, then retired.
Initially Richard Suehr's mount was P-400 no. 19 nicknamed The Flaming Arrow. In October 1942, 39th Fighter Squadron was selected as first 5th AF's squadron to convert to P-38s. Thus Dick Suehr was assigned with P-39F no. 30 "Regina", and scored further four kills with Lightnings.


 Bell P-400 Airacobra, 39th Fighter (Pursuit) Squadron, 35th Fighter (Pursuit) Group,
Port Moresby, New Guinea, 1942, pilot Richard Suehr
The aircraft presented on the profile was produced for RAF as mid-series Airacobra Mk. I. With the British disappointment in Airacobra's combat qualities and the US entry into war it was taken over by USAAC under Air Corps designation P-400. The plane carried factory-applied camouflage to British standards and RAF insignia, although the latter were exchanged to US stars. In such form the aircraft was assigned to 39th FS, 35th FG, which headed to New Guinea to defend Port Moresby.
In 39th FS the aircraft received number "19" and was given to future ace Lt. Richard Suehr, with blue spinner and tail tip denoting 39th FS. Suehr nicknamed the aircraft The Flaming Arrow. Small numbers 19 were applied onto the leading edges of both wings
Suehr scored one victory flying a P-400, but I don't know if that happened using the displayed aircraft.
The RAF style camouflage of Aircarobra Mk. I /P-400 deserves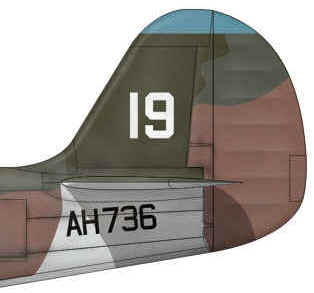 further comment. Taking existing colour photos into account, it can be stated that the Bell company used its own RAF paint equivalents. The Dark Earth seems to be a bit more red than its British equivalent, and the elusive light-green Sky was simply substituted with US Sky Gray. Dark Green was actually not replaced with US bluish Medium Green 42 as stated elsewhere, but was very similar to the British original.
The US star insignia were superimposed over RAF roundels without any visible remnants of the latter. RAF Fin Flashes were overpainted with some darker colour, perhaps Olive Drab. Closeup of the tail shows how the dark patch covering RAF Fin Flash was applied. The basic camouflage was painted using rubber masks and had semi-hard edges, but the patch seemed to be applied with brush and thus its edges were probably hard.
The fuselage insignia application was apparently done while the plane was standing on the retracted legs, and because of that the stars were parallel to the ground rather than to the level of flight. At the time when the known photos of The Flaming Arrow were taken, the camouflage as well as insignia were seriously faded.
The second closeup shows the location of Suehr's simple noseart.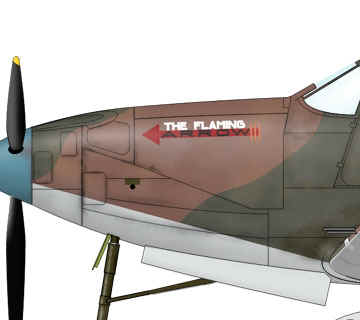 Unfortunately I could not determine what – if anything – was painted on the starboard side of the nose.
Also, available photos show the noseart design somewhat blurry, which is why the shape of the string "…RRO…" is conjectural. Also the colours of the artwork are purely speculative.
A photo published in the old Squadron Signal Aces of the Southwest Pacific shows two small dark blotches on the nose of this aircraft, while another photo published in Airacobra In Action shows the nose "clean". As far as I don't know if it was a result of some repairs or it was a dirt or they were simply spots on the photo, I decided to present "clean" appearance without the blotches.
The dark small rectangle above a hole in nose cowling is a place where stenciling had been applied. I don't know if it was black over Olive Drab or black over Dark Green.
Assigned to Norb Ruff
By a twist of circumstances, the very same P-400 had a further career in another unit. By end-1942, as the 39th FS embarked on a brand-new P-38 Lightnings, their Airacobras had been transferred to 80th FS. AH 736 was assigned to Norbert C. Ruff, a promising pilot who hadn't scored any aerial victory so far.
In the new unit the aircraft received new artwork and individual numbering compatible with 8th FG practice. But surprisingly ground crews did not strip previous numbers nor ID elements given by 39th FS. Thus no. 19 remained no.19 but it was supplemented by the individual letter K.

Bell P-400 Airacobra, 80th Fighter (Pursuit) Squadron, 8th Fighter (Pursuit) Group,
Milne Bay, New Guinea, 1943, pilot Norb Ruff
The camouflage was still the same, although by the beginning of 1943 the camouflage colours were seriously faded. The edges of upper camouflage colours were barely visible, and on some b/w photos they are almost impossible to detect. This faded scheme combined with overall worn appearance caused many artists to think that entire plane was repainted with Olive Drab.
Several clues lead me to the conclusion that this was not
the case. For example, the dark patch on the fin once applied to conceal the RAF fin flash was still noticeable. The blue spinner and tail tip were retained unchanged. There were many speculations that these 39th FS color elements were overpainted in yellow or light gray, but I think it is not true. The spinner on the photos looks really old and dirty, not like a recently painted item.
A closer look at the nose shows that former Suehr's noseart was overpainted with a slightly different shade, or maybe simply stripped off. Also the yellow letter "K" is clearly visible. As in the case of other 80th FS' aircraft, a stylised sharkmouth was painted on the nose. It was most probably black with white teeth and red tongue, but dark blue/white/red combination is also possible.
I don't know anything about further fate of this aircraft. In May 1943 even the 80th Fighter Squadron was converted to Lightnings, and Norb Ruff would score four kills with P-38s.
Sources
Literature:
John C. Stanaway, Lawrence J. Hickey "Attack & Conquer" Schiffer Publishing Ltd. 1995;
Frank Olynyk "Stars and Bars" Grub Street 1995;
Ernie McDowell "P-39 Airacobra in Action" Squadron/Signal (Aircraft no. 48);
Gene B. Stafford "Aces of Southwest Pacific" Squadron/Signal Publications Inc. 1977;
Bert Kinzey "P-39 Airacobra in Detail" Squadron/Signal Publications Inc. 1999 (copyright by Detail & Scale Inc.);
Kenn C. Rust "Fifth Air Force Story" A Historical Aviation Album Publication 1973;
Jacek Tomalik "Bell P-39 Airacobra, cz. 1" AJ-Press 1999.
USAF Historical Study No. 8
This article was originally published in IPMS Stockholm Magazine in May 2003.