model by Magnus Löfqvist
text and photos by Martin Waligorski
Approximately 200 units were formed in Georgia in service to the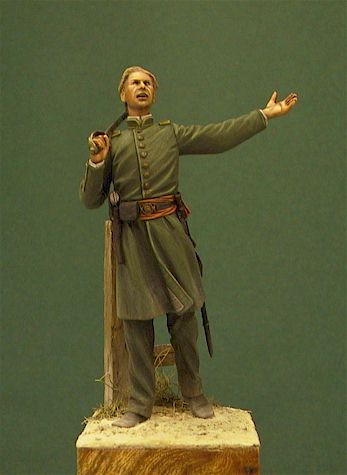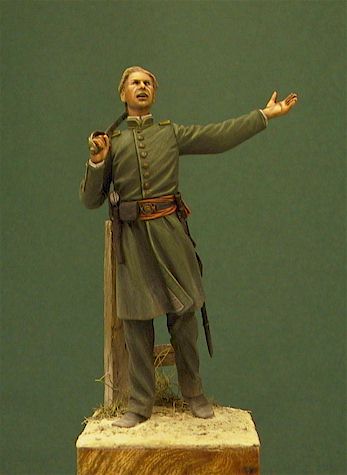 Confederate States before and during the Civil War. One of them was Georgia 5th Infantry Regiment . It was organized on May 11th, 1861, with further companies joining the unit during the following year. Its combat roster started with capture of Santa Rosa Island, followed by Corinth Campaign in April-June 1862.
One of the distinguished companies of the 5th was company A, the famous Clinch Rifles. The company was named for General Duncan L. Clinch the commander at the Battles of Withlacoochee and The Cove of the Seminole Wars (1835-1836). The company adopted the motto "Charge Again" after General Clinch's order to the retreating troops at the Battle of Withlacoochee to attack the enemy again. Clinch Rifles were a true 'rifle' company using 1841 Mississippi Rifle and sabre bayonet in action during the American Civil War.
While the Union had regulated the design of uniforms from the beginning of the conflict, the Confederate units were initially made of volunteers and enjoyed considerable freedom in their choice of uniforms. Maintaining the European of green infantry clothing, the Clinch Rifles elected green as their unit colour, with elegant gold braid and buttons plus a French-style cap.
Despite all the gallantry, the 5th Georgia Infantry regiment's subsequent combat history reflects the dwindling cause of the Confederate States in the war: Battle of Murfreesboro (December 1862 – January 1863, here the Clinch Rifles lost 55% of their strength) — Tullahoma Campaign (June – August 1863) — Chattanooga Siege (September – November 1863) — Atlanta Campaign (May – September 1864) — Savannah Campaign (November – December 1864) — Carolinas Campaign (February – April 1865) — Bentonville (March 1865).
Following the demise of the South, the remains of the unit surrendered at Durham Station, Orange County, NC on April 26, 1865.
The figure
Magnus Löfqvist is the author of this 54 mm figure. The figure itself is a white metal kit from Latorre Models, and has been sculpted by figure artist Raul Garcia LaTorre. According to the manufacturer, the figure represents an officer of Clinch Rifles as per year 1861, the very beginning of this unit's career. Perhaps it shows through a rather relaxed pose of the figure.
The casting was almost monoblock, with main body casting including also the left arm. Then there were a few separate items such as the head, cap, right arm with sabre handle cast in hand, sabre blade and scabbard.
Latorre has intended the figure to hold a cap in the stretched left hand, but Magnus decided to leave it out and remodelled the palm of the hand straight to add more spirit to the pose.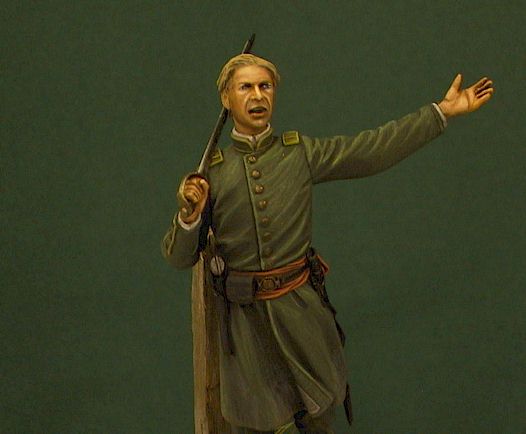 Magnus used artists' oils for the face, hair and hands. The remaining features were painted with Humbrol enamels.
The kit included a 3cm wide elliptical base, but Magnus opted for his own base on top of a solid wood pedestal. The ground was modelled from Milliput and the backdrop fence fragment added from strips of balsa wood.
This article was originally published in IPMS Stockholm Magazine in May 2003.