…with Trumpeter's big A-10 Warthog
 by Alfonso Velasco Jr.
After 20 years of having left this great hobby, very recently while in Houston, Texas. I entered a hobby shop and was extremely surprised to find out the great stuff you can buy nowadays such as decals, resin kits, accessory sets etc. So I decided to take this hobby back!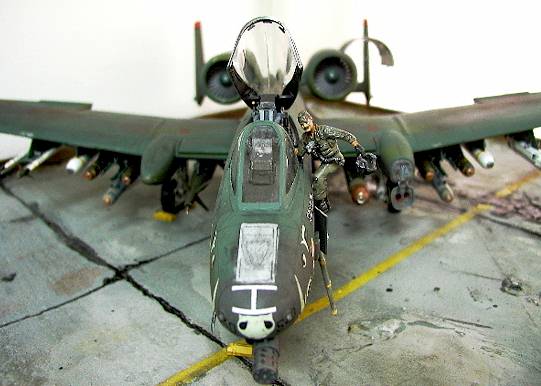 And so I am back…… With a vengeance! I decided to purchase one of my long time favourites: the A-10 Warthog. I chose the huge 1/32 Trumpeter kit, and proceeded to purchase all of the extra items I could find. Really, my shopping list included too many items to be listed here, but the main ones were: Eduards photoetched detail sets for interior, exterior and armament, Cutting Edge decals, Blackbox cockpit set, CAM resin bombs…
The Trumpeter offering comes in the huge box. The box is filled to the lid with plastic sprues. There ar also metal landing gear legs, rubber tires, and resin cast engines. There are over 450 pieces in all, so it took time to put it together, not to mention all the extra detail parts and the painting!
Though my finished model is not constructed following the "realistic sake" principle, I wanted the hog to be presented with everything it can carry nowadays, emphasizing its awesome firepower.

I also decided to include a pilot that would be realistic as possible – (hopefully looking just like Major Venturella from the decal sheet!) and proceeded to find one… to no avail ! After a looong search looking for something that might remotely resemble an A-10 pilot, I came around a Verlinden 3 figure piece called The Ace that could just do.
I proceeded to "adapt" the poor pilot to the desired pose. I made several minor modifications to convert the pilot from a Vietnam era to a modern look. I also scratch built the MBU 12 oxygen mask and the HGU-55 flight helmet along with. There you go! The result looks OK to me.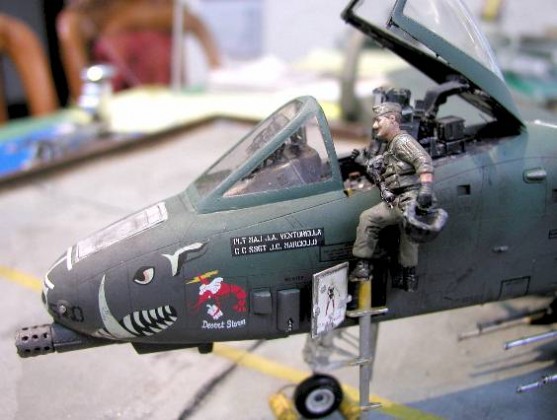 Now the base and the landing strip. I used a piece of real concrete and tar – you can imagine the weight of the base! Does it look realistic in scale? Well, yes indeed although I got a little carried away with the weathering part so it looks extremely used up and perhaps dangerous to actually serve as a landing strip.
And so, I hereby present the IPMS Stockholm readers with my finished Hog. After twenty years in the limelight, I am very proud of my model. I will keep on experimenting with more models and most importantly enjoying the rare moments of peacefulness that I have re-discovered during this project.
I dedicate this model to my mother, Lila, to whom I owe my life and strength of character. Gracias mamá !
This article was originally published in IPMS Stockholm Magazine in June 2002.