by Tomasz Gronczewski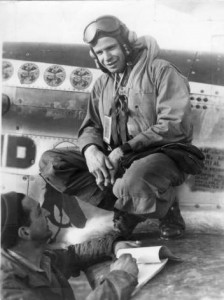 Simply known as "King of Strafers" or "Eager El", Elwyn Guido Righetti was not only a top fighter ace of the 55th FG but a top strafing ace in Europe.
Righetti joined 338th FS of the 55th FG in October 1944. He was 29 years old and he was experienced pilot but with no combat experience. Despite his age he was so eager and aggressive that he managed to renew the morale of his rather tired and routed group. Soon he became unofficial leader of the entire group, until he officially replaced Group's CO Col. Crowell on February 22nd, 1945.
One of Righetti's "hobbies" was destroying locomotives. Under his command 55th became true "loco" killer within 8th Air Force. Sadly Eager El's brilliant career came to its end just before war was finished. On April 17th 1945, exactly on his 30th birthday, Righetti was downed by flak during airfield strafing near Dresden. He managed to force-land his P-51
The following report was made by Lt. Carroll D. Henry on LtCol. Righetti's last known words and movements:
"He then made one more pass from west to east destroying a FW-190. I called him telling him that I was tacking on. He acknowledged saying that he was heading out on 270 degrees. I was about 3,000 feet and over-ran him due to excess speed gained while letting down. He was at six o'clock to me and I rolled out on 270 degrees. I chopped my throttle and when I looked back I couldn't locate him. About 30 seconds later he called in saying, 'I broke my nose but I am OK. I got nine today. Tell my family I am OK, and it has been swell working with you'. I made one orbit and couldn't locate him on the ground. Being by myself I then headed out."
Nothing more was ever heard about LtCol. Righetti. It is presumed that he was killed by infuriated German civilians. He left his wife and young daughter, who was about two years old when he went to England. Until the death he had scored 7.5 aerial victories and 27 ground victories.
The table below shows all his confirmed aerial victories.
| | | | | | | |
| --- | --- | --- | --- | --- | --- | --- |
| Date | Time |   | Victim | Own plane | Unit | Kill placement |
| 2/11/44 | 12:40 | 1/2 | Bf 109 | P-51D-15 | 338 FS | 40m SW of Leipzig |
| 24/12/44 | 15:00 | 1 | FW 190 | P-51D-10 | 338 FS | 15m SSE of Münster |
|   |   | 1 | FW 190 |   |   |   |
|   |   | 1 | FW 190 |   |   |   |
| 13/01/45 | 13:50 | 1 | Bf 109 | P-51D-10 | 338 FS | 25m W of Würzburg |
| 3/02/45 | 12:30 | 1 | Ju 88 (Mistel no.1) | P-51D-10 | 55 FG | near Boizenburg |
|   |   | 1 | Ju 88 (Mistel no.2) |   |   |   |
|   |   | 1 | FW 190 (M. no.2) |   |   |   |
Righetti's Markings
Elwyn Righetti flew this famous P-51D-10 Katydid named after his wife Cathryn.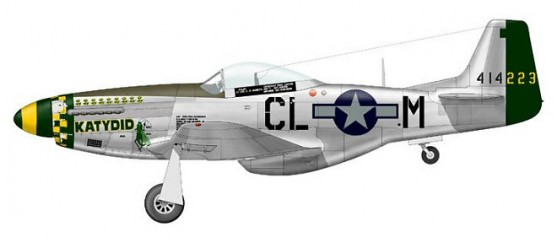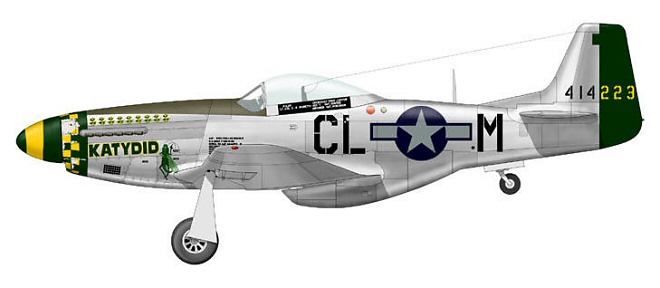 P-51D-10 ser. no 44-14223 "KatyDid"
Pilot LtCol Elwyn Righetti
338th Fighter Squadron, 55th Fighter Group, 8th Air Force
The entire aircraft was left in natural metal finish with Olive Drab anti-glare panel. National Insignia were grayed out. The aircraft's nose was adorned by common 55th FG's dark green and yellow markings. Note that the bands on the spinner were very crudely applied and that the checkerboard was very worn with lot of paint already chipped off. Black code letters CL-M suffered chipping as well. The rudder was dark green.
Below you can find zoomed details of Righetti's plane.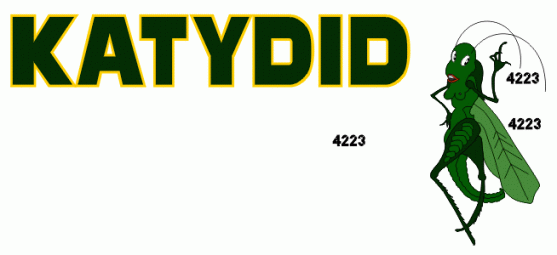 Although I have no colour photos of the "Katydid" artwork, I tried to interpret it in most probable colours. What I am sure is that the grasshopper was not black. A photo published in Freeman's "Mighty Eight War Diary" clearly showed variuos shades, which, I suppose, were green. Small black numbers "4223" (last four digits of the serial number) were painted on engine panels.
Despite several attempts I failed to recognize exact artwork used by Righetti to mark his victories. I think that it was a grasshopper over the swastika. Any suggestion would be appreciated. Unlike many other P-51 of the period, the artwork was not applied as a decal but painted. Subtle differences between the neighbouring symbols prove that. It is interesting that Righetti's squadron mate Darell Cramer used similar symbols to denote kills on his P-51D "Mick #5" until they were replaced by the more usual German flags.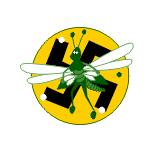 A "payroll" carried on the canopy frame had been very well depicted on the surviving photos.

This article was originally published in IPMS Stockholms Magazine in June 2007