Photos by Phillip Evans
Text by Martin Waligorski
The South African Air Force, the second oldest air force in the world, has a long and complicated history, not least during the modern era.
During the Cold War period, the SAAF found itself engaged in the Berlin Airlift, Korean war and finally the prolonged Border War with Angola. The Air Force was involved in this conflict on a limited scale from 1966, but it eventually escalated to a full-blown war conflict which lasted between 1975 and 1988. The Border War combined with international arms embargo imposed on apartheid government in South Africa were the two major forces shaping the development and operations of the Air Force.
After 1989, with the end of the war in Angola and South Africa's new political dispensation came the inevitable downsizing and review of priorities. With no imminent threat, the future role of the SAAF is envisioned as one of humanitarian assistance throughout Southern Africa. The cuts affected the SAAF deeply, and generally only one squadron in each role is being retained today. Eventually, the ageing equipment prompted the modernisation of the force, resulting in purchase of Saab 39 Gripens, British Aerospace Hawks and A109 utility helicopters. The years to come will see the final phasing out of the older types as newer aircraft and helicopters are acquired.
This photo album shows representative examples of South African Air Force aircraft, camouflage and markings, captured on film during the last two decades.
The current (June 2005) South African Air Force Order of Battle looks as follows:
Unit
Location
Aircraft used
2 Sqn
Louis Trichardt
Atlas Cheetah C/D.
15 Sqn
Durban
Atlas Oryx
BK117
15 Sqn – C Flight
Port Elizabeth
BK117
16 Sqn
AFB Bloemspruit
Rooivalk.
17 Sqn
Swartkop
Atlas Oryx
Alouette III.
19 Sqn
AFB Hoedspruit
Atlas Oryx
Alouette III
21 Sqn
AFB Waterkloof
Boeing BBJ
Cessna Citation 550
Cessna Citation 551
Falcon 50
Falcon 900A
22 Sqn
AFB Ysterplaat
Atlas Oryx
Alouette III
28 Sqn
Waterkloof
C-130B/BZ/F Hercules
35 Sqn
Ysterplaat
C-47TP
41 Sqn
Waterkloof
Cessna 208 Caravan
Pilatus PC-12
King Air 200/300
44 Sqn
Waterkloof
CASA 212-200/-300
CN235
Cessna 185
60 Sqn
Waterkloof
Boeing 707
85 Combat Flying School
Hoedspruit
Atlas Impala MkI/II.
87 Helicopter Flying School
Bloemspruit
Atlas Oryx
Alouette III
BK117
Central Flying School
Langebaanweg
PC-7 Mk II Astra
Test Flight and Development Centre
Overberg
various aircraft on test
SAAF Museum Flight
Swartkop/Ysterplaat/Port Elizabeth
various historical aircraft including C-47, P-51, Harvard, Shackleton, Sabre, Vampire, Mirage III and Alouette II.
Source: SAAF
South African Air Force Photo Album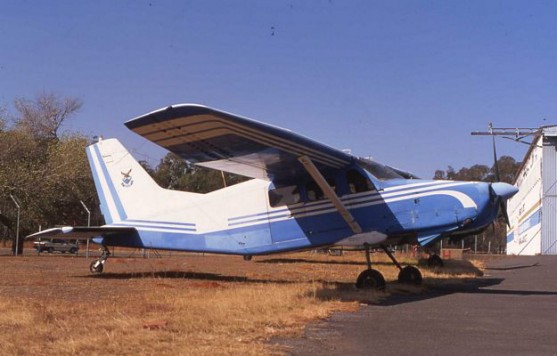 Atlas C.4M Kudu (999) of Test Flight & Development Centre. The Kudu was designed by the Atlas Aircraft Corporation, South Africa's sole manufacturer of military aircraft. It is general-purpose transport, accommodating a crew of two, and four to six passengers in the cabin. 40 were built between 1975 and 1980.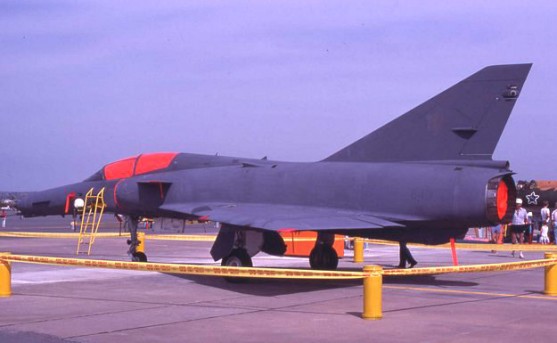 The Atlas Cheetah was a major South African upgrade of the Dassault Mirage III. Three different variants were created, the dual-seat Cheetah D, and the single-seat Cheetah E and Cheetah C. The SAAF currently has a mixture of 28 Cheetah Cs and Cheetah Ds in operational service. From 2007, the Cheetah fleet will be replaced by 28 Saab JAS-39 Gripens (19C/9D). This photo shows Atlas Cheetah D (840) belonging to 89 Combat Flying School.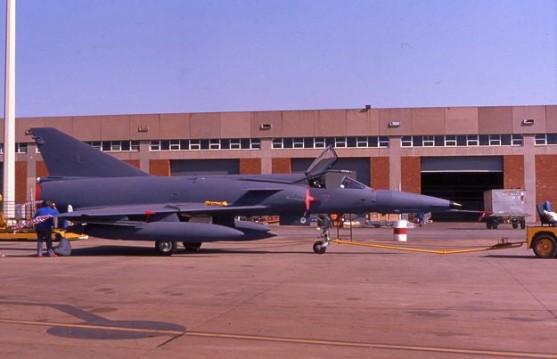 Atlas Cheetah E (831) of No 5 Sqn. The single-seater Cheetah E has a very short operational career, being an interim variant before the Cheetah Cs became operational. Introduced in 1987, it was retired from active duty in 1992.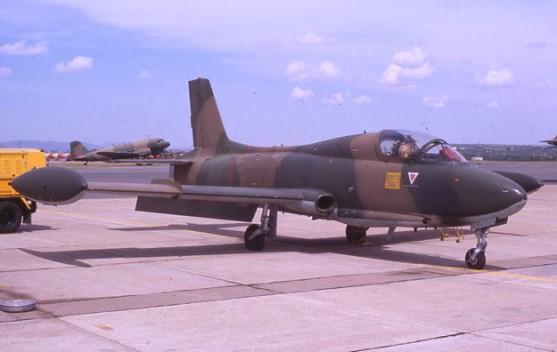 Atlas Impala Mk.1 (1000) of 85 Advanced Flying School. The Impala is the South African-built version of the Aermacchi MB-326 two-seat military jet trainer. 191 were produced with additional 80 improved Mk. IIs.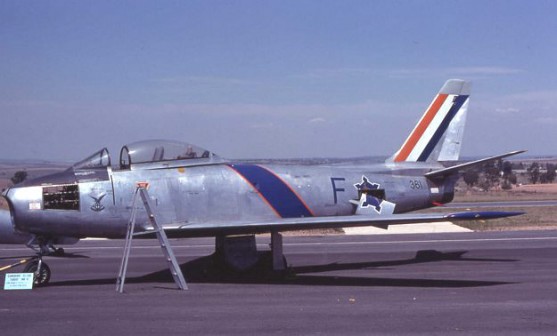 Canadair CL13B Sabre Mk.6 (361) of No 1 Sqn.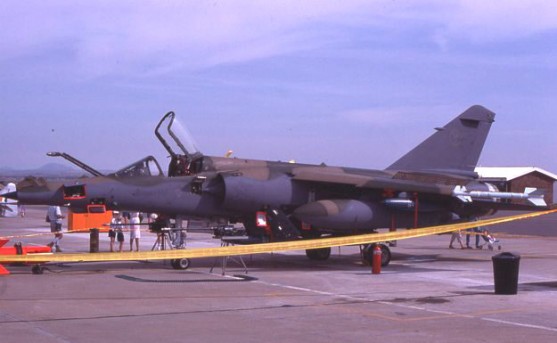 The South African Air Force flew both the Dassault Mirage F1AZ ground attack aircraft and its radar-equipped fighter version, the Mirage F1CZ. This picture shows the Mirage F1AZ (236) (No 1 Sqn)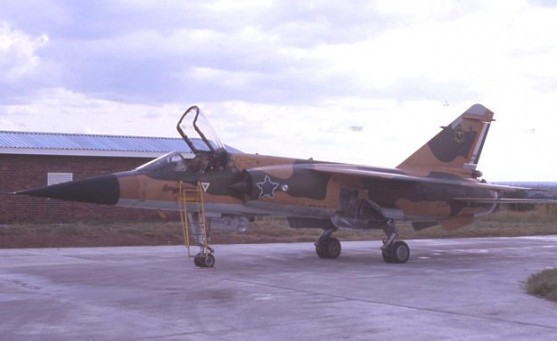 Dassault Mirage F1CZ (204) flying with No 3 Sqn.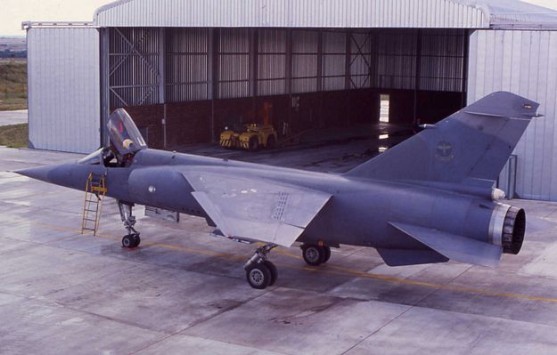 Dassault Mirage F1CZ (212) (No 3 Sqn)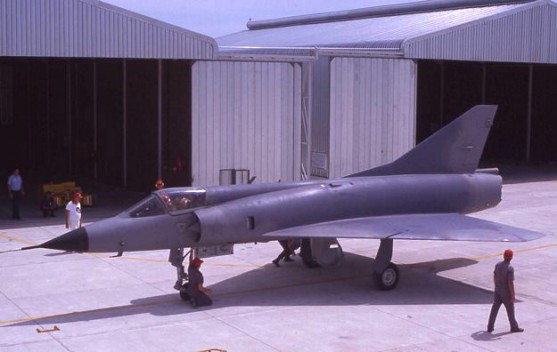 Dassault Mirage IIICZ (807) (No 2 Sqn)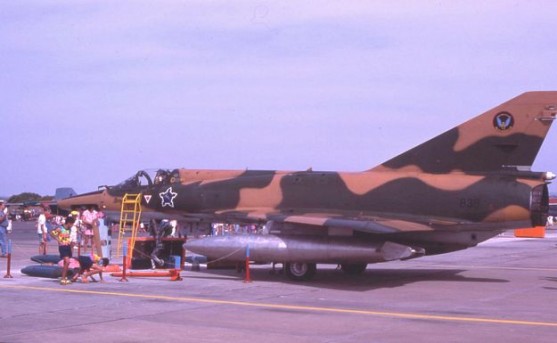 Designed by Dassault during the 1950s, the Mirage III was one of the most successful supersonic fighter aircraft ever made, being sold to many air forces around the world and remaining in production for over a decade. South Africa purchased 16 IIICZ, followed by 17 IIIEZ fighters, seventeen two-seaters (3 IIIBZ + 3 IIIDZ + 11 IIID2Z) and 4 IIIRZ followed by 4 IIIR2Z photo-reconnaissance machines. Many of these airframes were later upgraded to Cheetah standard.
This photo shows assault Mirage IIIRZ (838) of No 2 Sqn.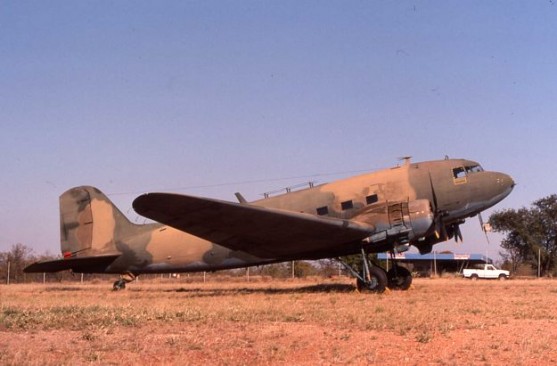 This camouflaged Douglas DC3 – C47 (6854) served with No 44 and No 25 Sqns and 86 Advanced Flying School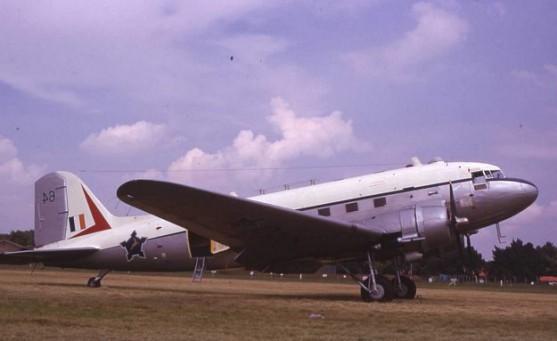 Douglas DC3 – C47 (6864) also served with No 44, No 25 Sqns & 86 Advanced Flying School.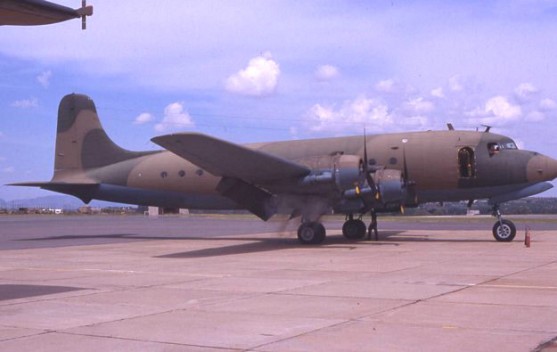 Camouflaged Douglas DC-4-1009 (6904) (serial no. 4315779) serving with No 44 Sqn.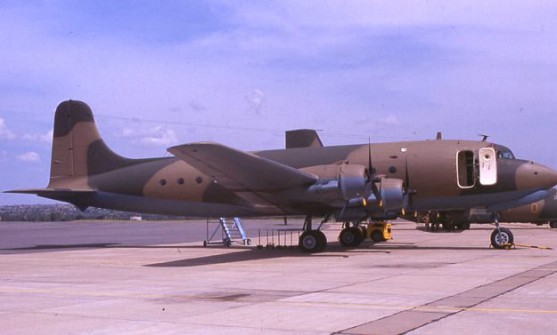 Another Douglas DC-4-1009 (6905) of No 44 Sqn.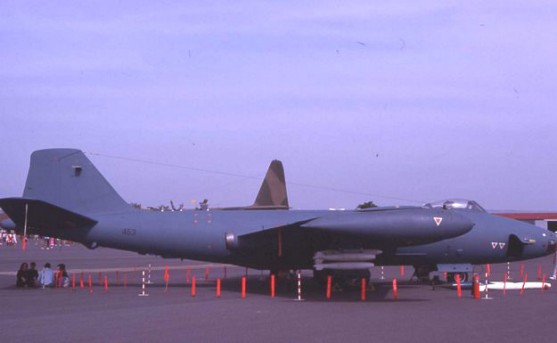 English Electric Canberra B(1)12 (453) of No 12 Sqn. The English Electric Canberra T.4 flew in June 1952, and the B(I)8 in 1955. The first delivery to South Africa took place in 1963. Both versions were operated by No. 12 Squadron.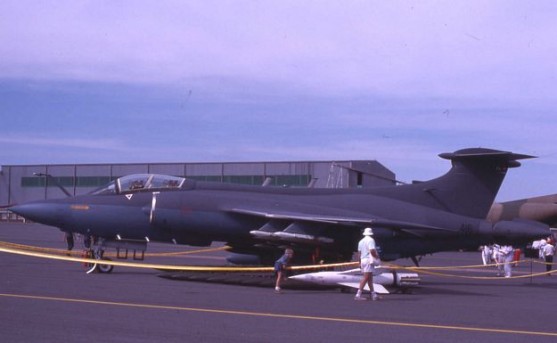 Hawker Siddeley Buccaneer S.Mk 50 (416) of No 24 Sqn.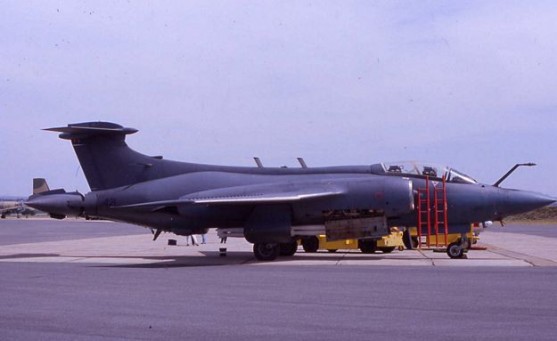 Another Buccaneer S.Mk 50 (421) serving with No 24 Sqn.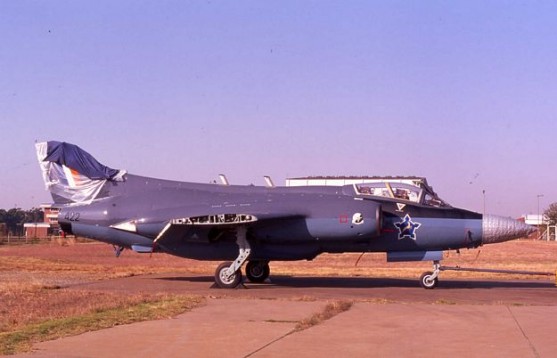 This Hawker Siddeley Buccaneer S.Mk 50 (422), originally serving with No 24 Sqn is now on display at National War Museum in Johannesburg. The photo shows the aircraft partially dismantled prior to the it being moved to the museum.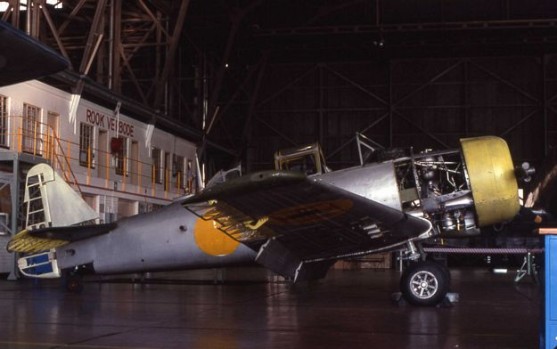 North American AT-6 Harvard (1751) at Jan Smuts – ex Portugese Air Force machine.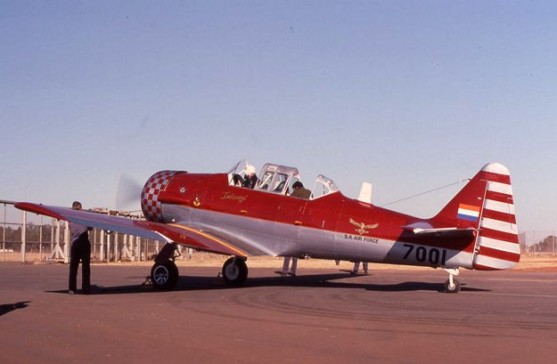 North American AT-6 Harvard (7001) of Central Flying School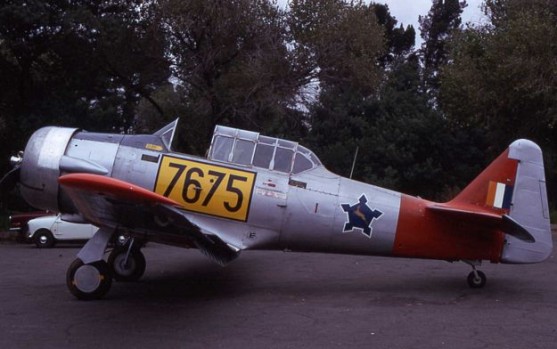 Another North American AT-6 Harvard (7675) flying with the Central Flying School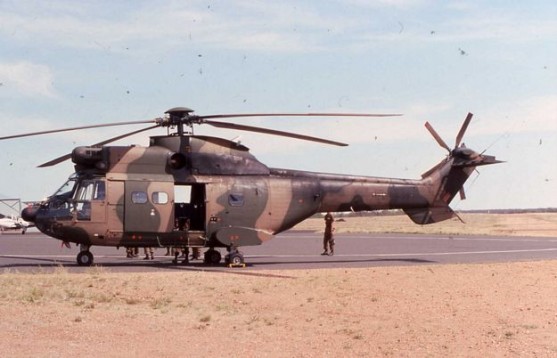 The Atlas Oryx is an upgraded and remanufactured version of the Aerospatiale Puma, roughly equivalent to the Eurocopter Super Puma. Over 40 machines are currently in service with several squadrons of the SAAF.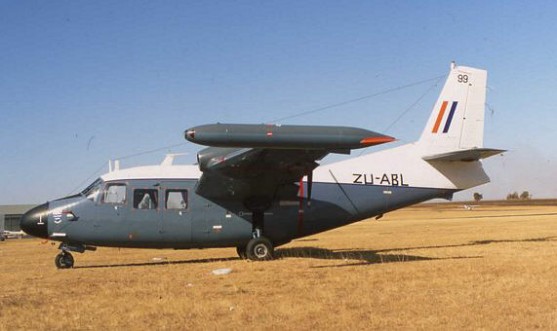 The first flight of the P166S took place in October 1968, and South Africa's order of 20 began arriving in 1969. With its excessive range, the Albatross was used for maritime surveillance. This picture shows P-166S (899) (ser.no 461) in the colours of No 27 Sqn. (ZU-BAL)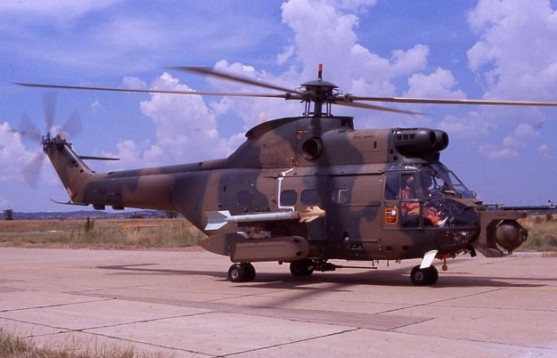 The SAAF became the first foreign buyer of the SA 330C Puma, receiving 20 helicopters in 1969-1970. Two helicopters, no. 189 and 190 were later used for the development of the XTP-1 Beta attack helicopters. This picture shows a XTP-1 no. 189, which was used primarily for weapons trials, including the first launch of the V3B air-to-air missile from a helicopter.
 This article was originally published in IPMS stockholm Magazine in July 2006