The street address of Skytteholmsskolan is Ankdammsgatan 14–16 in Solna.
Public transport
Take Underground line 11 to Solna centrum, exit at Centralvägen (bus terminal). Turn right when you get out of the Underground station. Pass through the subway under Huvudstagatan and cross the meadow towards the brick building.
By car
Get on the E4 motorway, follow the signs towards SOLNA and then Solna C.
Coming from the south: From Huvudstagatan turn left onto Ankdammsgatan.
Coming from the north: Follow Frösundaleden to the roundabout, turn onto Ankdammsgatan.
Turn onto Nybodagatan.
Continue onto the parking spaces by the big brick buildings beyond the end of the street.
There is limited parking at the school, so please follow the orders of our traffic wardens. Unload and then park your car elsewhere. There are car parks at Solnahallen and in Solna centrum.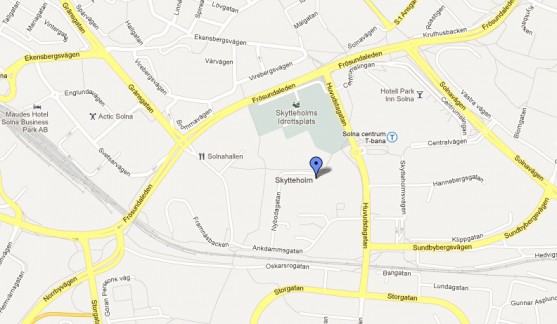 Show Modellexpo 08-Open on a larger map.