by Tomasz Gronczewski
Lance Cleo Wade – American RAF Ace
Lance Wade was one of the top US aces fighting within RAF. In early 1941 he volunteered into American Eagle Squadrons but in fact he never flew with any of them. Instead of that he was posted to Malta and later to North Africa. There he joined 33 Sqn and started his long run of victories. In November 1941 he managed to claim six kills (four individual and two shared) while flying various Hurricanes Mk I. On December 5th 1941 Wade was shot down by Flak while strafing enemy positions in Agadabia. He managed to survive and after a long walk across the lines he was picked by friendly forces.
During summer of 1942 Lance Wade added eight more kills to his total before he finished his first tour and returned to United States.
In January 1943 he joined Spitfire equipped 145 Sqn and at the end of the month he became its CO. During final stage of African campaign Wade scored 8 more kills over Tunisia. Finally he scored two more victories over Italy.
On January 12th 1944 Lance Wade was killed in flying accident when his Auster Mk III hit ground at Foggia A/F.
Totally Lance Wade scored 22 individual and 2 shared victories, all of them within RAF.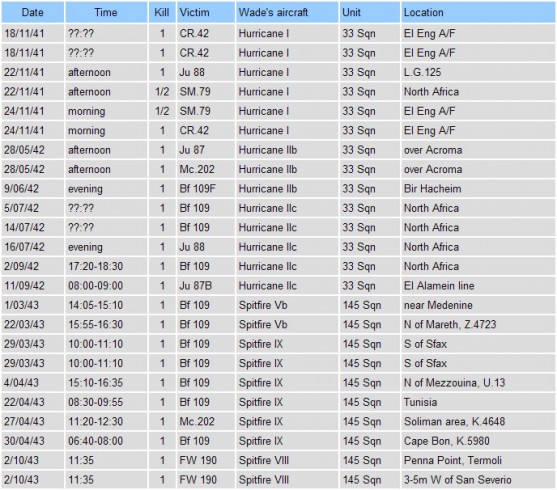 Wade's Aricraft
During the first stage of his career Lance Wade used flew Hurricanes Mk Is to score his victories: Z4360, V7828 and Z4311. It is not known if he had his assigned plane then. Later Wade flew various Hurricanes IIb and IIc, and at least three of them were used by him more frequently: IIb B?239 (BN239 or BP239), IIc BP186, IIc HL661.
When he joined 145th Sqn he flew a few Spitfire Mk. Vbs, but at least in March of 1943 Spitfire ES252 ZX-E seemed to be his favourable plane. He scored with it 1 Bf 109 damaged on March 8th 1943, 1 Bf 109 probably destroyed on March 21st 1943 and 1 Bf 109 shot down on March 22nd 1943.
Later, when Wade switched to Spitfire IXs, the plane EN186 became his usual mount. He scored two damaged (on April 7th and July 10th) and three confirmed kills (on April 22nd, 27th, 30th) with it.
Finally Wade switched to Spitfire VIII JF472 "J" ("ZX-J"?) and managed to down two and damage three enemy aircraft.
Below you can see Wade's Spitfire Mk Vb trop ES252 ZX-E. He was shown in this very plane on the wartime film, when he lead 145th squadron on take off.

This article was originally published in IPMS stockholm Magazine in January 2006