by Janne Nilsson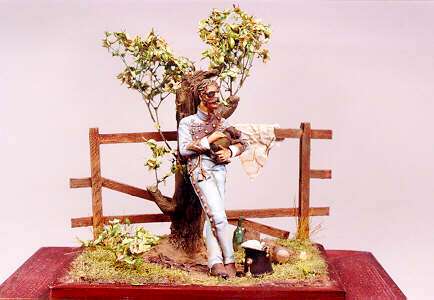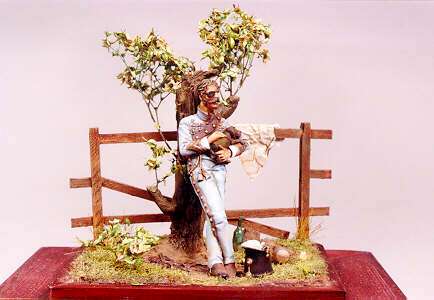 One more figure from Wolf in 54mm scale .
The figure was a one-piece casting with a base included. A bag, sabre and gear was molded into the base. I built up my new scene were around the included base. Some new branches were added to the tree along with some leaves. I scratch-built a fence. Some details mostly from Historex were added to the base.
Everything was painted in Humbrol enamels, an old and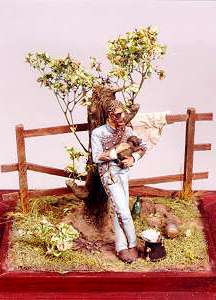 well-known brand, but the one which I particularly like for brush-painting.
The idea was to show contrasts: a battle-weary husar in a relaxed pose, a peaceful surrounding, petting his puppy. The scene is dated around the time of the battle of Borodino 1812.
This little figure was a subject of an in-depth article published in Swedish modelling magazine Allt om Hobby during 1997.

   Återigen en figur från Wolf den här gången i 54mm.
Figuren var helgjuten i ett stycke med bas som medföljer. Väska, sabel och koppel är ingjutet i basplattan så basen byggdes med den som grund. Trädet fick fler grenar och löv. Ett staket byggdes och några fler detaljer (mest från Historex) placerades ut.
Hela figuren är målad med Humbrolfärger, ett gammalt märke, men en vilken jag föredrar för penselmålning.
Tanken var att visa några kontraster: ärrad fransk Husar som vilar under striderna och ömt håller sin valp i famnen. Scenen är tänkt att tilldra sig vid Borodino 1812.
En mer ingående artikel om denna figur har publicerats i Allt om Hobby under 1997.
This article was originally published in IPMS Stockholm Magazine in February 1999.