by Göran Kindlund
English translation by Magnus Fridsell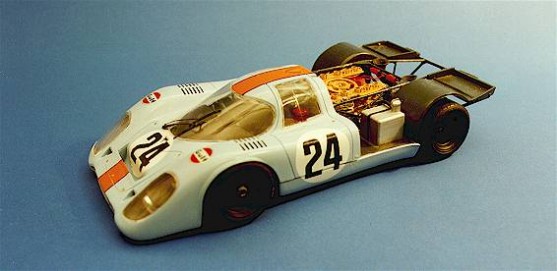 En av de häftigaste, och farligaste, racer- sportvagnar som någonsin funnits.
Föraren satt inkrupen några centimeter över backen i en bur av aluminiumrör klädd med mycket tunn glasfiber. Bakom ryggen satt en tolvcylindrig, femliters boxermotor med närmare 600 hkr. Med en toppfart på över 300 km/h krävdes inte stort misstag för att hela konstruktionen skulle förvandlas till ett plockepinn. En förvandling som förarna dessvärre sällan överlevde.

With model 917, Porsche created one of the most awesome and dangerous racing sport cars there ever was.
The driver was perched a few centimetres above the ground in an aluminium tube cage, and clad with very thin fibreglass reinforced plastic body. Behind his back there was a twelve cylinder, five litre boxer engine able to deliver almost 600 hp. With a maximum speed of over 300 kph not much was needed to convert the whole thing to a pile of rubble, a conversion drivers seldom survived…
Byggsatsen
Ursprungsmodellen kommer från Heller, men mitt exemplar är en återutgivning från Union, som förvärvat rätten till gjutformarna. Den här byggsatsen anses av en del som obyggbar, p g a sin komplexitet. Jag såg det som en utmaning. Och det är klart, det är långt ifrån en Snap Kit, men allting passade faktiskt riktigt bra.
Däremot gick det inte riktigt att följa byggbeskrivningen och vissa dela fick först limmas ihop och sedan delas på andra ställen för att det hela skulle fungera.
Uppbyggnaden av chassit består av många tunna plaststänger och jag bytte ut några mot pianotråd för att förstärka konstruktionen lite grann.

The kit
Originally this was a Heller kit. Nowadays the forms have been taken over by Union, who's re-issue I posessed. Many consider thius kit to be unbuildable due to its complexity. I saw it as a challenge. It is clearly quite far from a Snap Kit, it did however fit together quite well.
Regrettably the assembly instructions left a few things to be desired and I departed from them on more than one occasion; some parts had to be glued together, just to be divided somewhere else to make it all work.
The kit chassis is built up using very thin plastic rods. I substituted some of them with lengths of piano wire to make things a little more sturdy.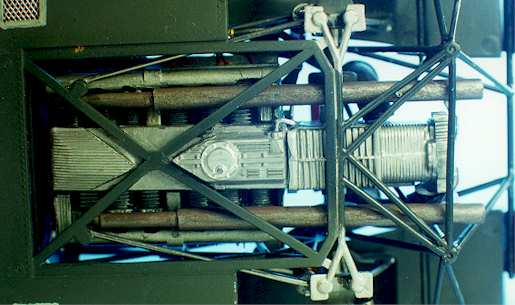 Motorn i byggsatsen består i sin grund bara av en fyrkantig plastbit utan tillstymmelse till detaljer.
Jag beslöt därför att göra ett nytt "motorblock" genom att sätta samman två 6-cylindriga Porschemotorer från Fujimis Enthusiast Models. Ett arbete som det inte syns så mycket av när allt kommit på plats, Heller var uppenbarligen inte så fel ute med sin fyrkantiga plastbit.
Jag detaljerade också motorn och "motorrummet" en hel del. Bland annat skratchbyggde jag hela insprutningssystemet med insugningstrattar, munstycken och hela härligheten. Tolv av allting.

The engine was from the beginning just a square plastic lump sadly devoid of any detail.
Therefore I decided to produce an entirely new engine. I used two six cylinder Porsche boxers from the Fujimi Enthusiast Models added together. When I finally put the new engine in place, not much is seen so Heller's plastic box wouldn't be that bad solution anyway!
I also spent time detailing the rest of the engine room. The most prominent addition is a complete fuel injection system with manifolds, nozzles and everything. Twelve of each that is…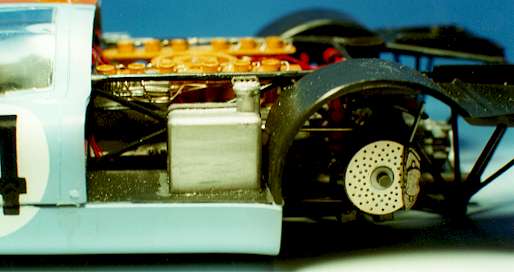 Fotoetsade bromsskivor och däck från Fujimi (modifierade) kompletterade chassit.
Även inredningen, som inte heller syns, detaljerades med instrument, säkerhetsbälten etc.

To complete the chassis I added modified brake discs and wheels from Fujimi.
I also did put some instruments and seat belts inside which can't be seen very well.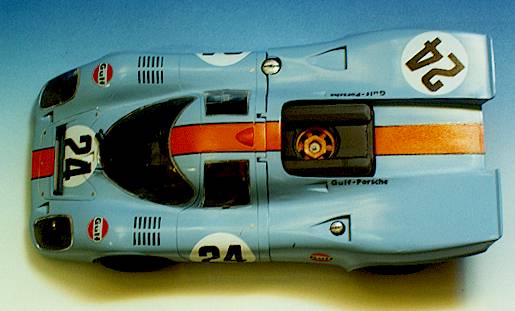 Avslutningsvis lackerade jag med Gulf Blue från MCW Automotive Finishes och applicerade dekaler från Fred Cady.
En av mina favoritmodeller, både i skala och fullstor.

I painted my model using Gulf Blue from MCW Automotive Finishes. Fred Cady decals where then applied.
This is definitely one of my favourite cars, both in scale and full size.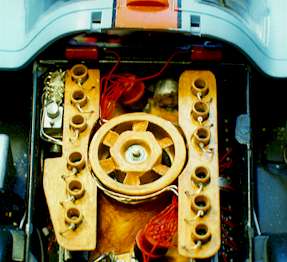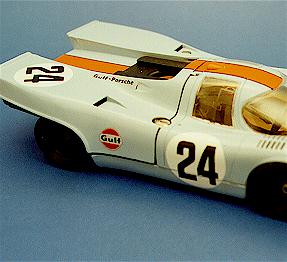 This article was 2000.originally published in IPMS Stockholm Magazine in December 1999