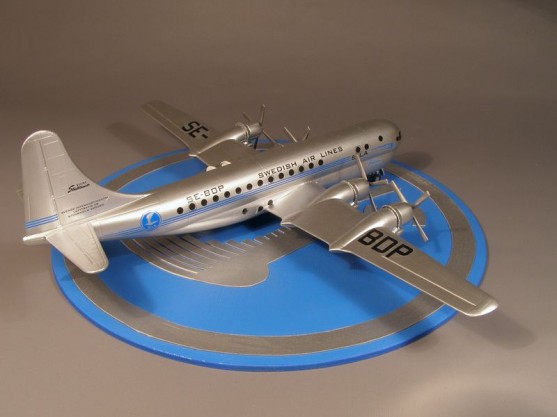 Jag vet att denna aldrig har funnits men här står den ändå. En svensk Boeing 377 Stratocruiser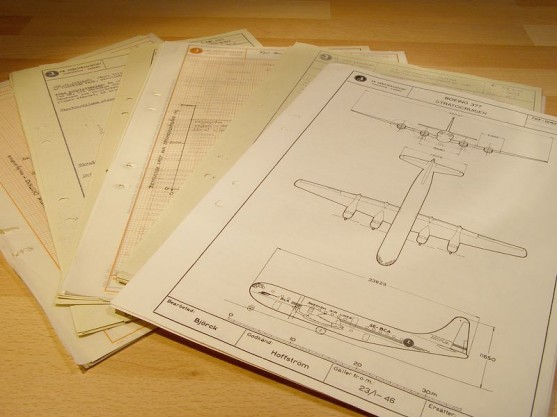 Jag köpte en bunt dokument om det planerade köpet av Boeing Stratocruiser av SILA. Det inehöll bla, propellerdata, flygkostnader, räckviddprestanda, tabeller för start och landning mm. Det viktigaste för mig var en ritning av planet i SILA skrud.
Jag har sett modeller av Stratocruisern i SAS-målning men inte i denna. Självklart måste en sådan byggas.
En artikel i The Atchison Daily Globe den 28 February 1946 står det att SILA beställt flygplanen och man berättar om "Swedish modern" interior decoration scheme, styled by leading Stockholm designers.
De skulle levereats 1947 men det blev som med Boeings Dreamliner, förseningar. I februari 1949 överlåter SAS (som SILA nu var en del av) kontraktet på sina beställda Stratocruiser till brittiska BOAC som fick planen i december samma år.
I modell finns den i 1/72 från Academy och i 1/144 från Minicraft. Då den aldrig funnits i denna målning och dessutom är ett ganska stort plan beslutade jag mig för att den mindre modellen. Motorerna i byggsatsen känns lite odetaljerade och oinspirerande även för denna skala så jag investerade i nya resinmotorer.
Passformen var inte perfekt så det krävdes en del jobb för att få dom att passa. Hade jag struntat i att karva i resinet hade motorerna pekat uppåt.
Självklart missbedömde jag hur mycket tyngd som behövdes i nosen så jag fick ett plan som imiterar en hund som sitter vackert. Jag hade ingen lust att ta upp ett hål för att stoppa i mer tyngder och nosstället kändes för bräckligt för att limma fast på en basplatta. Jag såg då en bild på en underbar passagerartrappa vid en DC-4 så jag byggde en sån med hjälp av foton och den fick stötta upp baken på planet istället.
Med ritningens hjälp ritade jag dekaler till modellen. Jag bytte dock ut registreringen till ett av dom som reserverats för planen. Stratocruisern hade en del olika fönsterarrangemang beroende på beställare så jag fick leta rätt på bilder av BOAC-planen för att se hur fönstren var placerade på denna maskin.
Blått är inte min favoritfärg och det är väldigt sällan jag blir inspirerad att bygga en blå kärra så det är ett elände att både ABA och SAS använder blått på sina kärror men jag måste ändå säga att blått på silver ändå andas klass.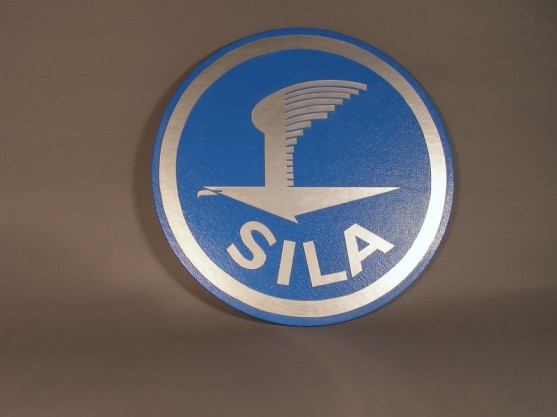 Jag blir aldrig klok på relationerna mellan ABA och SILA. Man använde samma målningsschema och i princip samma logo. Jag gjorde en basplatta av denna logo.
En cirkulär modell av dukpannå målades blå. Sedan skar jag ut dekoren i silverfärgad kartong och limmade dit.
I know it never existed but I built one anyway.  A Swedish Boeing 377 Stratocruiser
I bought a stack of paper on the planned purchase of Boeing Stratocruiser of SILA . It contained, propeller data , flight costs , range performance tables for takeoff and landing and such. The most important thing for me was a drawing of the plane in SILA colours.
I've seen models of the Stratocruiser in SAS livery but never in this one . So I had to build one. At an article in The Atchison Daily Globe, February 28 – 1946, SILA confermed orderering four aircrafts and they talk about a Swedish Modern interior decoration scheme, styled by leading designers Stockholm .
They would have been delivered in 1947, but like the Boeing Dreamliner there vere delays. In February 1949 SAS (as SILA was now a part of) transfered the contract on their ordered Stratocruisers to British BOAC who got the plane in December.
There are kits in 1/72 from Academy and in 1/144 from Minicraft . As it never existed in this colours and is a rather big plane , I went for the smaller model .
I always thought that the engines are little to simplified even for this scale so I invested in new resin engines.
The fit was not perfect so it was some boring work to get them to sit right.
If i just had slipped them in place they would have been pointing upwards
I misjudged how much weight was needed in the nose so I got a plan that imitates a dog that sits beautifully .
I had no desire to make a hole for inserting more weights and nose wheel felt too fragile to glue it on a base plate .
I saw a picture of a gorgeous passenger stair so I built one of those with the help of photos. It keep the plane from falling backwords.
With the help of the drawing I made some decals for the model. I changed the registration for one reserved for the planes.
The Stratocruiser had some different window arrangements depending on the client ordering them so I had to locate photos of
BOAC  planes to see how the windows were located on this machine.
Blue is not my favourite color and it's very rare that I get inspired to build a blue schemes so it is sad that both ABA and SAS uses blue on their planes but I must say that the blue on silver breath class.
I will never understand the relationship between ABA and SILA . They used the same livery on the planes and basically the same logo.
I made a base for the plane using this logo.