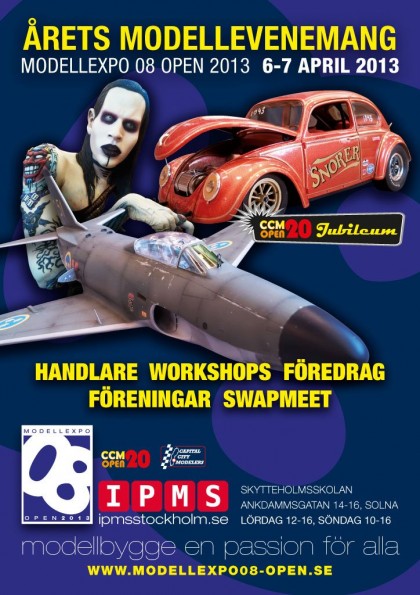 Årets modellevenemang
ModellExpo 08 Open 2013 kommer att gå av stapeln 6-7/4, 2013. Med utgångspunkt från över 30 års tradition är ModellExpo 08-Open ett av de största evenemangen i sitt slag i Sverige och ett av de viktigaste i Norden. Som namnet antyder står modellen i fokus för oss med allt vad det innebär.
ModellExpo 08-Open är mycket mer än en tävling, där finns också handlare, workshops, föredrag, café Shake ´n Bake och inte minst en mängd modellbyggare. Evenemanget arrangeras av IPMS Stockholm.
ModellExpo 08- Open 2013 will take place 6-7/4, 2013. With more than 30 years of tradition ModellExpo 08-Open is one of the largest and most important events of its kind in Scandinavia. As the name implies the star of the show is the model and everything around it.
ModellExpo 08-Open is much more than just a competition, there are dealers, workshops, guest lecturers, coffee shop Shake ´n Bake and last but not least lots and lots of model builders. The event is hosted by IPMS Stockholm.
CCM OPEN 20 – 20-års Jubileum!
LÖRDAGEN DEN 6/4 2013
Inskrivning 09:00-11:00
Prisutdelning ca 15:00
Modellbilstävling
Swapmeet – Boka bord i tid!
Handlare 300:-/bord Privat 100:-/bord
Kaffe och smörgås finns att köpa
Frågor?
Ring Nisse 08-58033425, 0707783021