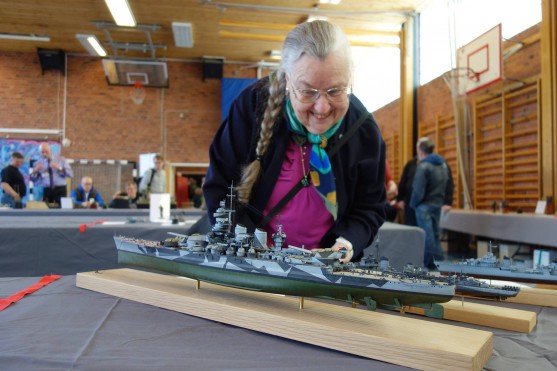 Modellexpo 08-Open 2017 and Swedish Nationals
IPMS Stockholm arranges Modellexpo 08-Open 2016 April 8 to 9, 2017. This year the Swedish Nationals is held in conjunction with 08-Open. The event is held in Skytteholmsskolan in Solna. With over 30 years of tradition, Modellexpo 08-Open is one of the largest events of its kind in Sweden and one of the most important in the Nordic countries. Modellexpo 08-Open is much more than just a contest, there are also dealers, café Shake'n'Bake and not least a lot of modellers. We also have a number of special exhibitions.
Program
Saturday, April 8
10:00 to 11:30 Check-in of models
12:00 to 16:00 Exhibition and judging
19:00 Joint dinner at R.Asia.  RSVP to 08-open@ipmsstockholm.se on 2017-04-03 at the latest.
9:00-15:00 CCM Open, model car competition
Sunday, April 9
10:00 to 15:00 Exhibition
12:00–13:00 Lecture by Simon Owen, Hornby Hobbies: "Scaling down Reality"
15:00 (approximately) Award ceremony
16:00–17:00 Exhibition broken
Open to the public: Saturday 12:00 to 16:00 and Sunday 10:00 to 15:00.
Admission 80 SEK, IPMS members (with proof of membership) and children up to 15 years enter free. Exhibitors and event officers are not charged any admission fee.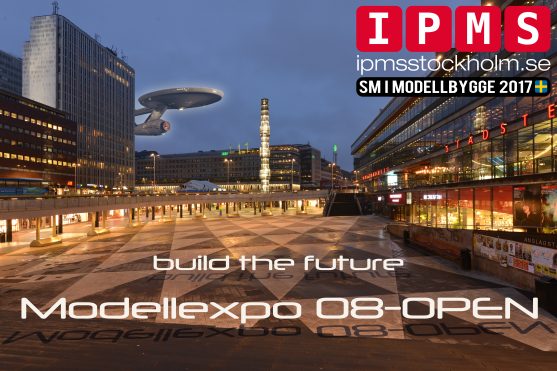 This year's theme: Science fiction
Build a Science Fiction model and compete or exhibit in this year's theme class.
This year's special: Airfix "New Tool"
As we have a distiguised visitor from Airfix this year, we thought it would be a good opportunity to show our latest Airfixbuilds. Hornby acquired Airfix in 2006 and the year after they stared the new launch.
All new tool Airfixmodels are eligible to participate. For those unsure a list is available here. We have a competitionclass and a separate show for those not interested in competing.
Celebration!
This year we celebrate that is was 50 years since the first Saab 37 Viggen  flight.
The Swedish Aviation Historical Society  will have a special price for the best Viggen model.
Special exhibitions
The special exhibitions are not judged, but just for show.
Matchbox SIG
Matchbox is no longer produced under its own name, even if Revell occasionally rereleases old Matchbox kits under their own brand. The goal of this exhibition is to show all Matchbox kits, so if you have an old Matchbox kit in your display case, bring it along; if you have an old kit at the bottom of the closet, build it and exhibit it. As long as the box or moulds say Matchbox, they are all welcome.
New special exhibition, "Work in Progress"
Even those modelbuilders who have difficulties completing their models should get a chance to show what they are working on.
We believe that there are quite a large number of interesting projects/models under construction that show different ideas, techniques and solutions that can be displayed, discussed, and commented on by other builders. Here every builder gets a chance to show what they are working on despite the fact that it is not finished. This way every builder can participate in 08-Open.
Finland 100 years
We will have a special exhibition commemorating 100 years of Finnish independence.
Special Interest Guy
This year Clive Frith is our Special Interest Guy and we have been promised a selection of really big models. Clive has in many ways been an important person for IPMS Stockholm and it is therefore fitting that we now can present his modelling work in context.
After a career in the RAF Clive arrived in the early 1970s in Stockholm where he, int al, worked as the manager at Tradition for a period. Around 1979 he, together with Pål Björkman and Sten Sundelin, founded IPMS Stockholm. The newly-founded club did membership campaigns with exhibitions at places such as Åhléns, McDonalds and various schools in the Stockholm area. The Scala journal was restarted during this period and IPMS Sweden in practice came to consist of IPMS Stockholm. Thus was also started the tradition that IPMS Stockholm arranged IPMS Open in the name of IPMS Sweden. The competition was held for the first time in the ABF building in 1980, but through Clive becoming model builder at the Army Museum IPMS Stockholm got the opportunity to have IPMS Open hosted by the Army Museum from 1983 and several years onwards.
Clive eventually retired from the club activities but faithfully returns to 08-Open, often accompanied by large Russian or Chinese bombers. His (so far) largest model, a full scale replica of a KV-1, will however not be shown.
Lecture
Sunday at 12, Simon Owen of Hornby Hobbies will lecture on "Scaling down reality": How are the moulds for the model kits we build produced? 3D scanning is one of the technologies that have enabled unprecedented precision and realism. Simon is Lead Researcher at Hornby Hobbies, specialised at producing moulds for Airfix and Scalextric.
Dealers
Clubs
Contact
If you have any requests or suggestions for how to improve the event, please contact the event management at 08-open@ipmsstockholm.se.