A Messerschmitt Me 262B Collection
by Rafi Ben-Shahar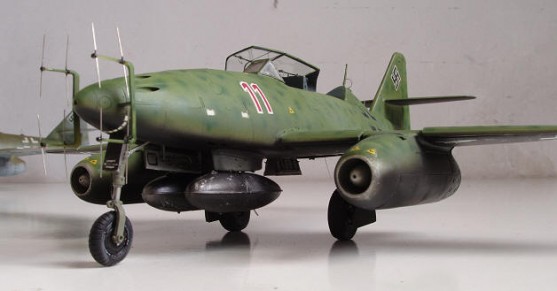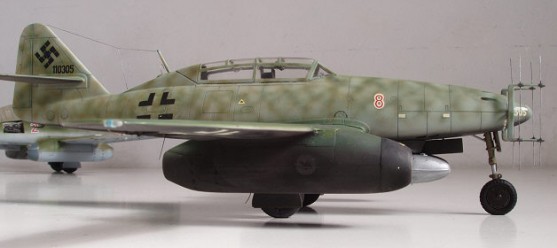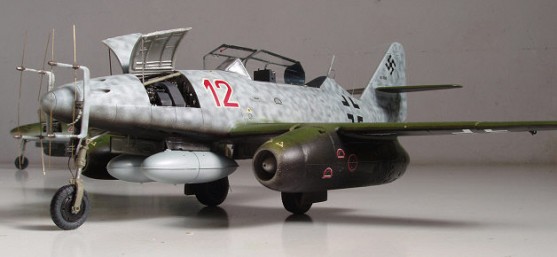 Say no more. Here is my 262Bs collection, which I hope will inspire you.
The Messerschmitt 262 two-seater, converted to the night fighter role (Me 262B-1a/U1) with the installation of an airborne radar appeared during the later stages of the War. It seems that a handful of aircraft were actually flown, achieving limited operational experience.
Among the plethora of German combat aircraft captured by the Allied at the end of the war were also seven two-seater Me 262s. Five examples of Me 262B that fell into Allied hands had been well documented, , leaving ample photographic material much to modeller's delight, although two others seems to have never been photographed.
Dragon's 1/48 depicts accurately the features of the 262B and is my favourite kit of this scale. The kit requires considerable building skills to be finished without blemishes and to represent the unique features of this mark.
The kit is a challenge to build because of the high level of detailing. Perhaps, the best way to go about it is to practice first with the single seat version that sells for half the price of the equivalent Tamiya kit. The objective is to leave the putty in the toolbox. Although many modellers claim otherwise about Dragon kits, it is quite possible.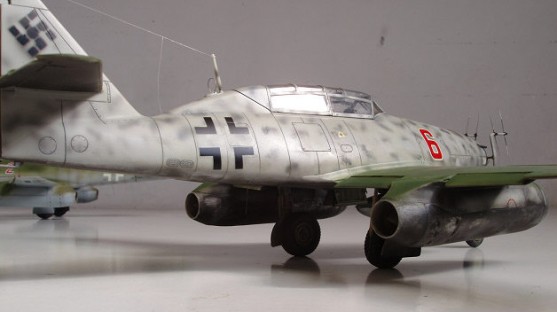 During a draught spell when Dragon's kit was hard to find I used a CMK conversion on a single-seat Dragon kit for one of the models. It worked well. The CMK set is a must to anyone who wants to build a trainer version of the 262 although the vac formed canopy is not up to scratch.
Separate wing slats are the most obvious modifications of the kit. On the real aircraft, the slats were closed only for maintenance and high speed experimental flights. you do not have to buy aftermarket accessories for this amendment because they are expensive and are difficult to assemble. The best way to achieve a realistic result is to cut away the slats, make a filling in the gap between the wing halves from a styrene sheet and thin the trailing edge of the slats. The rods are also made from pieces of a styrene sheet. However, the attachment of the wings to the fuselage is more difficult with the slats detached.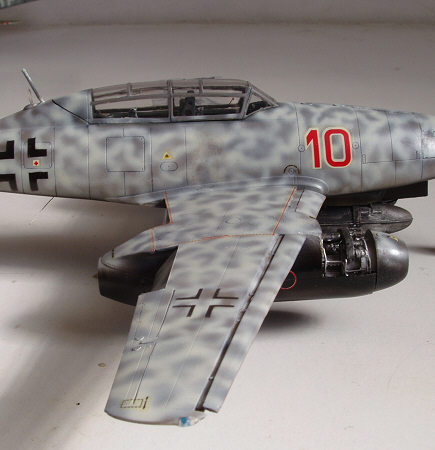 Additional detailing entailed antennae rods, gun bay from the single seat version, brake pipes and a spare CMK radar console. Other models feature Verlinden parts to enhance the detail.
There was some deliberation about the configuration and markings of individual aircraft. For example, it would appear that Red 10 had 4 cannon mounted in the nose and not 2 as indicated in the instruction sheet and some references.
I painted with mixed paint following a secret formula that I keep in my head. After building many models I am quite convinced that I was a Luftwaffe pilot (not a mechanic) in my previous incarnation because the painting always comes right.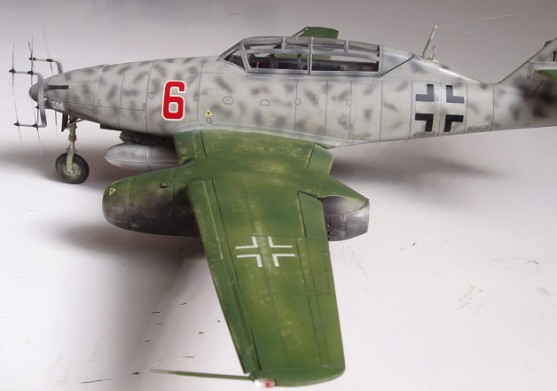 This article was originally published in IPMS Stockholm Magazine in March 2005