by Dan Antoniu and George Cicos
This article is a companion feature to the previously published Camouflage and Markings: IAR 80/81 – Romania's Best Fighter, covering the development history, and production variants of this aircraft (Ed.)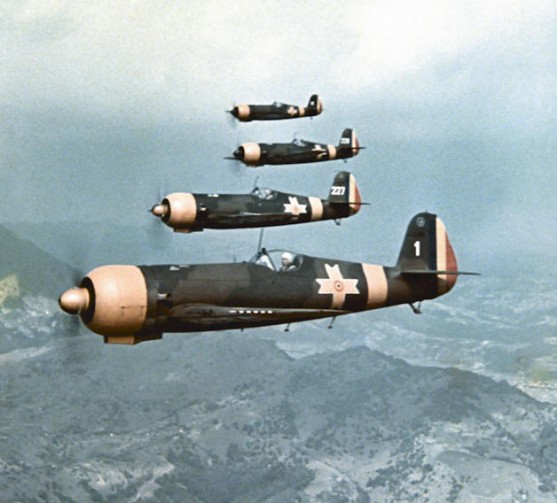 Magnificent colour photo of a flight of IAR 80s over the Carpathian mountains
Photo: Sorin Tulea, through Dan Antoniu
Taking into account the situation of the Romanian fighter force, at the end of November 1936, IAR proposed to MAM (Ministerul Aerului si Marinei – Air and Navy Ministry) the project of a new all-metal monoplane fighter under the name of IAR 80.
The design of the new aircraft was lead by professors Ion Grosu and Ion Cosereanu and the engineers Gheorghe Zotta, Mircea Grossu-Viziru and Ioan Wallner. In this team, ing. Mircea Grossu-Viziru (the director of IAR factory) distinguished himself as the true father of the IAR 80 design, a feat for which he was later awarded with Ordinul Virtutea Militara cl.III-a (Military Virtute Order, third class). The new project was ambitious, incorporating many modern features of the time: low-wing monoplane configuration, all-metal structure, retractable undercarriage, but an open cockpit. Power was to be provided by a Junker Jumo 211Da engine imported from Germany.
For shortening the development time, IAR designers used some elements of the PZL P. 24E then in license production in Romania, namely the rear fuselage from frame 5 towards the tail, but stretching it by increasing the distance between frames. The fin and the stabilizer of the PZL design were improved structurally. The other elements were reworked.
Prototype development
MAM ordered development of a prototype and at the same concluded a purchase contract with Junkers for Jumo 211Da engines, necessary for the IAR 80 and Savoia Marchetti 5M-79B fighters, both intended for series production by IAR. According to this contract, the first three engines were to be delivered by July 1937, one for the IAR 80 prototype, the other two for the SM-79B prototype, which was being constructed at Savoia.
In 1937, the construction of the prototype commenced, and the airframe was finished in the same year. The design work and the prototype required a total 180,000 manhours of labour.
Because of various reasons, Junkers postponed its planned export deliveries of the engines and consequently could not be relied by the Romanian part upon for the delivery of the entire series. In the upcoming situation, the IAR was asked to re-design the IAR 80 prototype for being equipped with an IAR-14K engine (license-built Gnome-Rhône 14K II Mistral Major), the only high-power piston engine available at that moment in Romania, still planning for later series aircraft to get Junkers engines. Initial calculations showed that the IAR-14K-powered fighter would have a 200 kg smaller gross weight, which would equalize its lower power output as compared to the Jumo. However, the IAR radial had also a few significant disadvantages: very high oil consumption, insufficient production standards requiring frequent overhauls (service interval being a mere 30 hours as opposed to 100 required by MAM), and the output limited to 870 hp for the variant then in production, IAR-14K IIc32 .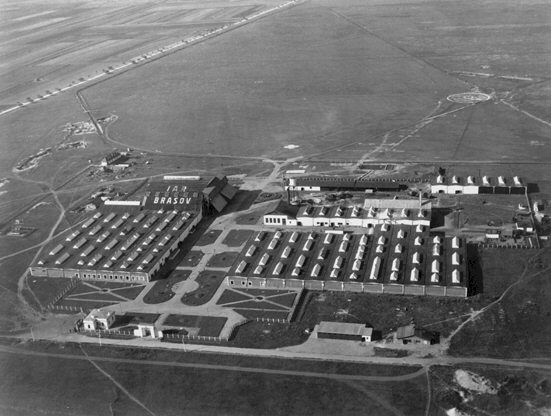 Aerial view of the Brasov works, 1927. During the war this factory produced IAR 80-81, IAR 39 reconnaissance and light bomber aircraft, SM 79B, JRS 79B bombers and assembled Messerschmitt Bf 109Gs
Photo: Dan Antoniu Coll.
By the beginning of April the rebuilt prototype was ready. It was taken to the air on April 4th, 1939, for a short "factory" flight test. On April 12 the official inaugural flight was made with Cpt. Av. Dumitru Popescu (Pufi) at the controls.
Year 1939 came and went without Romanians seeing but one of the ordered Jumos, so a decision was made that the entire first production series from nr. 1 to 20 would be equipped with IAR-14K IIc32. At that stage plans still existed for installing Jumos starting with the the second series… but of course these did not materialize either. The Junkers engines arrived only after 4 years, in 1941, but according to the report No.648/25.01.1941 of IAR company, MAM had abandoned the idea of powering the IAR 80 with these, diverting the entire batch for license-production of SM-79B bombers.
The report contains an interesting comparison between the intended Jumo-powereed and actual 14K-powered aircraft. The maximum speed with Jumo 211Da at 930 hp power and 5700 m height was estimated to 558 km/h. Maximum speed at 1000 hp and 4000 m height with IAR-14K IVc32 1000A engine was 528 km/h. At the heights below 4000 m the Junkers-powered aircraft would actually be inferior to the IAR radial.
Technical specifications of IAR 80 prototype
The IAR 80 fighter's technical specifications in the contemporary handbooks were as follows:
Single engine, single crew, monoplane fighter with the wing attached to the fuselage at 1/3 of its height. Engine Junkers Jumbo 211Da of 930 hp, in-line, inverted-vee, liquid-cooled. Propeller with 3,0 m in diameter, three-blade with electrically-operated variable pitch gear. Trapezoidal wing with 10 m span of NACA–230412 profile, 17,5% thickness at wing root decreasing to 5,5% at the tips. . The wing dihedral was 4o10' measured along its lower surface, a wing incidence angle being 2 degrees.
The fuselage, oval in section, comprised of two distinct parts. The front fuselage was build around a welded-tube framework, and the rear fuselage was a semi-monocoque construction with longerons, frames and half frames, covered by duralumin sheets. The front fuselage housed two unprotected fuel tanks of 263 and 292 litres, the oil tank of 68 l, electric, pneumatic, and hydraulic devices and fuel and oil feeding installations. The cockpit was located quite far aft at the front of the semi-monocoque part of the fuselage.
The all-metal wing had two duraluminium spars, and was covered with duraluminium sheets. The ailerons had metal structure covered by fabric and could be extended 260 upwards and 240 downwards, being driven by levers from the control stick. The flaps of Handley-Page type and metal structure were also covered by fabric, hydraulically-powered and extendable to 450.
The stabilizer and the fin had metal structure, covered by duraluminium sheets, moving surfaces fabric-covered. The rudder could be extended 250 in either direction and the elevators 250 upwards and 300 downwards. Both were aerodynamically compensated.
The retractable undercarriage of Messier type had oleo-pneumatic shock absorbers. The wheels were equipped with hydraulic brakes and tires of 635/190mm dimensions. Wheel track was 3,45 m.
The armament included two Belgian-made Browning machine guns FN of 7,92mm calibre, located in the wings outside the propeller arc.
Span …..10,000 mm
Length…..8,850 mm
Wing surface…..15,500 mm
Stabiliser surface….2.730 sqm.
Fin surface …..1.161 sqm.
Ailerons surface…..2×0.680 sqm.
Flap surface …..2×0.680 sqm.
Empty weight equipped with three blade propeller including the radio station…..1845 kg.
Max. gross weight…..2470 kg.
Max. speed at 5700 m…..558 km/h.
The new aircraft made its first public flypast during the parade of the 10th May, 1939 – National Day of Romanian Monarchy. But, the first real public presentation was on 20th July 1939 – Aviation Day, at the Cotroceni Airfield. However, series production of Romania's new fighter had been delayed until 1940.
IAR 80 – 1-20 Serie
Series production of the first batch had been initiated in autumn 1939, but due to various difficulties in organizing production, machine no.1 was not finished before spring 1941. After that, thins were going smoother, and plane no.20 was delivered in December 1941. Compared to the prototype, this series differed by the following:
IAR K-14 III C-36.HP engine was mounted with 1000 hp.
Shape of NACA ring was changed The engine propeller hub changed to a longer shape.
The armament was increased to 4 Browning FN,7,92 mm calibre machine guns, with ammunition supply of 2,400 rounds.
The 20 airplanes had been used for various tests, all at the factory.
Width: 10,520 mm, bearing surface: 16 sqm, length: 8,900 mm. Other dimensions remained unchanged. Weight was increased to 2,080 kg (empty) and 2,685 kg total, which lead to a decrease of power-to-weight ratio to 0.37 hp/kg and to increase of wing loading to 167.9 kg/sqm. Maximum speed was 514 km/h at 4,000 m, climb to 5,000 m altitude within 5 min 50 sec, action radius 730 km at 4,500 m, endurance 1 h and 50 minutes.
All aircraft of this series had their serial numbers painted in white on the fin and the name IAR 80 with black.
IAR 80 – 21-50 Serie
After solving the teething troubles and service evaluation of the first series machines, production continued with another 30 IAR 80. These aircraft were fitted with IAR K-14 IVC-32 engines of 1000 hp. Other parameters were identical to Serie 1-20.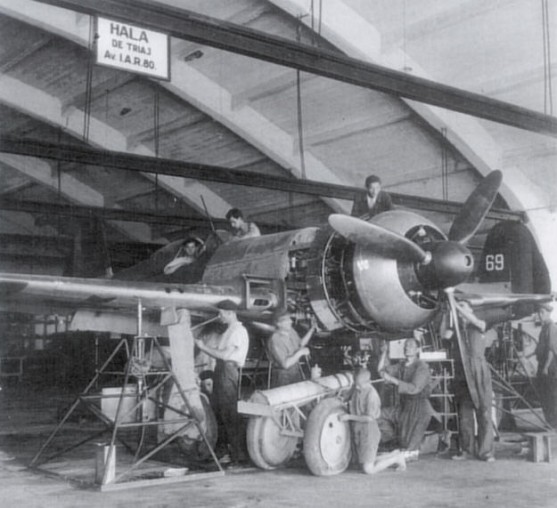 IAR 80 no. 28 and 69 undergoing repair at ASAM Cotroceni. 
Photo: Dan Antoniu Coll.
IAR 80 – 51-75 Serie
This series included the modifications made to the airplane no. 50, except for the installation of two bomb racks under the wings which were tested on no. 50 but did not bring the expected results.
Length was increased to 8,970 mm, other geometric data remained unchanged. Weight increased to 2,095 kg empty and 2,720 kg total. Power-to-weight ratio decreased to 0,37 hp/kg, wing loading increased to 170 kg/sqm.
No.75 was taken off the production line and modified as the prototype for the dive bomber version.
IAR 80A – 76-90 Serie
While no. 75 was undergoing development tests, fifteen IAR 80As were manufactured with armament increased to six machine guns. However, no. 75 incorporated modified flaps which were adopted as standard starting from this series.
IAR -80A planes had curiously the old "IAR 80" designation painted on the fin. In fact, it would seem that until 1943, these aircraft were described in official documents as "IAR 80 with 6 machine guns". The name of IAR 80A was assigned later to avoid confusion with the 1 -75 series aircraft.
IAR 81 – 91-105 Serie
Following successful tests of aircraft no.75, production of the dive-bomber variant commenced.
IAR-81 was the BoPi (dive bomber) variant of the IAR 80. In fact it was rather a fighter-bomber able to take a fighter role after dropping its bomb load.
For bombing missions, 225 kg (500 lb) American bombs were used from existing stocks. Later on, these were replaced by 225 kg IAR model bombs.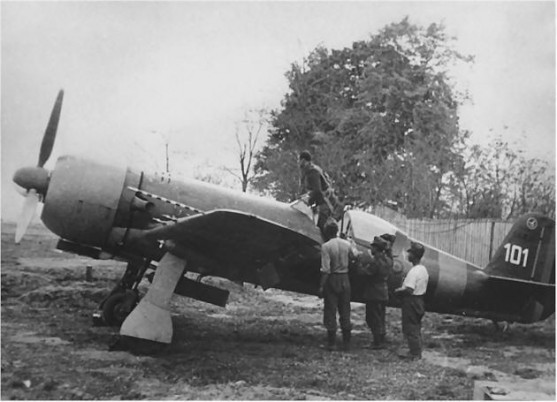 Later in the war, surviving IAR 81s were retrofitted with extra centerline bomb rack, the same as described for series 291-300.
Photo: Dan Antoniu Coll.
IAR 80A – 106-130 Serie
These series machines were identical to those from the 76 -90 series, except for the lateral reinforcement belts on the fuselage.
IAR 80M
Airframe no. 111 was kept in the factory and used as a test bed for various modifications, being renamed IAR -80M.
During 1942, this aircraft was finally fitted with a Junkers Jumo 211D engine of 1,200 hp. In this configuration, it was flown with eng. Alexandru "Dudu" Frim at the controls. Strong vibrations were experienced in the cockpit, making continued flight impossible. Flying qualities were also found vastly inferior to the series aircraft.
No. 111 was afterwards re-fitted with l.A.R. K 14-1 000 A engine.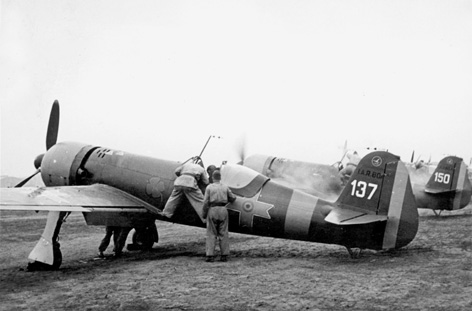 IAR 80A fighters of Gr. 9 Vt. on the Eastern Front, in 1943
Photo: Dan Antoniu Coll.
IAR 80A – 131-150 Serie
Compared to preceding series, following modifications were made:
Internal reinforcement of the fuselage
Thickness of armoured glass windscreen was increased
Weights reached 2,125 kg empty and 2,750 kg total, with power-to-weight ratio of 0.37 hp/kg. Wing loading 171.8 kg/sqm. Other data are were identical to 76- 90 Serie.
IAR 81 – 151-175 Serie
In this series, modifications introduced in series 131-150 were incorporated in dive bomber production. Other attributes were Identical to 91 -105 Serie.
IAR 80A – 176-180 Serie
Planes of this production batch were identical to 131 -150 Serie. No. 176 was used as prototype with four 7,92 mm machine guns and two 13,2 mm calibre machine guns.
IAR 80B – 181-200 Serie
This series includes the modifications tested on aircraft no. 111. Armament was increased with two 13.2mm (.50 cal) FN machine guns with 300 rounds of ammunition. Ammunition for the remaining four 7.92 guns was also increased to 1,600 rounds. The weapons were operated electrically and independently using two buttons installed on the joystick. Armour plating of the pilot seat was also improved.
This type was also equipped with updated radio gear.
IAR 80B – 201-211 Serie
Aircraft of this batch were identical to 181 -200 series airframes, except for two modifications:
starting with plane no.202, a second exhaust pipe was added on the port side of the cowling, symmetrically to the "old" pipe at starboard side
Two 100 litre underwing drop tanks could be carried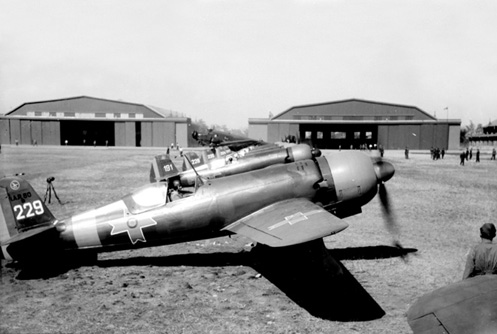 Line of IAR 80Bs at Aerodromul Targsorul Nou airfield, Ploiesti, Fl.2 Vt.
Photo: Dan Antoniu Coll.
IAR 80A – 212-230 Serie
Externally these aircraft were Identical to 201 -211 series airframes. However, this batch was initially intended as dive bombers so the fuselages were additionally reinforced, resulting in the empty weight of 2.190 kg and 3,020 total with external fuel tanks.
Ammunition load of 13.2 mm guns was also increased to 350 bullets.
IAR 81 – 231-240 Serie
The operational need for BoPi aircraft lead to the new series of IAR-81 aircraft. Compared with the 151-175 series they had two additional racks for 50 kg bombs installed under the wings, which could also accept two drop tanks of 100 litre each.
This series carried the designation "IAR81" painted on the fin.
IAR 80C – 241-250 Serie
This is a final major production variant with increased armament and other modifications dictated by the operational use of the type. Initially designed as BoPi variant, this batch has been issued as fighters in order to reinforce the defences against American heavy bombers.
There has been confusion in various publications about type designation of this series. Planned as BoPi variant, these aircraft were referred to as "IAR-81B" in some official documents. However, study of different photos shows that the designation painted on the fin was "IAR 80C".
Armament was increased again, this time with two ICARIA (licence-built Oerlikon) 20 mm calibre cannon replacing the 13.2 mm guns with 120 rounds per gun. The four 7.92 mm Brownings were retained, with 1,600 rounds of ammunition.
Drop tanks could be carried.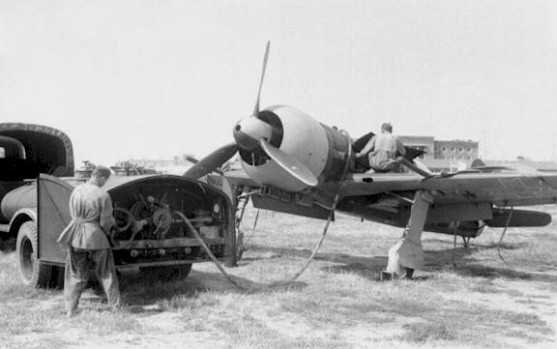 Refuelling a IAR 80C. Note long cannon barrels protruding from the wing leading edge.
Photo: Dan Antoniu Coll.
IAR 80C – 251-290 Serie
These aircraft were identical to 241 250 Series except for cannon armament, which was replaced with German Mauser MG 151s .
IAR 80A – 291-300 Serie
These aircraft were laid down as the BoPi variant of the 212-230 series.
The airframe modifications from IAR 80C were included, but machine gun armament was retained. Additional 225 kg bomb rack was added under the fuselage, differentiating this series from earlier production machines.
IAR 81C – 301-461 Serie
The last production series was also the biggest one. It started during 1943 as dive bombers, eventually ending up as fighters.
IAR 80DC
After the war, surviving IAR 80/81s continued in service until 1949. A few aircraft with the fewest hours were converted in to two-seat trainers, between 1950-1951, by inserting an additional cockpit between the engine and the original cockpit in place of a fuel tank. This conversion was designated IAR 80DC.
All remaining aircraft were scrapped in November-December 1955. No original IAR 80/81 aircraft survive to this day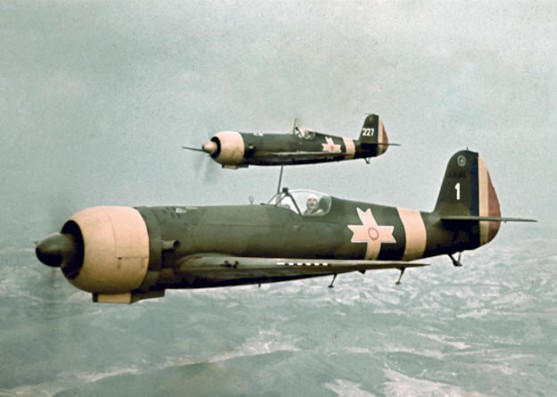 A pair of aircraft also shown on the first colour image at the beginning of this article. The pilot of no. 1 shows some attitude…
Photo: Dan Antoniu Coll.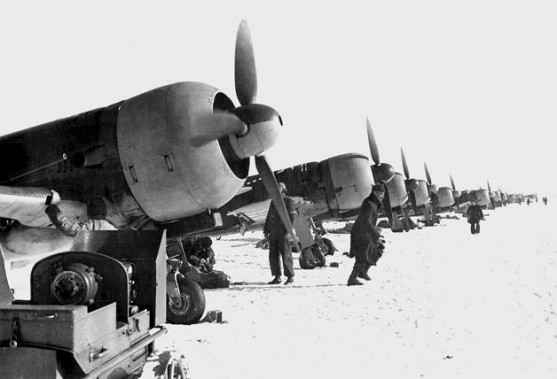 Line of IAR 80Cs of Fl. 2 Vt. Gr. 6 Vt., on Popesti Leordeni Bucuresti Airfield, January 1944. Lower undercarriage covers were removed in winter conditions to avoid clogging the wheels with snow and mud.
Photo: Dan Antoniu Coll.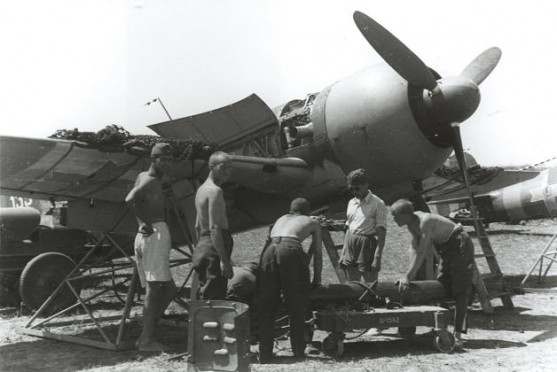 Field maintenance
Photo: Dan Antoniu Coll.
This article was originally published in IPMS Stockholm Magazine in March 2005