model by Toni Canfora
text and photos by Martin Waligorski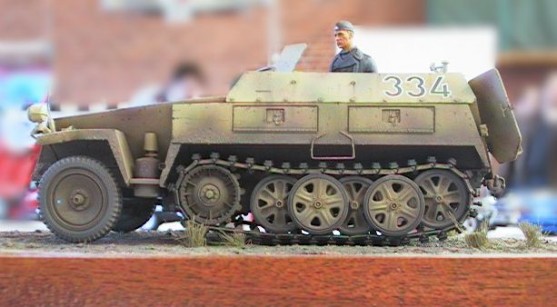 The SdKfz 250 Leichte Schützenpanzerwagen resulted from the mid-1930s requirements of the German Army for a vehicle that could transport a Halbgruppe (4-5 men) on a motorized reconnaissance mission. The resulting vehicle was developed by Demag AG, based on a modified Demag D7 tractor chassis.
The production was delayed until mid-1941. Although the 250 never reached the numbers or the popularity of its larger sibling, the Sd.Kfz. 251, it was eventually produced in a whole range of variants. The design underwent a major review and modification in 1943, when it was decided to use as many straight armoured plates as possible in place of the complex faceted shape of the initial production variants. Thus the 19 main armour plates were reduced to 9. This model also had permanent storage boxes placed along side. The new model called simply "Neu" to differentiate it from the "Alte" (old) models entered production in October 1943.
Most of the Sd.Kfz.250 vehicles were issued to Aufklärung detachments of Panzer and Panzergrenadier divisions.
The model
Toni Canfora built this finely finished Sd.Kfz. 250/1 Neu. Toni used Dragon kit with modifications. Starting from 1999, Dragon released a series of 250 kits, originally the "neu" version, later augmented also by the "alte" versions.
Tracks were replace with metal ones from Fruilmodel. Photoetched details from Aber were added. Toni also replaced all rivets on the hull with homemade ones. Handles and other small details were replaced with brass and piano wire.
Toni painted his model with Tamiya and Humbrol paints. The weathering was done with Humbrol enamels and artists' oils. The markings are dry decals from Archer.
The model represents a vehicle from the 3rd SS Totenkopf Division, late 1944.
The figure came from Wolf with a replacement head from Hornet.
This article was originally published in IPMS Stockholm Magazine in March 2003.