A Story About the Ultimate Spitfire Collection
by Raúl Hrubisko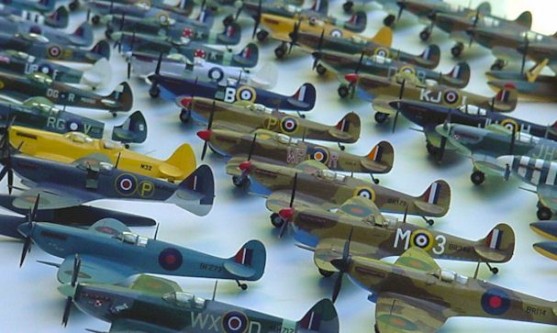 I began my 1/72 collection of British warplanes when I was fourteen. I read a wartime story involving the Mosquito, and both the story and the airplane impressed me greatly. It is then my passion for RAF modelling started, and it eventually developed to what it is today.
"Per Ardua Ad Astra"
My aim is to model all the aircraft types that flew with the Royal Air Force, the Fleet Air Arm and all the Commonwealth in the time frame between 1934 and 1947, including also Lend-Lease and captured enemy types. It is an overwhelming task I know, but as you will see that it is not impossible, in fact I think I have been doing some good progress towards my goal.
As of today I have completed some 300 models in the collection. My calculations show that I have about 700 more to go, these will be either new kits or restorations of models I have previously finished but to lower standards that I find acceptable today. Additionally, there will be another 100 or so models that would currently require scratchbuilding, since no kits are available. However, chances are that a short-run kit pops up for many of these types before I'm ready.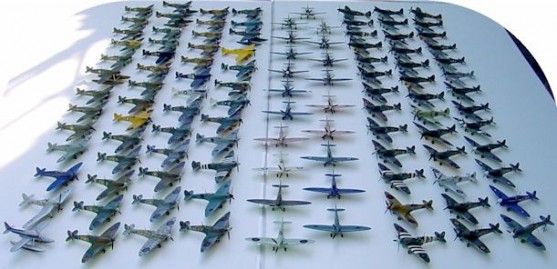 Spitfire en masse
A significant part of the entire project is the Spitfire collection. Planning for it I assembled a list all the variants from the 1937 prototype to the 1947 Seafire Mk 47, including all production and prototype marks, different colour schemes, Seafire and Spiteful. The list counts 111 different aircraft and has ever since served as a plan for my collection. I have tried to reduce the quantity as much as I could but still include all the significant variations and specimen. Here is what I ended up with: Mk I (22), Mk II (5), Mk III, Mk IV, Mk V (16), Mk VI (1), Mk VII (3), Mk VIII (5), Mk IX (11), Mk X (1), Mk XI, (1), Mk XII (1), Mk XIII (1), M XIV (6), Mk XV (2), Mk XVI (3), Mk XVII (1), Ml XVIII (1), Mk XIX (1), Mk XX (1), Mk 21 (3), Mk 22 (1), Mk23 (1), Mk 24(1), Seafire Mk. Ib to Mk. 45 (19), Mk 46(1), Mk 47(1), Spiteful (2), Seafang (1).
Download
The entire master list of Raul's collection is available for download. The list provides not only guidance to the collection, but also specifies the kit sources and the necessary conversions. You will need Acrobat Reader to view the list. The list comes as a PDF (Portable Document Format) file, which requires Adobe Acrobat Reader to view (Ed.)
The Ultimate 1/72 Spitfire Collection List

My collection counts over a squadron of Mk. I Spitfires, fourteen of them in total.
For a project of this size, I have of course used bibliography. The reference I have found particularly helpful is the SAM Datafile book on the Spitfire which comes in two volumes devoted to Merlin and Griffon variants respectively.
With the collection plan established, I maintain an separate list of plastic, resin and vacuform kits, conversion sets, accessories, decals sheets and other things helpful to model all the types in the plan. My stash of Spitfire decals alone contains approximately 400 decal sheets.
Storage and display space are another problem. Currently, I intend to install four massive glass display cases for the models.
I found that only about 30% of my models were produced out-of-the-box with manufacturer's decals. The rest was modified or converted in one way or another. I think I have used all the 1/72 kits available on the market such as Revell, Mk. V, Airfix Mk I (cheap and readily available but very good indeed), Airfix Mk V, Italeri Mk V (also affordable and very good), Hasegawa Mk. VII, VIII and IX, Academy and Fujimi Mk. XIV, Heller Mk. XVI, Academy Mk. XIX , and old Eduard kits for Mk. 20 to 24. Converted parts were most frequently scratch-built using different materials such as balsa wood, Poxiran etc.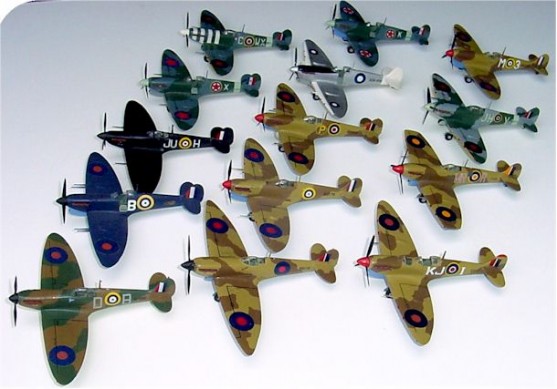 The Mk. Vs form a most colourful gang.
 A closer look
An all-important line of the Spitfire family were the photoreconnaissance variants. The PRU branch of my collection contains a PR Mk. I A, B, C, D, E, F, G variants, PR Mk. XIII (Merlin-engined), FR Mk. XIV e (2 aircraft), FR Mk. XVIII, PR Mk. XIX and Mk. 21. The principal source of information for this part of the collection have been Volumes 5 and 16 of the Wings of Fame.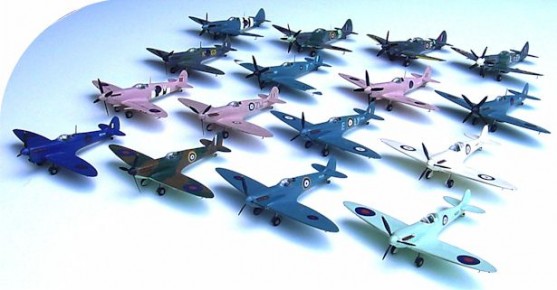 All the PR Spitfires on display
An important line of the Spitfire development was the Seafire. Almost all of the Seafire marks required conversions from corresponding land-based variants.
Another important items that you can't live without doing all the Spitfire marks are the propellers. Whenever appropriate, I have used propellers included in the kits. In other cases I had to resort to propellers from accessory manufacturers, particularly Aeroclub. Curiously I found that one of my biggest most problems was the four-blade propeller for the Mk VII to IX, because none of the mainstream kits included a correct one. I ended up buying 24 Aeroclub propellers for these models.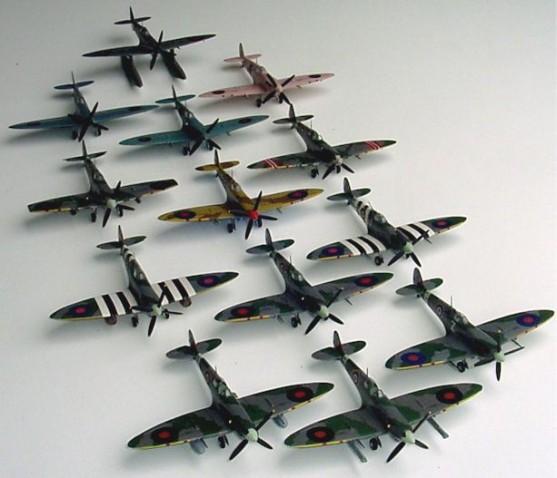 A squadron of Mk. IXs
The two kits I used most frequently were the Airfix Mk I and Italeri Mk Vb.
One of the most challenging conversions has been the first Spiteful prototype, NN660. The original had been rebuilt from a Mk. XIV and this is also what I did, taking the fuselage from Academy Mk. XIV and mating it with vacuum-formed wings from Rareplanes. Everything was then to be finished in all-aluminium look, so what followed was a lot of filling and sanding!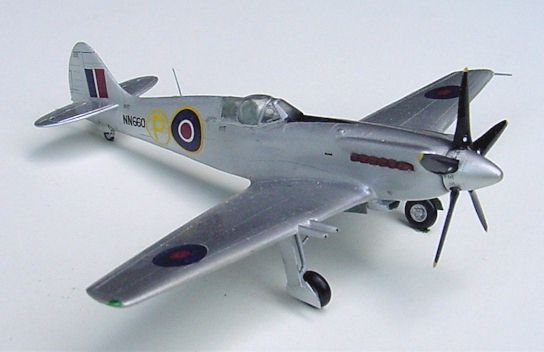 The first Spiteful prototype, NN660, was essentially a Spitfire Mk. XVI equipped with a new laminar-flow wing and wide-track undercarriage. My conversion work followed the path of the original as described in text..
Now that I am ready with all the 111 models of the initial list, I decided to add another 3 or 4 of the Argentinean pilots who flew with the RAF.
At the current rate of 2-3 finished models per month, my RAF collection will take another twenty years to finish. I can't even think about what I will be doing then…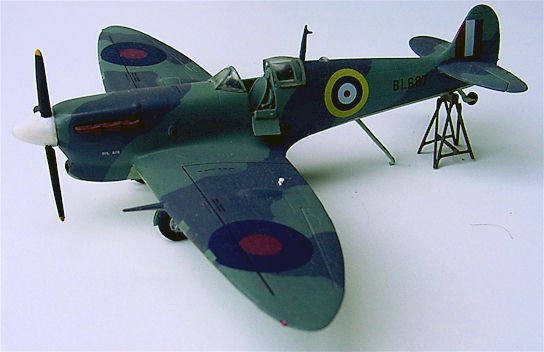 Seafire Mk. IB was a fairly simple conversion with Italeri Mk. Vb as a basis.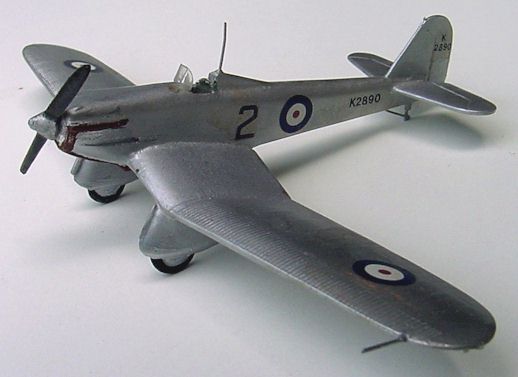 I have also modelled the archetypal Spit, Supermarine Type 224 was Reginald Mitchell's prototype fighter that preceded the Spitfire. The vaccum-formed kit came from Rareplanes.
Acknowledgements
I'd like to extend my sincere thanks to my friends in England, Jonathan Davies from IPMS Aerobatic planes SIG and Nigel Perren from the Spitfire Society from whom I have always received invaluable help.
This article was originally published in IPMS Stockholm Magazine in Novemeber 2003.