by Frank Spahr
Given the popularity of Airfix Wallace and Gromit offering, here's an alternative for those inspired by such kits.
Just in short: Werner´s a comic figure rather popular in Germany. He´s a biker, one who constantly fiddles around his bikes and equally constantly has trouble with the police and the TÜV (Technischer Überwachungsverein – the authority that rules vehicles´ technical fitness and conformity in Germany).
Since the first comic book from the early eighties, there have been about eight or ten more, plus three rather popular animated movies and quite a heap of merchandising. They even made a festival in ´88 celebrating a race between a Porsche and a self-built monster bike comprising four Horex engines, attended by several 100,000 fans blocking virtually all roads in northern Germany.
Finally, Revell Germany has produced the fun bike from the most recent movie, the Satte Literschüssel. The name means literally a bowl (Schüssel) containing quite a bit more (satt) than one litre, but there´s also quite a similarity to the word Satellitenschüssel (satellite receiver dish antenna).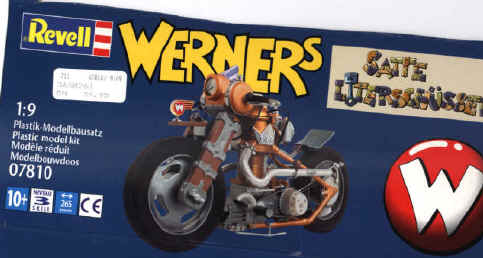 It is a weird construction built by Andi Feldmann, brother of Rötger "Brösel" Feldmann, Werner´s creator, from rather unconventional materials such as wood for the fork, a shovel as a seat and tractor wheels and tyres. The engine has only one brass cylinder of 1444 ccm …
Revell has done a magnificent job in transferring this weird vehicle into a 1/9th scale model, with its first full color instruction sheet, the kit molded in several useful colors (hmm, makes spraying much easier), and adding rubber tyres, wire and real screws, all at a rather competitive price.
Moreover, there´s a Werner figure kit with a standing and a bike-riding Werner. I will build both of them in the near future.

This article was originally published in IPMS Stockholm Magazine in January 2000.