1/35 Scale Diorama
 by Maurice Moffett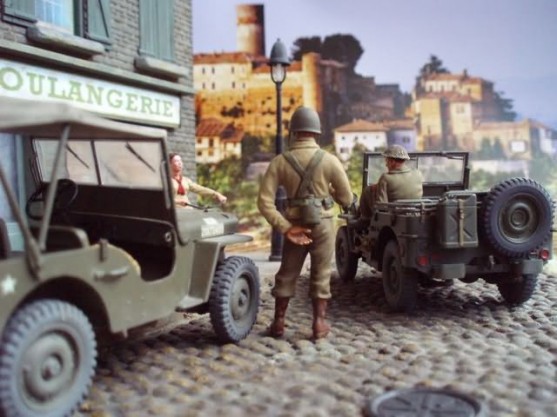 My modelling hobby started off many years ago with 1/72 scale aircraft models (remember the old Airfix Spitfire, Typhoon, Hurricane, etc.?), then touched on 1/76 scale military vehicles and OO/HO soldiers (Airfix again!), before finally settling on 54mm military miniatures and 1/35 scale AFVs.
Having built a number of AFVs/soft skins and mounted them neatly on bases, I found that there seemed to be something missing and realised that, in my opinion, they lacked the human element which would bring them to life. Reading through various magazines, my attention and interest was slowly drawn to dioramas, large and small, which appeared to solve my problem. I started off with a small desert diorama consisting of one tank, one jeep and three figures and apart from enjoying the creative experience of composing the scene, received a lot of encouraging comments from fellow modellers which helped immeasurably in creating my second diorama, my third and so on.
My dioramas are generally small, my vignettes even smaller. Inspiration for starting a diorama comes from many sources – films, books, the occasional picture in a magazine, etc. I often start a model with one idea in mind, and as I progress, I get a different idea which can alter my original thoughts considerably.
The Concept
This particular diorama "Bonjour Madame" was started some time ago while I was building the Tamiya jeep to use in a small vignette with two British infantrymen in a rural setting in France, 1944. At one point I thought … why not a British Tommy and an American GI? Then, why not two jeeps, one for each soldier? My train of thought drifted next to a scene in a French village, with perhaps a Frenchman as well.
In the end, the diorama consisted of an American jeep parked alongside the kerb in a typical small French village, with a GI standing next to the vehicle, a cup of coffee in his hand, and a jeep driven by a British Tommy which has just stopped alongside. Both the GI and the Tommy are looking at the French lady with a bicycle who has stopped at the call of "Bonjour Madame".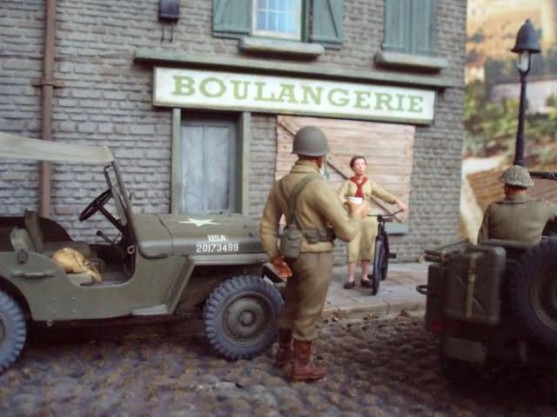 The Jeeps
One of the jeeps is the Tamiya version and the other is the Italeri offering. The Italeri version is suitably "upgraded" with plasticard, etc. and both are hand painted with Humbrol, but with differing shades of "Olive Drab" and "Khaki Drab". Weathering consists mainly of dust (pastels) on the undersides, wheels and lower parts of the vehicles.
The Figures
The Tommy is an Ultracast figure without modification, while the GI is made up of various bits and pieces from Airfix Multipose, Tamiya and Italeri. The French lady and her bicycle are adapted from the Dragon Viet Cong set.
The Street
The cobbled street is made from lentils, glued down one by one then coated with several coats of dark brownish grey paint, wiped over to remove excess paint, then thinly coated with various colours till it looked right. The kerb is made of balsa wood and individual card "paving stones" glued down and painted.
Buildings
The buildings are based on photos of French village shops which I found on the internet and are built up using balsa wood, plasticard and a sheet of plastic stone-facing material used by railway modellers. The lamp-post is made from a biro, a 1/76 tank gun barrel, and pieces of plastic. Shop-signs are printed on the computer and weathered a little. Dust on the street, kerb and buildings came from finely-ground pastels.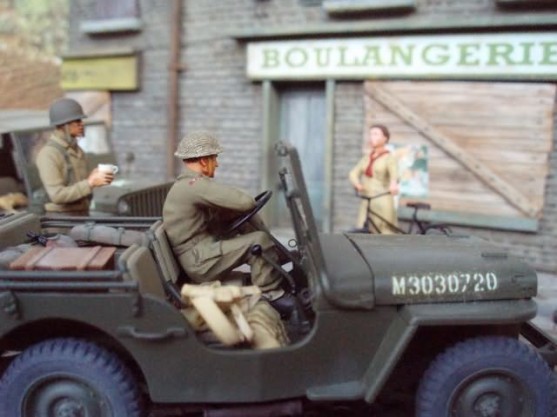 This article was originally published in IPMS Stockholms Magazine in February 2007