model by Stefan Eriksson
text and photos by Martin Waligorski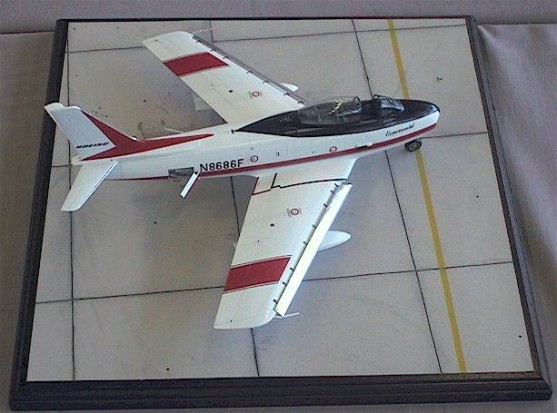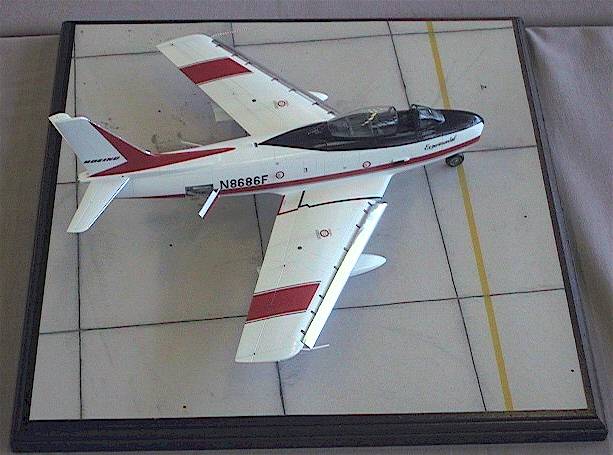 How about a F-86 Sabre in a nice civilian paint scheme? Stefan Eriksson from Uppsala picked one of the more colorful schemes for his quarter-scale model of this jet classic. The model actually depicts Canadair F-86 Sabre Mk 5. This plane, serial no. 23363 was used by Boeing as chase plane under the flight tests of – among other types – the 747 Jumbo Jet. Originally in service with the Royal Canadian Air Force, under its career at Boeing the plane carried "civil" designation N8686F.
Canada was one of the two countries that chose not only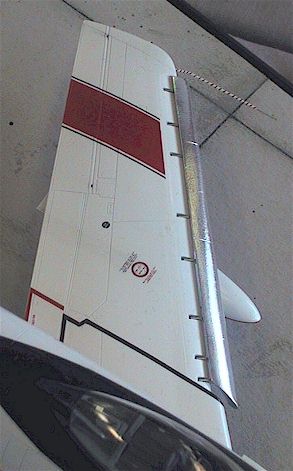 to operate Sabres but to produce their own created superior aircraft to the North American original. The Orenda-powered Canadair Sabre Mk.5 and Mk.6 could show a clean pair of heels to any North American Sabre.
Stefan based the model on the 1/48 scale Academy Sabre. Canadair Sabres differed quite a bit from American F-86Es on which they were based. The Mark V Sabre utilized a Canadian engine Orenda 10. The bigger engine necessitated a larger diameter opening in fuselage frames and stronger engine mounts. From the modeller's point of view, however, this did not result in any significant external changes. A visible modification was the introduction of a fixed leading edge to replace the automatic slats on earlier versions. This change was designed to enhance the high altitude performance of the aircraft. Small wing fences were also introduced at the 70% span position.
Stefan modified the kit's '6-3′ wing to incorporate Meteor Productions' resin leading edge slats. Another conversion peculiar to chese aircraft operated by Boeing was the addition of two camera ports along each side of the cockpit.
Other modifications included the addition of Eduard's photoetched detail set, custom-made wheel covers and other small replacement parts such as the pitot tube.
The model was painted using Tamiya acrylics. The bare metal slats were clad with Bare Metal Foil.
Stefan received help from a friend to produce key decal items for this model, while other decals were taken from various sheets by Leading Edge and Microscale.
The model placed 3rd in its category in 2002 Swedish IPMS Nationals.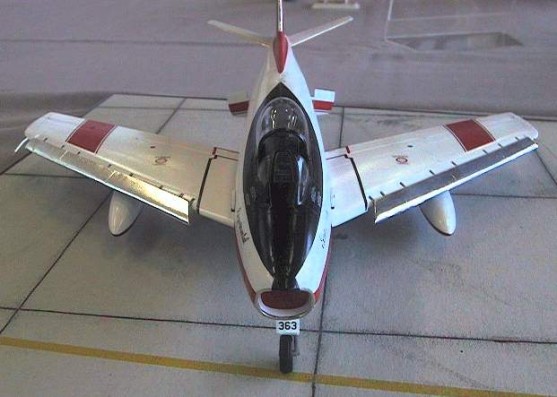 This article was originally published in IPMS Stockholm Magazine in February 2003.