Hasegawa Junkers Ju 87R-2/trop
 by Tomasz Gronczewski
The man…
Hubert Pölz was one of the outstanding Stuka pilots who served with the famous StG 2 Immelman. He fought in Balkans, North Africa and Soviet Union. For the latter exploit he was awarded with Knight's Cross and Oak Leaves. He survived the war as commander of I/SG 151.
… the machine …
Hubert Pölz's snake-marked Ju 87 Stuka is arguably the ultimate example of World War II German nose-art. Despite all the popularity this Ju 87R-2/trop is somewhat mysterious. It is even not sure if this very Stuka was his personal mount.
Probably during a certain period of time around July 1942 the entire flight of 6/StG 2 bore the snake emblem. It is still not established with any degree of certainty if the snake was white-and-red or white-and-sand. Analysing surviving photos it is less likely that the snake was formed out of white outlines only. I decided to choose white and red simply because I liked it better :o)
The remaining colors of Pölz' Stuka were quite obvious. European bomber scheme of RLM 70/71/65 was overpainted with big sharp-edged patches of sand colour. It is not know what shade of sand paint was used – RLM 79, one of Italian Giallo Mimetico paints or "liberated" RAF stocks – it's your guess as well as mine.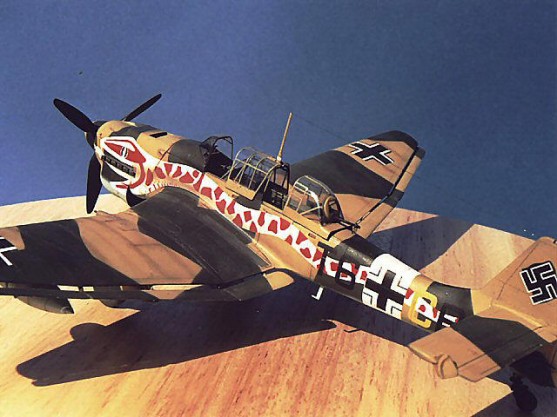 … and the model.
I had already bought Hasegawa Ju 87B-2 when I decided to switch to tropical long range variant. Thus I had to convert the model a little bit. I scratchbuilt the tropical filter and underwing fuel tank pods. The droppable tanks were taken from two various Hasegawa Bf 109s. Fuel lines were replicated by thin copper wire.
Aileron and flap actuators were removed and replaced by steel pipes and photoetched horns. All cockpit interior parts included in the kit were thrown away and replaced by the phenomenal Aires set. The bomb was provided by Aires as well.
All surfaces were primed using Humbrol 67 Dark Grey in order to improve paint adhesion before the extensive masking job. RLM 70 and 71 were done as Model Master mixtures. Model Master II RLM 65 and RLM 79 were used to replicate Sand and Light Blue.
All markings and insignias were painted with an airbrush using custom vinyl masks cut by cutting plotter according to a design prepared in CorelDraw graphics software.
Overall it was a time-consuming project because of conversions, upgrades and extensive masking. But the result pays back. Although the model is now a couple of years old, I still like it.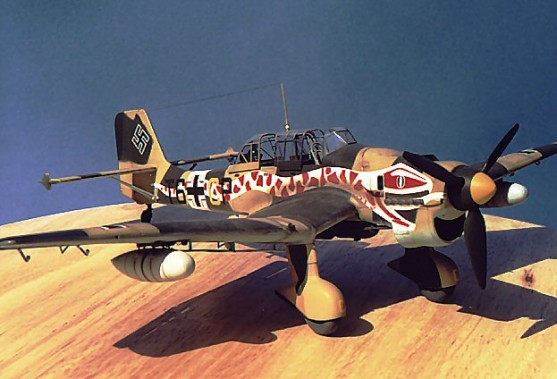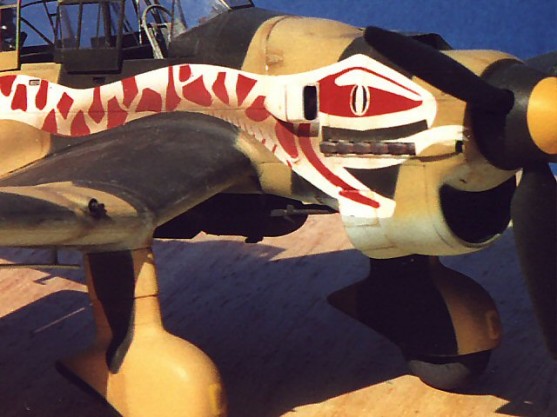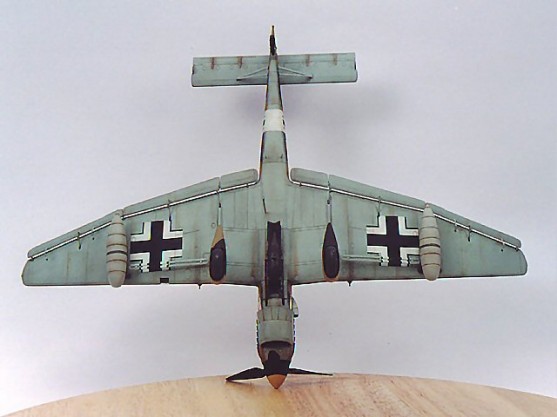 This article was originally published in IPMS Stockholms Magazine in October 2005