Här är de fartyg ur US Navy jag hittills byggt. De är alla i skala 1:350
Here are the ships of the US Navy that I've built so far. They are all in scale 1:350.
USS BUCHANAN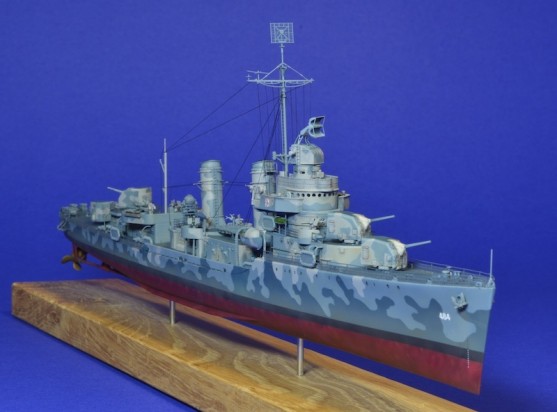 Färdigställd 17 november 2013
USS Buchanan deltog aktivt i nästan hela stillahavskriget och dekorerades med sexton "Battle stars" och en "Presidential unit citation". Det finner jag relativt ointressant. Jag byggde henne för hennes koola kammos skull. Byggsatsen från Dragon är av högsta kvalitet och jag detaljerade den ytterligare med ets ifrån GMM samt byggde egna master. Hon vann guldmedaljen i fartygskategorin på SM i modellbygge i september 2014
En artikel om bygget har publicerats i AoH och en är inskickad till Tamiya Magazine, men ännu ej publicerad.
English summary: USS Buchanans sixteen "Battlestars" and her "Presidential unit citation" played no part whatsoever in my wanting to build her. I built her for the sake of her koool Camouflage. I detailed the Dragons kit further with PE from GMM and scratchbuilt the masts. I finished her on November 17th 2013. She won the gold medal at the Swedish Championships in september 2014. An article on the build has been sent in to Tamiya Magazine.
USS North Carolina
Trumpetarns USS North Carolina är en trevlig byggsats, men som tyvärr lider av två för trumpeters fartygsmodeller typiska fel. Vattenlinjeskarven mellan skrovets överdel och underdel kräver timmar av passning, spackling och slipning, och däcket är delat i tre delar, vilket ger upphov två väl synliga skarvar som kräver mycket omristning av nåtlinjerna för att döljas. Masterna är scratchbyggda och modellen är detaljerad med ets från GMM. Varje 20mm puffra är detaljerad med pipa av gitarrsträng och fyra fotoetsdelar. 50 puffror gånger à sex delar var blir 300 delar bara för det finkalibriga luftvärnsartilleriet.
English summary: A nice kit, unfortunately marred by two shortcomings typical of Trumpeters kits. The joint between the upper and lower hull parts requires hours of work to conceal, and there are two very prominent joints in the main deck, that require rescribing of the seamlines in order to be concealed. Masts are scratchbuilt and the PE comes from GMM.
Photos by Lars Befring.
USS HORNET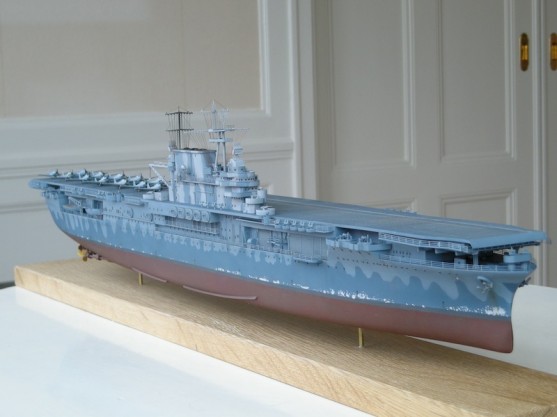 Färdigställd 2a januari 2006.
En rätt dålig byggsats från Trumpeter. Skrovformen är grovt felaktig och många detaljer är ganska klumpiga. Jag använde grovrasp för att fila ned förstäven till skalenlig tjocklek. Hon var den första modell, som jag arbetade med blekta färger på. Däcket målades först i träfärg som sedan målades över med ett icke täckande lager av Deck Blue. Stormasten är skadad och klumpigt reparerad.
2007 till 2010 var hon i USA där min vän Barry Davidoff ställde ut henne i flera tävlingar för min räkning. Bl.a deltog hon utan framgång i US Nationals 2008.
English summary:
Not a very good kit from Trumpeter. The shape of the hull is incorrect and the details leave something to be wished for. I finished her in January 2006 The mainmast later got damaged and I repaired it rather clumsily. She was in the USA from 2007 to 2010, where my friend Barry Davidoff entered her into several contests for me, including, unsuccessfully, the US Nationals 2008.
USS Fletcher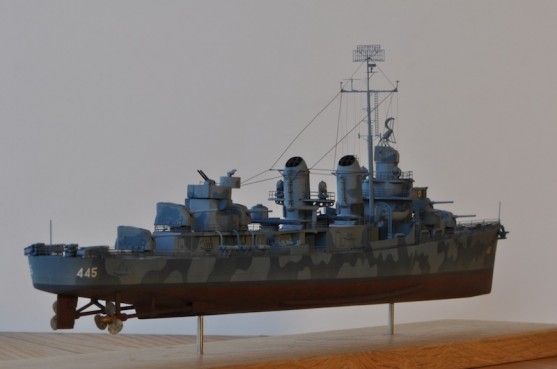 Färdigställd 11 jan. 2009
Tamiyas gamla Fletcher står sig förvånansvärt bra i konkurrensen från senare utgivna byggsatser. Jag byggde henne i stort sett rätt ur lådan, byggde master av pianotråd och riggade med fisklina. Fotoets från GMM.
English summary: A pretty basic build. Masts from Piano wire rigged with fishing line. PE from GMM. Finished January 11th 2009.
If you would like to get in touch with me, please leave a message here.