by Frank Spahr
Sometimes one comes across an odd material that prompts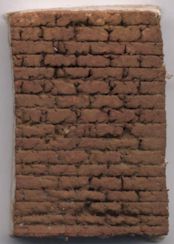 experimenting. In some cases this results in one of those esoteric technologies that we all are so accustomed with. Here is one very simple way of modelling structured walls, like those covered with stones or bricks.
Epafit carton is a product for architectural models consisting of fine-grained styrofoam coated with carton on both sides. If you remove the carton on one side, you can cut, sand and carve the styrofoam, giving it the appearance of the desired structure. Bricks, for instance. Paint with the appropriate color, adding some dark wash to simulate shades in the crevices, and it's ready! I let the results speak for themselves – see the adjacent photograph.
Because the somewhat notable size of the styrofoam grain,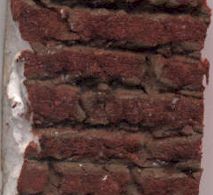 the method does lend itself better to large-scale dioramas. I believe that the structure can be covered with diluted filler for added surface resolution in small scales, but I haven't tried it myself yet!
I hope you find this tip useful.
This article was originally published in IPMS Stockholm Magazine in August 2000.