by Göran Kindlund
English translation by Magnus Fridsell

This is my visit in the box-stock class, which means that beside materials used for surface treatment, only the kit's contents may be used.
My basic idea was to build an old rusty wreck. The 1976 VW Golf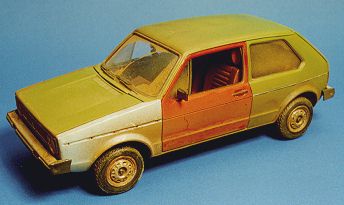 lent itself nicely to the idea. You can see quite many of these cars on junk yards.
The kit moulds have been "enhanced" with excessive rust and stains. Rust blisters around doors and hatches were made using super glue sprinkled with baking soda. After painting with Humbrol paints, a wash was added around these areas using diluted rusty brown paint. The rust-dots in the paintwork were made by sprinkling powdered pastels of dark brown variety in the wet paint, then spraying further coats. When the paint was dry, a light sanding revealed the "rust".
One of the front fenders and a door were given a different colour to illustrate replacement parts, the door itself painted in red color remaining of the automotive primer. As a sign of an ongoing restoration, the chromed stripe of the front fender was cut off, instead a row of fastening holes were drilled.
Finally, a substantial amount of weathering was added, a little bit on the heavy side since the rust blisters that looked good to start with almost disappeared!

This article was originally published in IPMS Stockholm Magazine in March 2000.