by Martin Waligorski and Anders Isaksson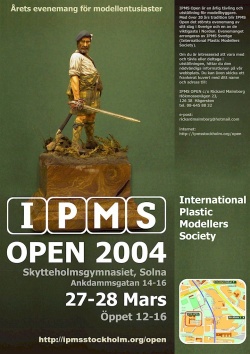 IPMS Open, the national modelling competition of IPMS Sweden, was held in Solna, a northern suburb of Stockholm, on the weekend of 29-30th March 2004.
Competition highlights
The quantity and quality of competing models in this year's contest was just as high as ever. Those of you who have visited a virtual tour of one of our previous events will get the picture.
A remarkable impression of this year's event was that of broad representation of modelling interests. The domination of armour and figure classes of the last two years has diminished. Classes that appeared in larger numbers than before were ships, small-scale aircraft and model collections, but all factors included, the exhibition represented of good balance between all subject areas.
We had near full-time job with photography, and we are proud to present you with a wide selection of our 1200+ model shots taken that day.
The Best in show award went to a fantastic World War I trench warfare diorama by Per Olav Lund entitled The Hun in the Sun, featuring a Fokker D.VII overflying a scorched trench somewhere in France. Unfortunetely, this item turned out to be one of the most difficult in the entire exhibition when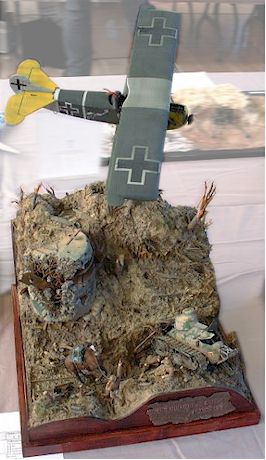 it came to photography, so our apologies to Per-Olav for not being able to accurately depict all intricacies of this masterpiece. Here is the best shot we had at it.
Each IPMS Open has its special contest which is a bit on the humorous side. This year's setup was called Riktiga Modellbyggare (The Real Modeller). The aim was to build a kit without the aid of instruction sheet or box art. Contestants could choose between an armour, aircraft or a ship subjects, one kit of each category being provided by the organizers. The choice of kits had not been previously announced, and no boxes or instruction sheets were provided. Building time was limited to 100 minutes. Amazingly, some of the modellers managed to deliver ready assembled and painted models within that time frame! Getting all the parts in the right places was another matter altogether :).
The list of models on display and the competition results are available here (PDF document, 100KB).
The tour
Here is the complete virtual tour of the exhibition. Even if not every participating model found its way to this photo essay, we think this photo collection covers most of it. Enter the show…
Aircraft Models, 1:72 and 1:144 Scales
1/72 aircraft were the most numerous group of the show
Aircraft Models, 1:48 and 1:32 Scales
Quarter-scale aircraft models, with an occasional big airplane in 1:32
Armour, 1:72, 1:76 and 1:87 Scales
A selection of hard-to-photograph braille scale vehicles.
Armour, 1:35 Scale
The 1/35 armour goes as strong as ever.
Military Vehicles, Soft-Skin, 1:35 Scale
More 1/35 military modelling
Spacecraft
This category has been slowly but steadily growing during recent years
Figures, All Scales
A somewhat under-represented figure category.
Film and Fantasy Creations, All Scales
A somewhat under-represented figure category.
Cars, 1:24 and 1:25 Scales
This year also with motorbikes.
Dioramas
A small but impressive set of diorama pieces, including this year's Best-in-Show.
Collections
Collections and theme displays formed a separate contest category.
Ships, All Scales
Ship modelling seems to be on trendy among plastic modellers again.
Junior Modeller Entries, All Categories
A separate overview of Junior modellers' entries.
Special Contest: Riktiga Modellbyggare
New kit, no instruction sheet and 100 minutes building time.
All pictures (c) 2004 Martin Waligorski and Anders Isaksson. Used by permission.