by Janne Nilsson
English translation by Martin Waligorski
This is my little adventure into the Wild West.
In the early morning hours of January 13, 1929, an 80 year old man died peacefully in his sleep in a rented cottage in Los Angeles. The casual observer of the time would never have known that this frail old man was soon to become an indelible legend on the American landscape.
Wyatt Earp was born in Monmouth, Illinois on March 19, 1848 . He became a lawman in Dodge City and Wichita, Kansas, before moving to Tombstone, Arizona, where he and his brothers, Virgil and Morgan, took part in the gunfight near the O.K. Corral on October 26, 1881. Wyatt was the only one not shot during the gunfight. After the fight, Wyatt was responsible for the deaths of several Cowboys on his bloody trail of vengeance for the later killing of Morgan and the crippling of Virgil.
Virgil and Wyatt Earp were deputy U.S. Marshals, and they were highly respected by the good citizens of Tombstone. At a hearing following the gunfight, the judge stated that the Earp posse "had preserved the peace" near the O.K. Corral. Wyatt was a lawman for about five of his eighty years, also in Idaho, Nevada and Alaska. He turned down a U.S. Marshal's position; Wyatt was mainly a businessman.
A mixture of fact and fiction grew into the legend of Wyatt Earp. This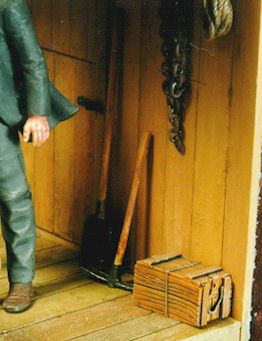 was helped even more by the TV series The Life and Legend of Wyatt Earp which was the first adult western on television, debuting in September 1955.
The figure of Earp comes from Warrior. According to the label it should be to 54mm scale. This turned out to be inaccurate, the actual scale being 60 mm which is comparable to 1:30.
I my ordinary manner I brush-painted just about everything using Humbrol enamels. Only the ground surface was airbrushed with miscellaneous earth tones from Tamiya acrylic range.
I believe every model looks much better placed on the base, so I decided to put my Wyatt in a simple scenic setting. I built up the house structure from "boards" of sheet plastic, and immersed it into the ground shape formed from Celluclay.
A few small accessories come from the spares box for 1:35 scale armor. The bottle and the box are made by Verlinden.
This vignette will be featured in my article series for the Allt om Hobby magazine.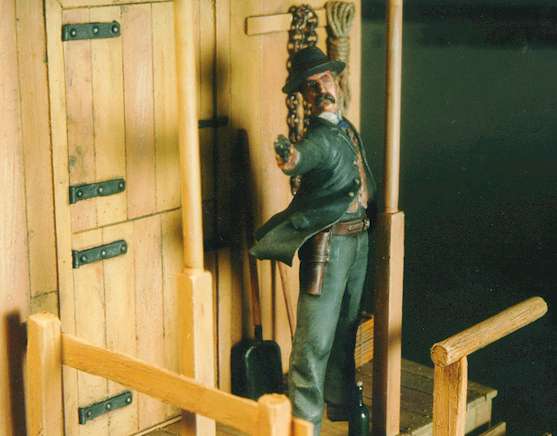 This article was originally published in IPMS Stockholm Magazine in April 2000.