Fredrik Zetterberg
Enter the International Air Tattoo

Royal International Air Tattoo är världens största militära flyguppvisning. Den hålls varje år på Fairfordbasen strax utanför Swindon. Antalet besökare brukar räknas i hundratusentals, och det är verkligen en fantastisk upplevelse att besöka denna fantastiska uppvisning. Dessutom törs jag lova att det förutom att vara den största uppvisningen även är den bästa!
1997 var temat Tiger Meet. Det betyder att alla divisioner som har en tiger i divisionsmärket målar ett helt eller delar av ett flygplan tigerrandigt. Och inte bara jaktflygplan, även B-1B:or och Mi-24 Hind har målats om… Det vackraste flygplanet i fjol var en norsk F-5A Freedom Fighter, med främre delen av planet i ett kamouflage som förmodligen passat in alldeles utmärkt på Oslo Zoo….
I år är temat spaningsflyg, och dessutom Royal Air Forces 80-årsjubileum. Vad Flygvapnet kommer ställa upp med kan man ju bara gissa sig till, men nog vore det kul med en JAS 39 Gripen i luften, och kanske en J32E Lansen och en AJSF37 Viggen i markutsällningen?
Dessutom anser jag personligen att Flygvapnet borde ta och specialmåla ett eller ett par flygplan speciellt för uppvisning, även om det är dyrt. Skulle nog ge mycket PR!
Nedanför hittar du en liten del av min fotosamling från IAF. Min förhoppning är att inspirera någon för att bygga en modell i tigermålning. Det skulle kunna bli en rejäl uppvisning i konsten att maskera och sprutmåla. Det är dock en helt annan historia…

Royal International Air Tattoo is the world's largest military air display. It is held every year at Fairford in the UK (near Swindon, if you should travel there). The number of visitors counts in hundreds of thousands, and every time it is a great experience to be there. Speaking from personal experience, I can also promise that the air display is the best!
The IAT theme of 1997 was Tiger Meet. This means that all military units that have a tiger in their unit emblem display their aircraft wholly or partially painted in tiger-like stripes. Contrary to the popular belief, this does not only apply to fighters – even B-1Bs or Mi-24s wore these schemes. The prettiest aircraft of the show was a Norwegian F-5A Freedom Fighter – you can see the photo below.
The subject for the 1998's show is air reconnaissance, and besides that, it's Royal Air Force's 80th anniversary.
Hopefully, the Swedish are going to come with JAS 39 Gripen in an air display, and maybe a J32E Lansen and AJSF37 Viggen on the ground. I only wish that the Swedish AF also show it's aircraft in special schemes, apparently they considered it to be too expensive before, maybe they should consider a PR value instead!
A small part of my photo collection is presented below. I hope that it will inspire some modellers to choose a tiger scheme for one of their models. It could be a real tour de force in masking and airbrushing. But that's a completely different story….
Tigers at the IAT 1997

Detta är en tjeckisk Mi-24. Brutal helikopter, och liksom en tiger vet den att bita ifrån sig….
This is the Czech Mi-24 Hind, a truly massive helicopter. Tiger motif is limited to the air intake covers.
Photo: Fredrik Zetterberg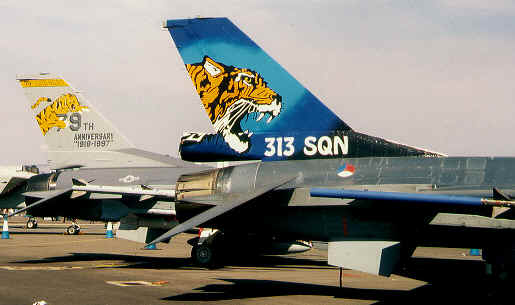 Två olika F-16, båda i tigermålning. Man ser tydligt vilka som satsar mest på det här med Tiger Meet! I Europa är detta stort, medan amerikanerna inte lägger ner lika mycket krut på detta jippo.. Och visst är den holländska F-16 (närmast) vackrare..?
Two different F-16s, both wearing tiger schemes. This photo shows which of the air forces take the Tiger Meet most seriously! In Europe the event is considered a major one; the Americans do not seem to be as much excited… Consequently, the Dutch F-16 (closer to the camera) is prettier…
Photo: Fredrik Zetterberg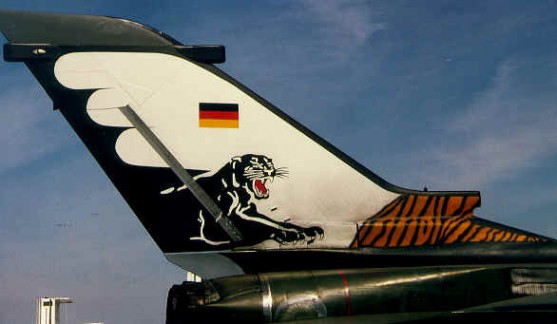 Ett av Tysklands bidrag. Denna Tornado tillhör Luftwaffe, och är helt i standardkamouflage (förutom fenan då…).
(Denna maskin, 45+91 tillhörande AG.51 är avbildad i Revells mycket fina byggsats av Tornado i 1:32-skalan, utgiven 1997. Ingen handmålning behövs – ovanstående motiv återfinns bland dekalerna – Red.)
One of Germany's contributions. This Tornado displays a standard camouflage,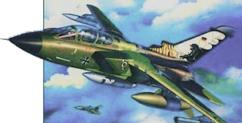 except for the fin, visible here.
 (This very machine, 45+91 of AG.51 is a subject of Revell's new, and reportedly excellent, Tornado kit in 1:32nd scale, released in 1997. No handpainting necesary – the fin motif is included on the decal sheet – Ed.)
Photo: Fredrik Zetterberg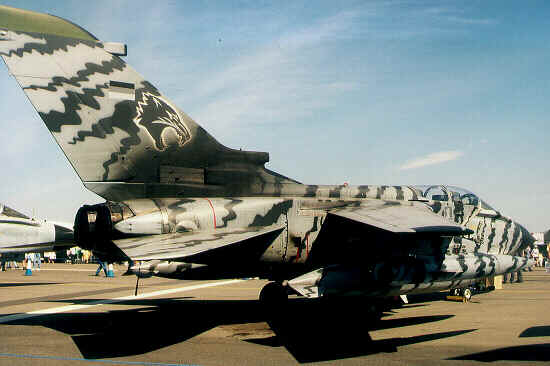 En betydligt vassare målning! Hela flygplanet (en annan Tornado) målat i grå tigerränder! Maffigt!!! Men visst blir den skitig efter reverseringen…
Much more original! The whole plane (another Tornado) has been painted in Tiger stripes, and moreover, in low-visibility colours. Striking! The effect is spoiled only by exhaust stains after thrust-reversing…
Photo: Fredrik Zetterberg

Fransmännen ville ju också vara med.Och visst är den fin, denna Mirage 2000C, men den var ju inte häftigast i alla fall…
French AF was by no means less ambitious. This Mirage 2000C is certainly attractive, but still a bit behind the coolest paint schemes of the show…
Photo: Fredrik Zetterberg

Vackraste flygplanet på hela International Air Tattoo?… Norges F-5A Freedom Fighter, en charmig gammal kärra som norrmännen envisas med att flyga ett bra tag till. Vacker från början, och man kan ju knappast påstå att den blir sämre av den här målningen. Häftigast av allt, kolla in vingspetsmonterade Sidewinderrobotarna… Fast nog borde norrmännen utnyttja grannlandets flygindustri och ersätta med Gripen..?
IMHO the prettiest aircraft of the whole International Air Tattoo was this Norwegian F-5A Freedom Fighter. A charming old plane that the Norwegian AF will still have to use for a while. The plane looks nice by itself, but here the looks have been further enhanced by the softly airbrushed tiger stripes. The coolest detail is that the tiger "skin" extends to the Sidewinder missiles!
Photo: Fredrik Zetterberg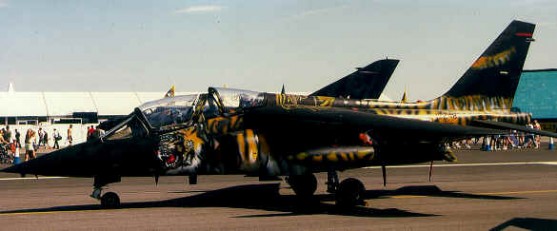 Portugals modernaste flygplan ett tag. Man ersatte T-38 Talon, som föll för åldersstrecket, med begagnade tyska Alpha Jet. Samtidigt så förlorade man överljudskapaciteten, men i och med Portugals köp av begagnade F-16 så återtog man den möjligheten. Har Portugal nånsin köpt nya flygplan? Häftig målning, trots att bara målning och färgborttagning måste ha urholkat försvarsbudgeten rejält…
It used to be the Portugal's most modern flying machine. The ageing T-38 Talon have been replaced by some second-hand German Alpha Jets. By this shift, the Portuguese AF lost the capability for supersonic flight, but this was soon remedied by the acquisition of some F-16s. For such a small Air Force, the paint scheme is really ambitious.
Photo: Fredrik Zetterberg

Ett av de vackraste flygplanen på markutställningen och i luften. Amerikanska B-1B, i väldigt diskret tigermålning. Endast övre delen av fenan målad.
Definitely one of the most graceful aircraft both at the ground exhibition and in the air, despite it's size. The USAF B-1B. The tiger scheme is present, but very discrete, limited to the top of the fin.
Photo: Fredrik Zetterberg

Största målningen? Amerikansk KC-135 med tiger över hela kroppen. Undrar vad färgen väger? Kolla piloten i vänstersits som lutar sig ut ur fönstret förresten…
The largest Tiger scheme ever? The tiger head profile on this American KC-135 occupies a large part of it's massive fuselage. I wonder just how much paint was used for this…
Photo: Fredrik Zetterberg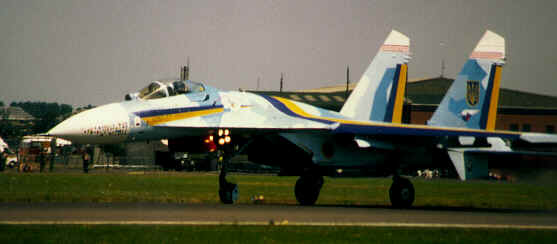 Personligen tycker jag att detta är kanske världens häftigaste flygplan. Ukrainsk Su-27 Flanker, för dagen specialmålad i fäger som gör att man skulle kunna tro att de har planer på att utvidga västerut, till ett land med dalahästar. Tänk er ett sånt här flygplan i Flygvapnet…
Not exactly a Tiger camouflage, but still a very attractive one, and a plane is one of the hottest around. Ukrainian Su-27 Flanker. The yellow-blue stripes remind a bit about the Swedish AF and some of the special PR paint schemes of JAS 39 Gripen.

Photo: Fredrik Zetterberg

Specialmålad holländsk F-16 i en vacker uppvisning. Helt klart är att man på kontinenten tar mer allvarligt på det här med flyguppvisningar än vad Flygvapnet gör. När såg du senast en specialmålad JA37? Kolla dessutom in "Smokewinders" på vingspetsarna. Något för Gripen?
This triangular scheme is worn by a Dutch F-16, here in the middle of aerobatics display. Wingtip pylons equipped here with "Smokewinders".
Photo: Fredrik Zetterberg
This article was originally published in IPMS Stockholm Magazine in August 1998.