text by Magnus Fridsell
model photo by Anders Nowotny
This model is of the last SAAB J-35 Draken flown by the third squadron of F10 wing at Ängelholm in southern Sweden.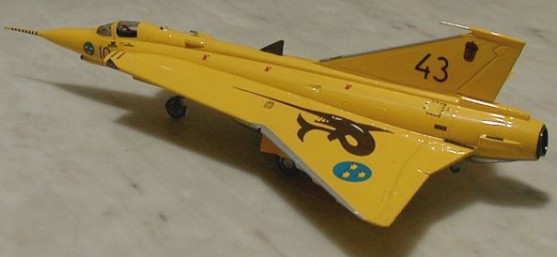 The third squadron has always been referred to as yellow (first is red, second is blue). For the stand-down ceremony the aircraft had been painted in this striking finish of overall squadron color
After making its appearance at the ceremony, the machine was flown to the Swedish Air Force
Museum in Linköping where it, two years later, is stored outside.
The 1/72 model is built from the old Heller Draken kit with decals made by the builder, Anders Nowotny, himself.
Worth noting is that the tradition continues:

On the 18th January, 1999 another attractively painted Draken arrived at the museum from the 2nd squadron of F10. As can be seen, even this machine carries it's squadron color.
With this event the handsome Draken has disappeared from the active service with the Swedish Air Force forever.
Even the blue machine will join the fine collection in Linköping.
This article was originally published in IPMS Stockholm Magazine in March 1999.