by Janne Nilsson

  Min Swiss Mercenary är en 120mm figur från Verlinden. Figuren byggdes i princip direkt ur lådan. Endast några mindre förbättringar gjordes. Lederna på fingarna markerades ut genom att rista med en vass kniv. Ett ärr i ansiktet ristades in och rynkor och i pannan likaså. Ansiktet målades i oljefärger, övrigt med Humbrol.
Basen scratchbyggdes med hjälp av lister avsedda för dockskåp samt Plastic Card. Pelarna gjordes av takplåt i 1/35 som klistrades över en halvrund träprofil.
Min tanke var att avbilda en livvakt i en palats (eller kanske kyrka). Tiden är någon gång i slutet på 1400-talet.

   My Swiss Mercenary is a 120mm figure from Verlinden. The figure was basically built striaght out-of-the-box. I made only a few minor modifications. The joint lines on the figures' hands were enhanced with a knife. Also a scar in the face and wrinkles in the forehead were added. I painted the face with artists' oils and the rest in Humbrol enamels.
Figure's face painted in artist oilsDetail of the baseDetail of the pillar and door hingeMercenary's armor
The base was scratch-built with the help of wooden strips inteded for dollhouse makers and some plastic sheet. The pillars were made 1/35th scale rendition of of corrugated roof plate which was wrapped and glued around a semi-circular pieces of wood.
The scene shows my Mercenary standing as a guard on the post in a late 15th century palace, or perhaps a church.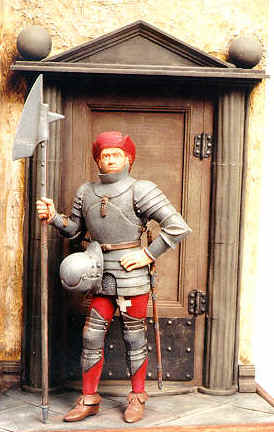 This article was originally published in IPMS Stockholm Magazine in October 1998.