Mark's Model Plane Miscellany
by Mark Davies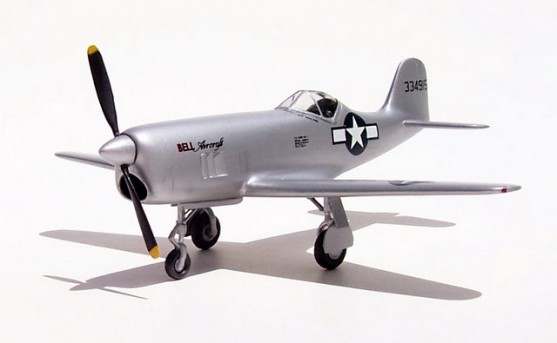 The XP-77 originated from a USAAF request for an ultra-light fighter feasibility study, with an emphasis on using non-strategic materials like wood. Bell's chief designer, Robert J. Woods, was formerly requested to undertake the study in late-October 1941. A graceful low mounted laminar wing plane with tricycle undercarriage was the result, its design featuring a wooden structure with a metal laminate skin. Armament was to be two .50" machine guns in the wings, and one 20 mm cannon firing through the prop hub. Bell gave the company designation of Tri-4, standing for 400 hp, 4,000lbs and 400 mph.
25 aircraft were ordered, but an amended provision to carry either a 300 llblb bomb or 325 lb depth-charge led to the cannon being deleted from the design. Delivery delays affecting the intended Ranger XV-770 engine reduced the order to six aircraft in August1942, and the first mockup was completed inspected in September of the same year. Perhaps a portent of things to come; 54 changes were requested by the USAAF at this time.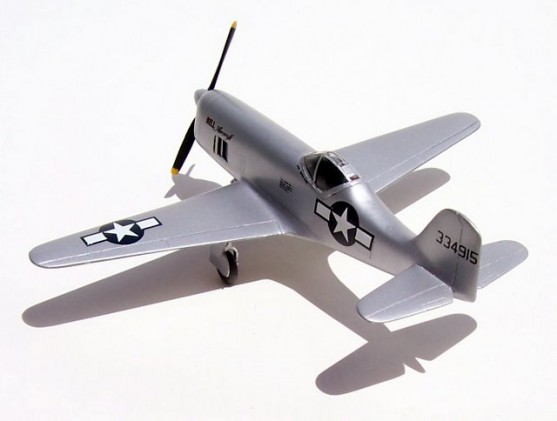 A decision to fly the prototype with un-supercharged Ranger XV-770-9 engine was made. However ongoing weight problems made Bell try to trim the weight down to 3,000 lbs in order to stay ahead of contemporary fighter performance standards. The rework led to more delays and a reduced order for only two prototypes. These were finally delivered in the spring of 1944.
Ironically, the first flight was on April fool's day, and performance was disappointing; top speed being 330 mph at 4000 feet. Another major problem was severe vibration due to the engine being fixed directly to the airframe. The second prototype crashed after a failed manoeuvre, although the pilot bailed out successfully.
By this time Bell was heavily committed to the P-39, XP-59 and P-63, and had essentially lost interest in the XP-77. Its performance could only be equated to fighters at the beginning of the war, and there was no shortage of aluminium or successful high performance fighters in mass production by the time it flew. The surviving prototype hung around as a testing curiosity until after the war, and apparently ended up as a gate guard.
Regardless of the XP-77's lack of success it does form an unusual and attractive modelling subject. This was enough for me to buy Special Hobby's kit.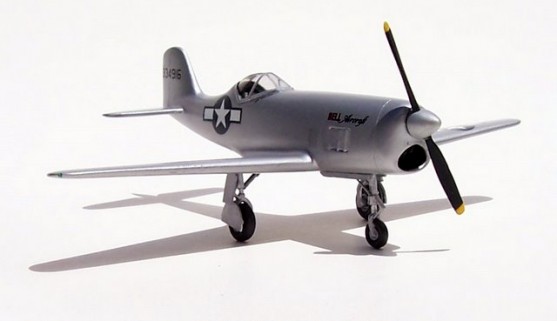 The kit included some resin interior and engine details to go with a fairly early example of Special Hobby limited-run moulding, but quite adequate none the less. Delicate engraved panel lines and generally flash-free parts were provided, the resin was OK but not to the standard of after-market parts by CMK or Aires for example, and decals were well printed and in register.
Construction was straightforward, although I recall having to shim the wings a bit as they are a one-piece including part of the fuselage bottom and wing-root fairings. The down-side of this one-piece approach is the extremely shallow wheel wells.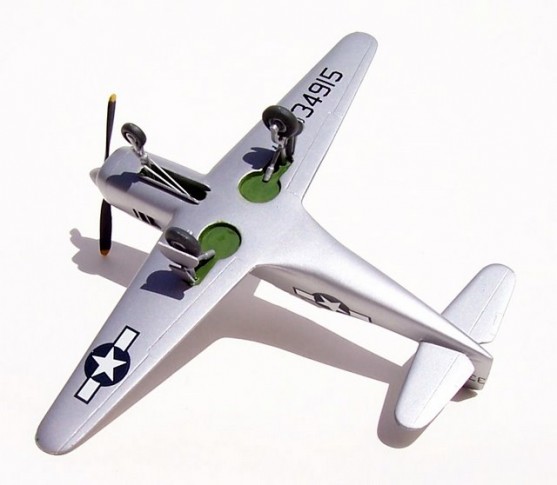 The Ranger engine is nicely cast, and the cockpit more than adequate for a closed canopy model. There is plenty of room for nose weights to guarantee the right sit.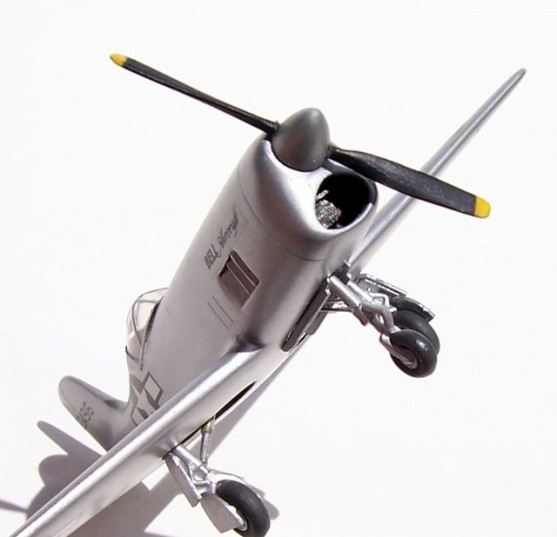 Care needs to be exercised with the vac-form canopy, but a good fit can be achieved once you build up one side of the rear fuselage to match the other with some plasticard shims (the real canopy rotated behind the pilot's seat to open, so don't assume it slides back on the fuselage spine). Painting was simple and decals performed well.
As an older Special Hobby kit the builder should be prepared to do a bit of adjusting here and there and don't assume it will fall together because it has only a few parts.
The kit may be out of production, and I am aware that Czech Master Resin and 12-Squared have also offered this kit in 1:72. I have seen a very nice 1:48 model finished, but all I can recall is that was by a Czech company. No doubt other offerings have appeared from time to time. Certainly the number of kits is of all proportion to what two rather dismal prototypes "deserve", but I'm not complaining.
This article was originally published in IPMS Stockholms Magazine in March 2008