text by Martin Waligorski
photos by Peter Alsterberg
Carl-Johan Gunnarsson called this well-composed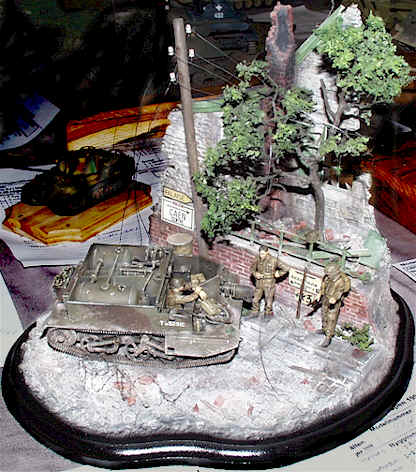 vignette "Normandie 1944". Somewhere in the vincinity of Caen, as can be read from a road sign on the wall.
The vehicle shown is a British WASP Mk. II Flame-thrower Carrier.
Carl-Johan converted Tamiya's Mk II Universal Carrier using the Scale Model Accessories set for WASP Mk. II.
The model was further detailed using Eduard photo-etched sheet and Modelkasten tracks and idler wheels.
The figures come from Tamiya, but their poses were improved using epoxy putty. The heads were replaced with appropriate resin ones.
A few other accessories for the vignette came from the spares box: oil fat from Tamiya, barbed wire from Accurate Armor, and road signs from Verlinden. Everything else was scratch-built. The cobblestone street and walkway were home-cast parts. First a master was built, then a silicone rubber mould was fabricated using an RTV process. The final base parts were then cast in plaster.
The house ruin forming the background was
constructed using balsa wood covered with putty, in which the brick wall texture and seams were modelled. For roof remains, the structural elements were added from pieces of wood, then roofing tiles were added. Each tile was individually cut from plastic sheet and shaped to form. Balcony rail was constructed from strips of plastic.
The telephone pole was scratch-built from wood, metal, and styrene.
The centrally positioned tree creates the focal point of the scene. It's branches were carefully shaped from metal wire, and then covered with white glue and putty. Green-colored Beckers Golvflingor were used for leaves. (Golvflingor are small colored flakes that can be sprinkled on the freshly painted wooden floor surface to enliven the final effect – Ed.).
Some grass from pieces of nylon fibre completed the scene.
Carl-Johan's vignette has been awarded with the Very Highly Commended award at IPMS Open 1999 in Stockholm.
This article was originally published in IPMS Stockholm Magazine in July 1999.