Hasegawa 1/48 Hawker Hurricane Mk. I
 by Tomasz Gronczewski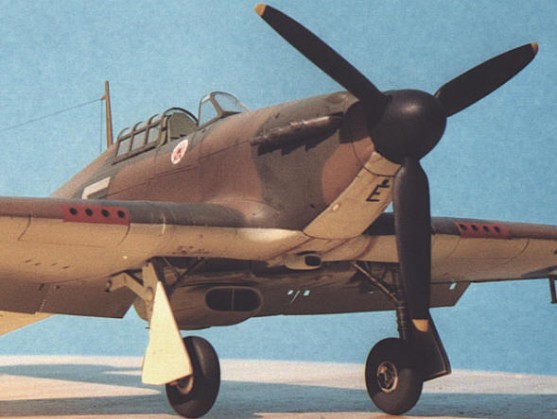 The man
Witold Urbanowicz was one of the outstanding Polish aces. Although he was a bit overscored by Stanislaw Skalski with his 18 individual and 3 shared victories, Urbanowicz had at least four claims to fame:
his first victory was scored far earlier than any other Polish WW2 ace – in August 1936, Urbanowicz downed a Soviet reconnaissance R-5 marauding over the Polish territory
he was the top Polish scorer of the Battle for Britain with 15 confirmed victories
during the peak of the BoB he was commanding the most successful squadron of the Battle – Polish 303rd Kosciuszko Sqn
he was the only Polish ace who scored against Japanese pilots – he downed two Ki-43s over China with 23rd Fighter Group USAAF
he was the top Polish strafing ace, destroying 9 Japanese aircraft on the ground.
As mentioned above, Urbanowicz scored his first kill in August 1936. Despite the fact that the offending R-5 refused to land or return to the Soviet Union, Urbanowicz received a severe reprimand for his action and had to leave the elite 111th Eskadra. Instead, he was posted to Deblin Flying School as an instructor. Because of this assignment he did not participate in air combat during the Polish Campaign in 1939. Just before the collapse of Polish resistance he evacuated together with his 50 cadets to Rumania. He then travelled to France and finally to England.
Since January 1940, Witold Urbanowicz had been in active service with the RAF, but as all other Poles at the time he was initially refused to join a fighter unit. This changed after the collapse of France, and he was posted to 145th Sqn RAF and scored two kills with it. In early September he joined the soon-to-become-famous Polish 303rd Squadron, took command of a flight and finally became the first Polish commander of the unit.
After scoring further 13 victories Urbanowicz was posted to staff duties in October 1940. Although by then he had occupied really high ranks within the Polish forces but what he really wanted was flying again. Despite the fact that he was moved to serve with the Polish embassy in USA in order to prevent him from further flying, Urbanowicz made arrangements with Claire Chennault and they both managed to obtain Polish authorities' approval for a "visit" to Chennault's Flying Tigers in China.
In China, Urbanowicz flew operationally with P-40s, willingly sharing his experience gained under the British sky. On December 11th, 1943 he downed two enemy aircraft recognized as "Zekes" but being more likely Ki-43s. Also during his stay in China he destroyed nine Japanese planes on the ground.
After the war Urbanowicz (luckily for him) chose not return to communist Poland and settled in the USA. He passed away in 1996.
It is somewhat ironic that the top three Polish fighter aces: Skalski, Urbanowicz and Gladych were so dramatically different. It is not a secret that they did not even like each other. This was not because of the scoring rivalry, but rather the deep differences in their background and personality. Urbanowicz had aristocratic manners. On the ground he was very modest and quiet, possibly going along well British RAF officers at the time. On the other hand he probably kept personal distance from his squadron mates. In the air he was aggressive but errorless. He was extremely intelligent and in a dogfight could realize fully how the situation was developing around him. None of his aircraft was ever damaged in combat.
Skalski was simple minded, self-confident and a bit conceited person. In the air he was cold and effective, probably not much different from Urbanowicz. But on the ground he was like those other crazy people: live fast until the end will come.
Gladych was a mysterious guy. Constant mutineer, he prompted sincere dislike from his commanders. Being reluctant lone wolf within the Polish Air Force he joined USAAF and separated from the Polish community in Britain for good.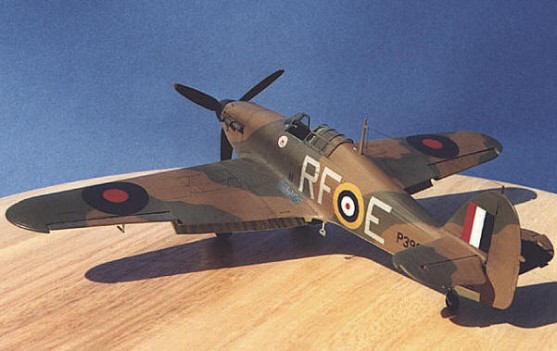 The machine
During his brief career with 145th Sqn, Urbanowicz flew several Hurricanes. After joining the 303rd Sqn he did not have a designated aircraft until late September, when he chose this Hurricane, P3901 RF-E. He had scored nine kills flying it. Frankly, I haven't seen any photo of this particular aircraft, but its profile can be found in various publications. I believe that at least someone saw a photo before drawing the profile, huh? Anyway I chose this plane as the subject of my model.
… and the model.
I used the obvious choice of Hasegawa's Hurricane Mk I as a base for the model. But when it came to aftermarket goodies I showed some extraordinary prodigality. I had bought a lot of Polish and Czech upgrade sets in order to compare them, and finally I took best details from various sets:
resin and P/E interior was grabbed from Aires interior set but;
a more correct instrument panel was robbed from Part set;
horizontal tail surfaces were taken from Aires control surfaces set;
ailerons were drawn from CMK control surfaces set;
flaps were provided by Eduard P/E set;
rudder was eventually taken out of the kit;
windscreen was supplied by Squadron;
sliding canopy was constructed from moulded transparent film and Part P/E framing
(Now my second unsuspecting Hurricane kit will be fitted with all the worse details ;o)
Some details in the cockpit were also scratchbuilt as well as the wing landing lights. 0.06mm fishing line was adapted to simulate antenna wire.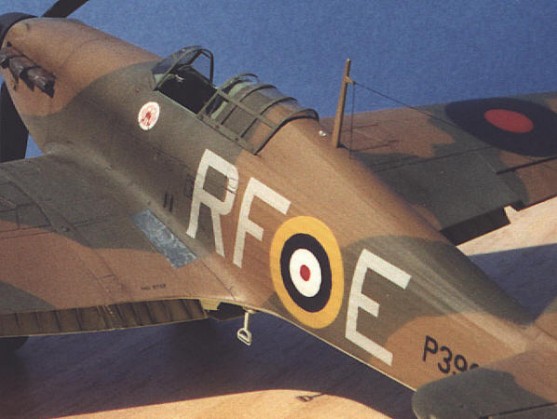 Painting
Painting was the real fun part. The cockpit interior was painted with Humbrol 78 Interior Green. The undercarriage and its bays were sprayed with SnJ aluminium.
The entire model was then painted with Humbrol 29 Dark Earth. For the camouflage pattern, I applied masks cut from Xerox paper and adhered to bits of double-sided tape. It provided the mask positioned in a subtle distance from the model surface, thereby producing slightly soft edges of colour when spraying. The dark green shade was taken straight out of a Humbrol 163 can (my favourite RAF Dark Green equivalent). Finally, the bottom surfaces received one or two coats of Humbrol 90 Sky.
All RAF roundels and fin flashes were painted with Aeromaster and Tamiya acrylics using Tally Ho vinyl masks. The Tallly Ho masks performed reasonably well, but I won't use them again. The foil used by Tally Ho and Eduard for their masks does not stick to the surface well enough.
The aircraft codes RF-E were airbrushed with Humbrol 64 light gray through my own custom made vinyl masks which proved to be far superior. The 303rd Sqn badge was printed by Charlie Donath from Exactdecals using ALPS printer, the serial number P3901 and the nose "E" letter were printed on my Canon BJC 7100 ink-jet on the Microformat ink-jet decal paper.
The entire aircraft received a coat of Future Floor Wax. Then, Pebeo artist oils were used to simulate weathering. Lastly, the Aeromaster Flat Clear mixed with Future gave the model its final matt appearance.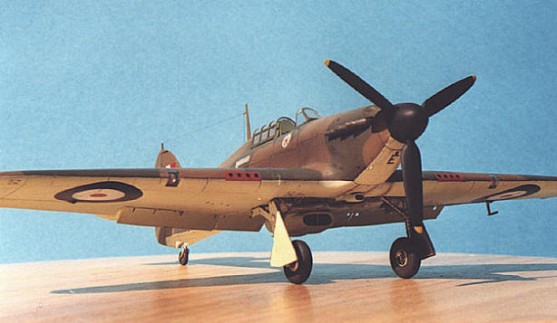 This article was originally published in IPMS Stockholms Magazine in September 2004.