by Martin Waligorski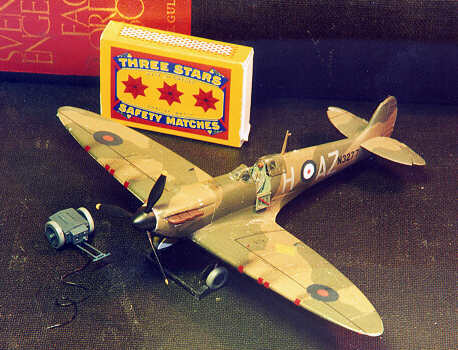 Introduction
Airfix 1/72 Spitfire kit is very easily available. You can buy it in many toy shops. It's cheap – probably one of the cheapest plastic models your money can buy. Airfix has tooled Spitfire Mk I in 1980. The molds were based on their earlier Spitfire Mk V kit of 1973 vintage. Surprisingly both models are still doing well in spite of their age, being as of this writing regarded as best early Spitfire models in 1/72th scale. Interestingly, these kits come in two different series of packaging, although they are similar in every respect, with most of the parts interchangeable. There is however somewhat more crispy feel to the Mk I parts. No variants are available, the kit represents a mid-series Mk I with a deHavilland propeller.
The quality of the parts is as following:
Panel lines are raised and pretty fine, except for the deep recessed lines at the cowling panels, which are on the heavy side.
Cockpit interior is very rudimentary, consisting of only the basic parts. It is best to replace it.
Canopy is thick and will heavily distort a view of anything that you might have done inside the cockpit. This is often a problem with just Spitfire models because of the complex canopy shape. I bought a 3rd party vacuformed canopy from Aeroclub. It matches the kit very well.
Wheel wells are adequately deep with no details.
Undercarriage legs are molded together with the wheels covers – a serious drawback if you care about detail.
Kit markings are simple, representing only one aircraft – AZ*H from 234th squadron – a Battle Of Britain machine, of course, how else… Decals are thin with accurate color shades, but many Airfix decals have register problems, so check your model before you buy it.
Before starting the construction, I checked the kit with the Spitfire drawings published in Aircraft Archive, and a couple of photographs.
Fuselage shape is good. The problem with most of the Spitfire kits is cowling shape, and the Airfix model seems to capture the outline accurately. This is best compared with the photographs, as profile drawing can't tell the whole story. Panel line are where they should be. Fine detail is missing – there is no fuel filler cap in front of the cockpit, and no small blisters on the cowling. Exhaust stubs are molded separately, but are crude, and so on.
Wing shape – when compared to the drawings, it's right as well. What is more important, is looks accurate, too. The distinctive gull-wing shape at he rear centerplane is all there, maybe just a bit too shallow. The wing-to-fuselage fit is fine, but causes problems with wing dihedral if you don't do anything about it, the dihedral will be too low.
Other stuff – the propeller is rendered very accurately, one needs only to thin down the blades.Tailplanes are fine, but too thick trailing edges, as always with the models of this age. The same applies to the wings.
As the construction progressed, I could see with satisfaction that Airfix got it right and the ready kit captures the look and "sit" of the Spitfire very well. With some detailing work, a very nice replica can be produced.
Cockpit
As with any aircraft kit, I started with the cockpit area. I discarded all kit parts, then cut out the cockpit door at the port side. I then spent a lot of time scratchbuilding everything. I used plastic card, stretched sprue, some photoetched bits, fine wire and aluminium foil. Superglue was used throughout.

I often use the method shown to the left to produce realistic instrument panels. First, the panel is cut from plastic card (second from the top). The instrument dials are drilled out and extra detail scribed on the panel. The dial faces come on the photographic film, Eduard-style, which can be seen below the panel. The film itself is backed with high-gloss silver foil, which really brings instument faces to life – try it yourself! Finally the instrument panel is covered with black chrome Bare Metal Foil, which is then burnished, accentuating the detail and giving the whole panel a bit worn look.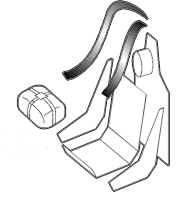 Pilot seat and armor plate behind was manufactured using thin plastic card and photoetched belts.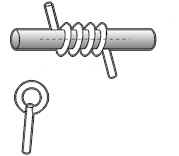 Many details can be produced from stretched sprue, like this stick with spade grip.
Fuselage
The fuselage needed refining of details.Cowing panels where covered with bare metal foil to reduce line depth. A thicker piece of foil was used to cover the fuel tank – in the original Spit this was covered with armored plate, markedly raised above all other panels. All exhaust pipes and air scoops where drilled out. Fuel tank lock was added in front of the cockpit.
I separated control surfaces at the tail, and added some hinge detail. I thinned down trailing edges, then replaced trim tabs with bits of very thin plastic card.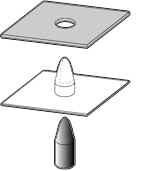 Minor scoops, exhausts and blisters can be easily formed using the following method. Heat u a piece of plasctic card, stick the round object like pen tip through it using some support from the other side, and voilá! – the scoop is ready, needing only to be cut out from the card.
Wings
The trailing edge was sanded down to almost scale thickness. Flaps where cut out and modelled in open position – I took mine from Eduard's photoetched set for Spitfire Mk V. Gun covers on the real Spit used to have pretty loose fit – I covered them with Bare Metal foil to make them look different from surrounding panels. The eight gun throughs on the leading edge are not featured on the kit – you can choose to drill them out or paint them taped over with red tape, as they used to be on the ground. What you need to drill out is the camera port at the base of the port wing.
As the flaps were lowered, the tine hatches covering flap actuating rods were modelled opened on the top surface of the wing. There should be also two skin stiffeners and a shallow blister above the wheel wells, but I didn't do it as these would be really small parts. I rescribed airelon hinge lines for more realistic appearance, and again added some hinge detail.
Wheel wells on a Spitfire model are not difficult to detail, as the furnishing in them was very sparse. I replaced oil cooler grille and outlet flap as well as pitot tube with excellent Eduard parts.
Undercarriage
As the kit's undercarriage was not very god, I scratch-built mine.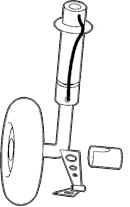 The undercarriage leg itself was made from steel wire, bent as shown. The oleo legs were then produced from plastic pipe heated and stretched to the appropriate diameter. Various details were dthen added from sprue and plastic card.
Painting and finishing
Before applying paint I treated the whole model with a silver polish to soften the effect of raised panel lines. Afterwards I painted the model using Xtracolor paints. Silver polish was then once again applied to the glossy painted surface to achieve semi-matt appearance.
Airfix decals were applied for serial number and squadron codes. Stencils and other small markings came from various 3rd party Spitfire sheets. Then came the roundels. I didn't like to use decals, as the original blue color in them was a characteristic deep indigo blue, which cannot be captured accurately in print. I therefore masked and sprayed the blue roundels first, after which I applied the white and the red circles from decals.
Then came the time for small details. Canopy frames where partially painted, partially cut out from a pre-painted metal foil. Cockpit door was added. Navigational lights where added from Kristal Kleer. Tiny bits of wire made for undercarriage lock indicators. Metal foil served also as "masking tape" for the gun outlets, and so on.
Weathering was done by means of scraping and chipping off some paint at the places previously covered with metal foil. This gives a most realistic impression of weathered paint cover. Exhaust and gun smoke stains were sprayed on, and a light wash was applied to accentuate crevices like airelon hinge lines.
After doing all this, I was very satisfied with the result. The model looked certainly good, and despite of the kit's age and raised panel detail it presented itself very well. How well? Hmm – at least well enough to get the 3rd prize in it's class at IPMS Open '96!
This article was originally published in IPMS Stockholm Magazine in March 1997.