text by Martin Waligorski
photos by Janne Nilsson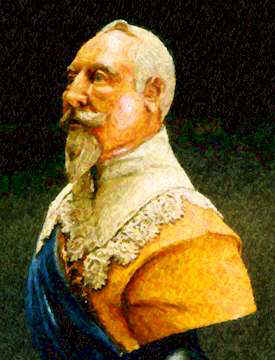 Has the IPMS Stockholm's webzine suddenly become interested in oil paintings? Not really, but I just couldn't resist this trick with one of Janne Nilsson's newest creations – a bust of King Gustav II Adolf. Believe it or not – the man on the above picture is no taller than a couple of inches and made of resin!
Gustav II Adolf was born Dec 9 1594 in Stockholm. He was the eldest son of Karl IX and Kristina of Holstein. Gustav was only 17 years old when he succeeded his fathers throne in 1611. He married Maria Elenora of Brandenburg who gave birth to a daughter who later would become Queen Kristina of Sweden.
During Gustav II Adolf´s period as king, a number of new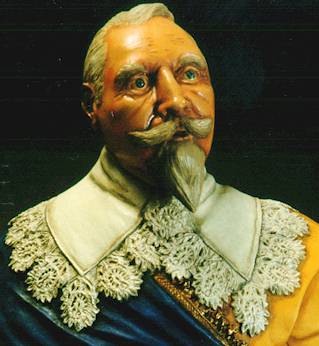 cities were built, among them the most important, Gothenburg. Today you can se the statue of the king in the Gothenburg city on the Gustav II Adolf square – where else?
But all was not perfect in Gustaw Adolf's career. As king, he immediately had to deal with war against Denmark. During the 30 years war, the king personally led his troops in Germany. At Breitenfelt in 1631, he won a great victory in spite of numerical inferiority. However, his destiny reached him only a year later.  Löwe aus der Mittelnach died in 1632 in the battle at Lutzen.
"He is one of my favourite men in Swedish history" says Janne. "One of them that really influenced the 17th century. I like to think how the things would develop if he had made it that November day at Lutzen".
The wonderful resin bust for this project came from Fort Duqesne. The level of detail was very impressive, which can be judged from the adjacent pictures. Janne painted the bust by hand using only several paintbrushes and his favourite Humbrol enamels. Some of the shadows received an extra adition of black artist oil to enhance their depth.
Janne ordered the base from Oakwood Studios in England.

This article was originally published in IPMS Stockholm Magazine in November 1999.