by Janne Nilsson
Detta är en figur från Andrea i skala 1/35.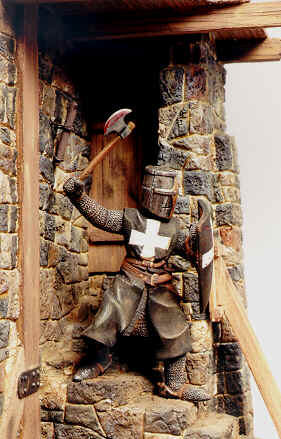 Figuren har en underbar pose och passformen är mycket bra. Basen som medföljde var däremot rätt så kass och tråkig. Jag byggde en ny bas genom att först bygga upp väggarna och trappan av tunn plywood. Denna täcktes dsedan med tvåkomponentlera från Sylmasta. Jag tog en bit i taget och mönstrade leran med en bit av torkat murbruk. Skarvarna lades in med ett knivbladsformat verktyg.
Riktigt trä användes för att simulera golv, bjälkar och tak. Dessa färgades med olika "washer" efter att ådring förbättrats med en vass kniv.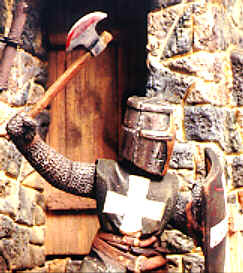 Stenarna målades i olika grå nyanser och olika kulörer torrborstades och stöpplades ovanpå. En "wash" lades även på.
Figuren målades i Humbrol färger. Yxan och hjälmen polerades upp och fick två tunna lager klarlack med lite blått i. Pulver av pastellkrita lades på för att ge ett dammigt intryck. Basen utformades så att den skulle påminna om klassiska filmer i genren riddare under sent 1200-tal.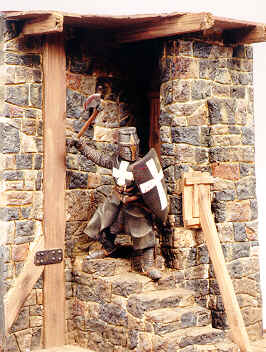 A figure from Andrea in 1/35 scale. The figure has a very spirited pose and the parts fit together well. The cast base included didn't make quite as good impresion, so I built a new base. I started with the wall structure in plywood, and I covered it with Sylmasta clay. I took one section at the time and enchaced the surface with a piece of dried mortar. The individual stones were sculpted with a knife-shaped tool. Wood strips were used for the beams, floor and roof. The wood were tinted with different washes after the wood grain had been enchanced with a knife and sandpaper.
The stones were painted in different tones of grey and other colours were stippled on to the surface. A wash and dry brushing finished the job. The figure was painted with Humbrol enamels. The blade of the axe and the prominent helmet were polished and sealed with gloss varnish tinted with some blue. Loads of pastell powder were put on the base and figure to achieve an dusty impression. My intention was to create a scene familiar from chivalry movies…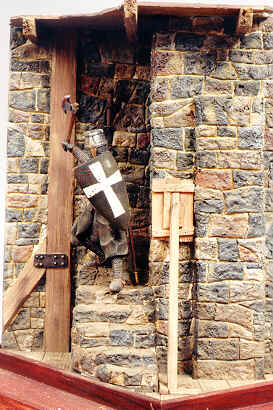 This article was originally published in IPMS Stockholm Magazine in September 1997.