by Janne Nilsson

  Created by the Swedish sculptor Jocke Lindman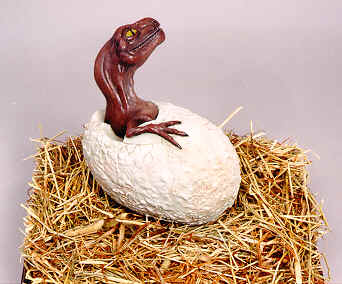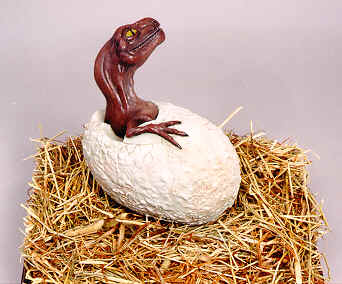 this awesome 1/1 scale hatching Velociraptor was a one-piece resin casting. I airbrushed the model in Tamiya colors. Details such as eyes and claws were hand-painted using Humbrol enamels. The nest were made of real straw. The setting depicts a scene from Jurassic Park movie where the raptor is hatching inside the laboratory incubator.

  Från svenske skulptören Jocke Lindman kommer denna Velociraptor i 1/1. Gjuten i ett stycke av resin. Hela figuren sprutmålades med Tamiyafärger, med detaljer som ögon och klor målades i Humbrol. Redet gjordes av halm. Tanken var att efterlikna den scen i Jurassic Park där äggen kläcktes. En mer ingående artikel är tänkt att komma i Allt om Hobby under 97.
This article was originally published in IPMS Stockholm Magazine in September 1997.