Part One
Photos by Magnus Fridsell and Martin Waligorski
Text by Martin Waligorski
Introduction
On the 27-28th March 1998, IPMS Sweden held Scandinavia's largest yearly event for model enthusiasts – IPMS Open, at the Technical Museum in Stockholm.
Magnus and I took photographs of some of the many excellent models on display. These are presented here. With great regret we had to be selective, as our time and film resources were limited. There is a lot to learn from these models, so take a good look, learn, and enjoy!
Since there are many photographs, the material has been divided into sections presented below.
More models are presented in part two of this report. See the link below.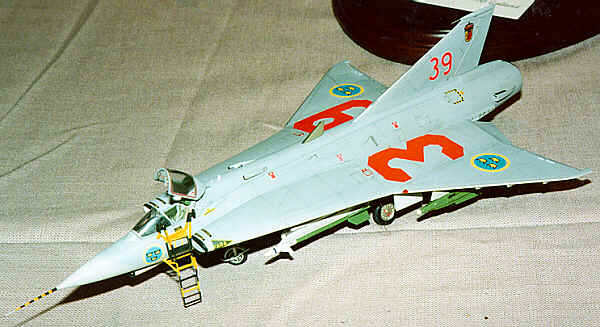 This SAAB J35J Draken in 1/72 scale has been built
by Claes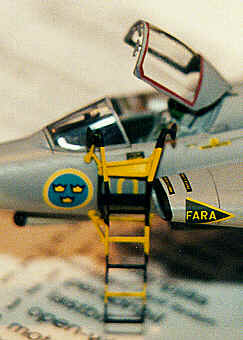 Wahlund from the Hasegawa kit. The model won in it's class.
This article was originally published at IPMS Stockholms website  in 1998.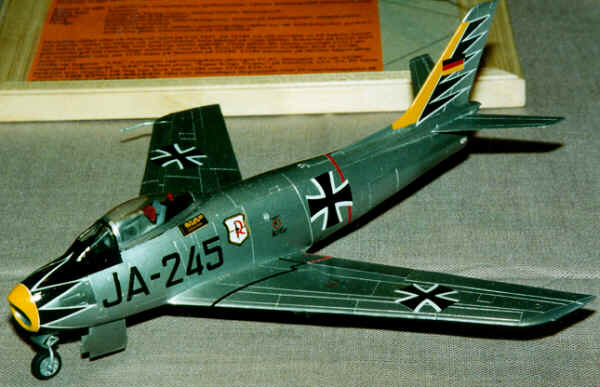 Another litte gem in 1/72 scale was this North American F-86F Sabre in Luftwaffe markings. Model built by Joachim Thylin.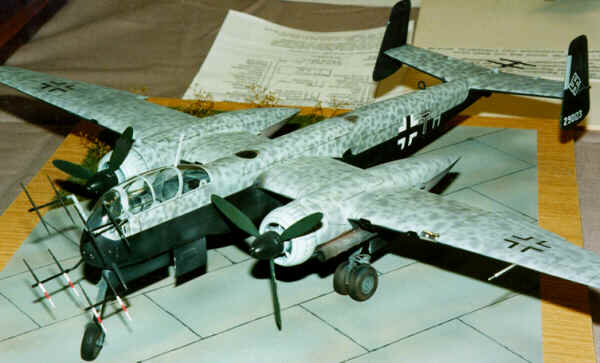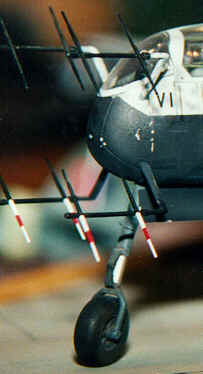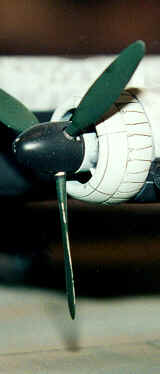 The new 1/48 Tamiya kit of Heinkel He-219 Uhu is nothing short of excellent, but it still requires a modeller like Morten Syvertsen to do it full justice. The model represents A-7 version of this night fighter.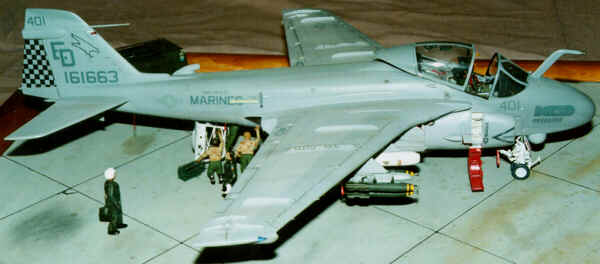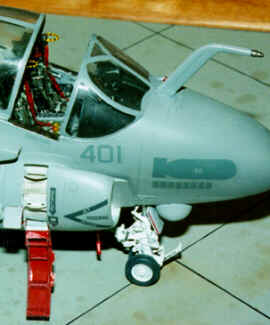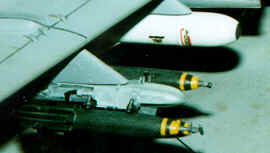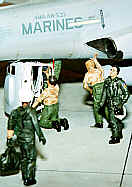 This A-6A Intruder was a winner of it's class. The base and figures, alhough extremely simple, add a lot of interest to the model. Model by Albert M. Tureczek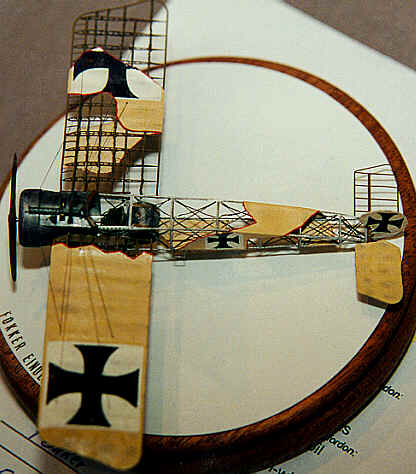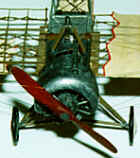 This is simply astounding. This cutaway model of Fokker Eindecker is in 1/72nd scale! Albert B.M. Tureczek used Eduard's photo-etched kit to assemble this beauty.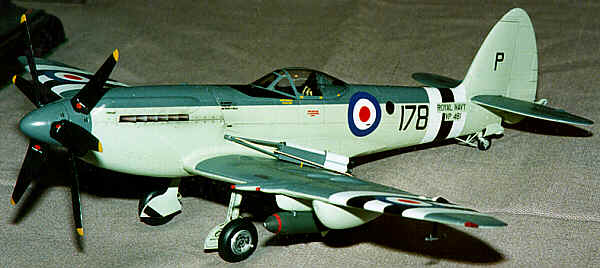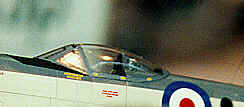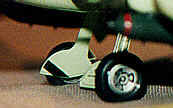 Among, aircraft modellers, Spitfires are just as popular as ever. This excellent replica of Seafire FR.47 in Royal Navy markings was built by Victor Krogius. The kit in 1/48 comes from Airfix. Another class winner…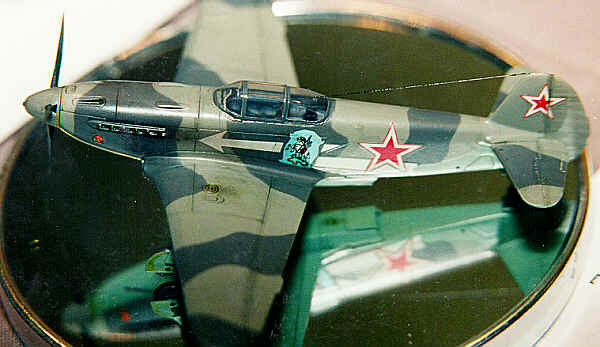 This 1/72 model of the Soviet Yak-3 fighter has been built right out-of-the-box by Martin Waligorski. The kit comes from Hasegawa.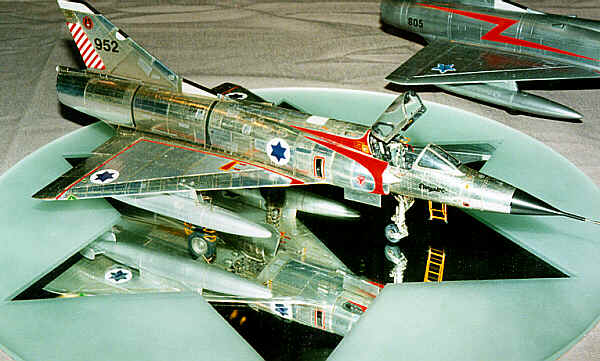 Albert B.M. Tureczek built this excellent 1/48 model of Mirage III.C in Israeli markings. The bare-metal finish is simulated on the model with metal foil. Excellent detailing and workmanship throughout make this model a winner of it's class.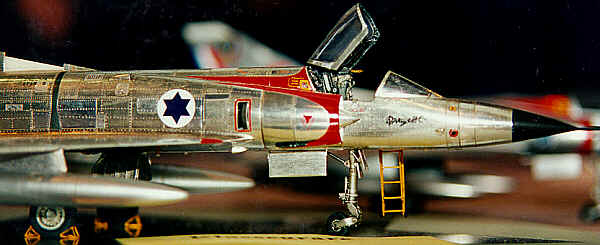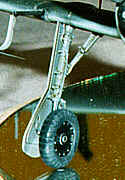 The Butcher Bird is one of the most popular aircraft subjects. This heavy-weathered 1/48 replica of Fw190A-8/R11 courtesy of Albert B.M. Tureczek.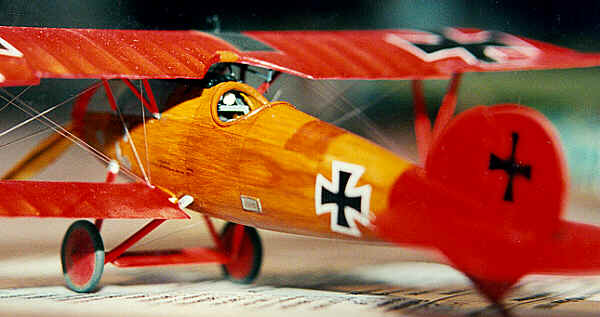 The natural wood finish is certainly difficult to replicate on any model. Pål Björkman is an expert on this. The aircraft is Albatros D. V, and the scale is 1/48.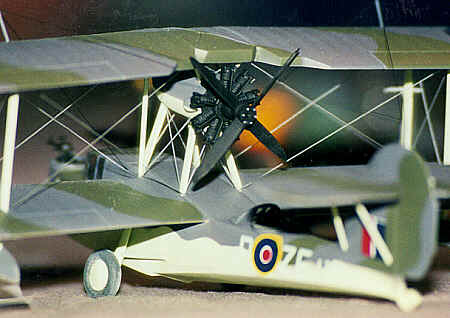 Oldies but goldies: Even 25-year old kit can form a basis for a striking model. Sören Strand built this model of Supermarine Walrus Mk.II from the old Matchbox kit (1/72 scale).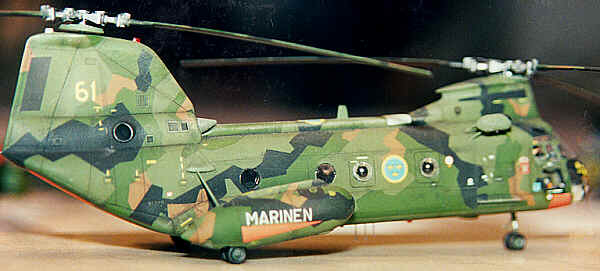 Albert M.B. Tureczek built a model of HKP-4B (Boeing Vertol 107) and covered it with this striking camouflage scheme of Swedish Air Force. The scale is 1/72.
 Military vehicles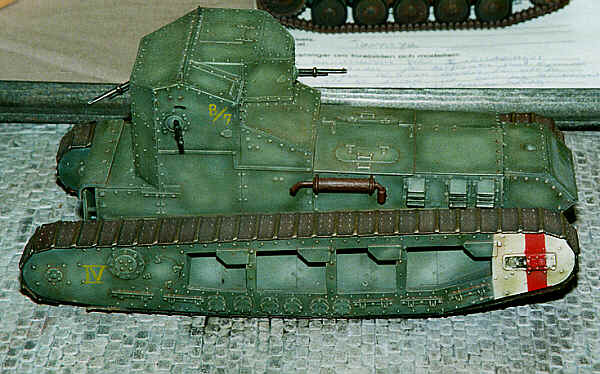 This excellent 1/35 model of a Whippet tank won a 1st prize in it's class. Model by Kjetil Gulli.
'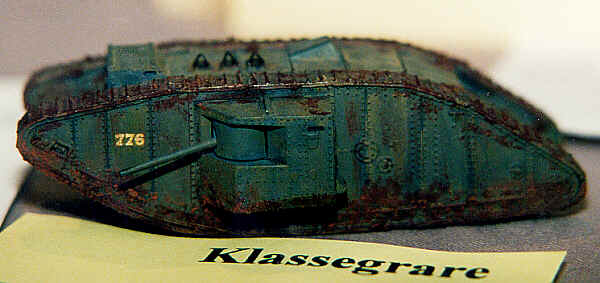 Another winner, this time in 1/76 (1/72?) scale. British Tank Mk II "Male" by Björn Bäcklund.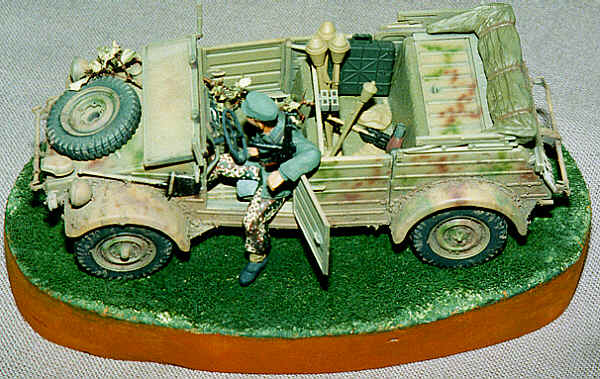 Tamiya's 1/35 Kubelwagen built by Tobias Saksen.
Another 1st prize model.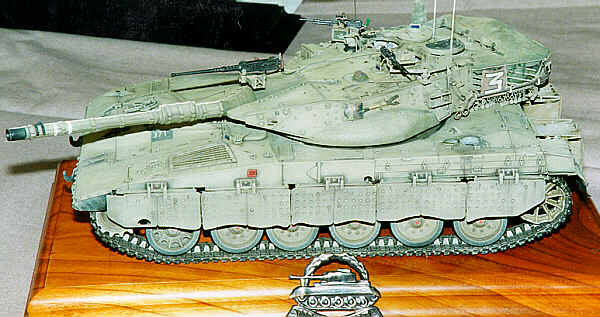 One more class winner. Israeli Merkava Mk II B by Hans Sterup. Model in 1/35 scale.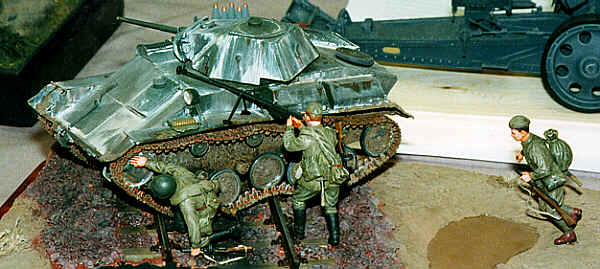 This well-weathered vehicle is a Soviet light tank, getteing itself thorugh a rialroad track. Sorry, but I forgot who built the model…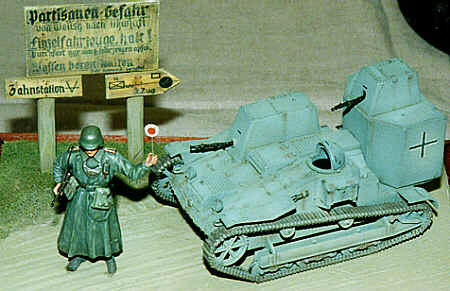 This model represents a French Renault UE light AFV under German management. 1/35 model by Bengt-E Johansson.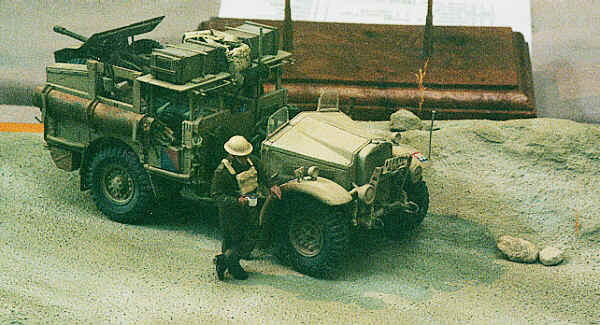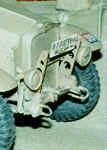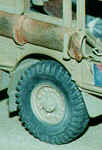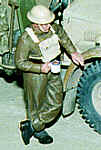 Erik Ahlström took great care of every detail in this simple desert scene. Not surprisingly, this model took a 1st prize in it's class. The scale is 1/35, and a vehicle is Morris Commerical CSS Anti-tank Portee, carrying 37mm Bofors anti-tank gun.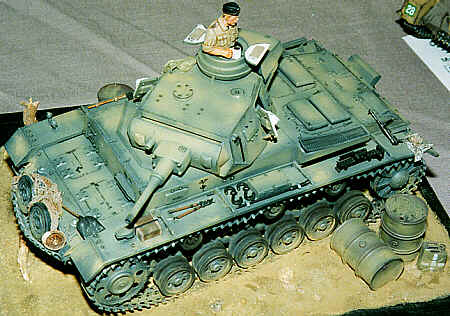 This is a very finely weathered model of Pzkpw III, courtesy Per Olav Lund.
Tobias Saksen must have modeled himself here, collecting references for the next project… This neat scene with an abandoned Sherman wreck is entitled "Guadalcanal Revisited".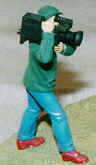 Figures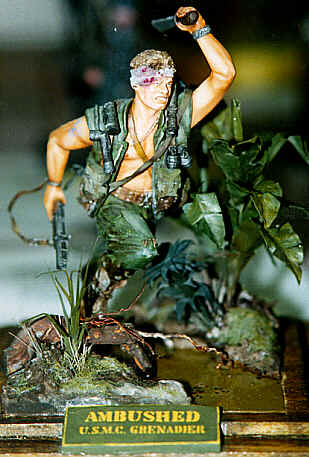 Stefan Hellström is a man behind this dramaticly-posed figure of U.S.M.C. Grenadier.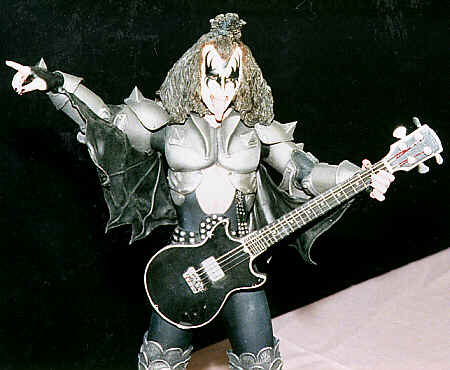 A nostalgia trip into the 70's? Staffan Linder is the author of this large figure of Gene Simmons.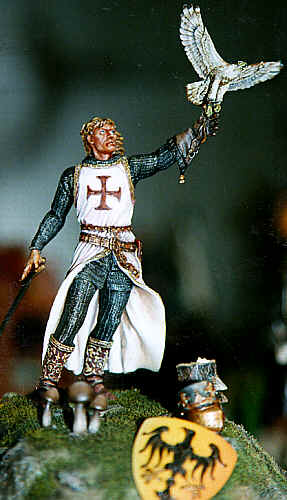 This excellent little figure comes close to perfection in painting technique. Unfortunately, I missed my notes on the author…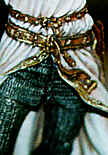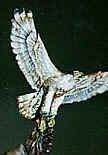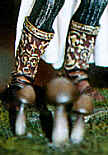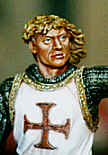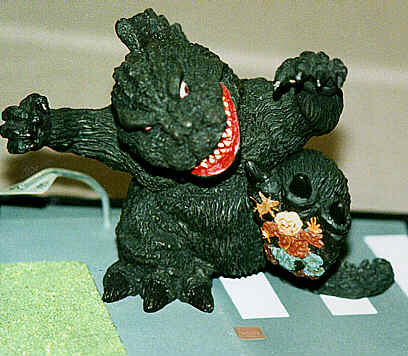 Oooops! Shit happens, as Duke Nukem would say… Although not a winner on points, this scene certainly should be a winner in humour class. Jens Håkon Brandal built the model and called it "Baby Godzilla"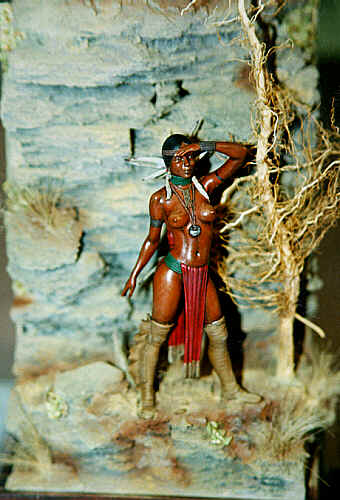 This is Janne Nilsson's vision of a scouting female Indian.
Quite convincing…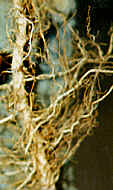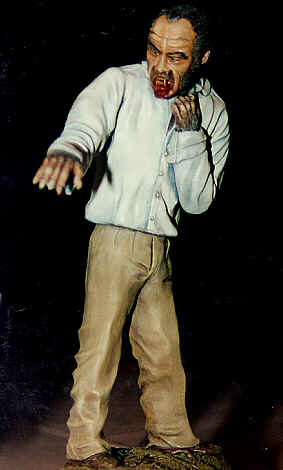 Do you recognize Jack Nicholson on this picture? This large Wolf figure has been presented by Markus Eriksson. A class winner!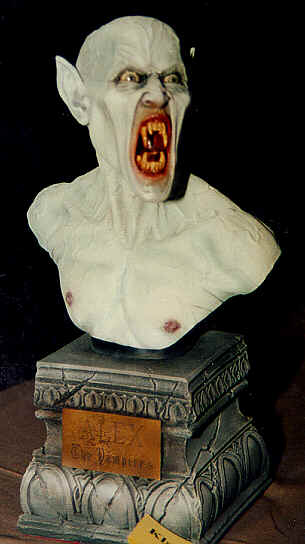 This magnificent model, by Markus Eriksson, is called "Alex the Vampire". The level of realism achieved by Markus is absolutely incredible. Look at the eyes of this thing!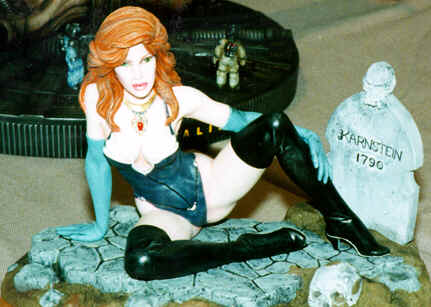 Countess Karnstein in somewhat relaxed pose. This figure presented by Albert B.M. Tureczek.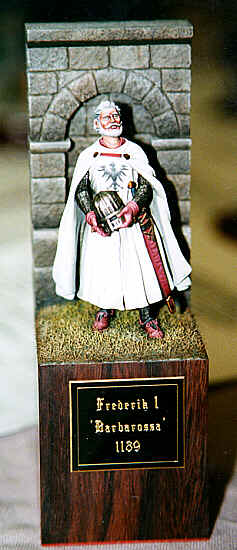 Another excellent creation by Mikael Blank. The tiny figure of Frederik I "Barbarossa" won him a 1st prize in the class.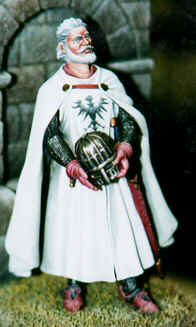 Back to main article
This article was originally published at IPMS Stockholms website 1998.