by Johan Isaksson
photos by Anders Isaksson
Light Armored Vehicle (LAV)
LAV is an all-terrain, armored, amphibious and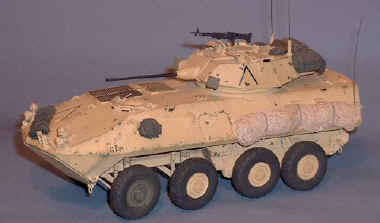 highly versatile battle vehicle used by United States Marine Corps. The version presented below is designated LAV-25 and comes equipped with a turret mounting a 25 mm chain gun. The LAV-25 was designed to provide strategic mobility to reach and engage the threat as well as enough fire power to defeat soft and armored targets along with battlefield survivability to carry out combat missions. LAV-25 is fully amphibious with a maximum of three minutes preparation. It can also be transported by air in a C-130, C-141, C-5 or CH-53 E.
Among the different versions of the LAV series there are vehicles designed for anti-tank (LAV-AT), mortar (LAV-M) and recovery (LAV-R) duties.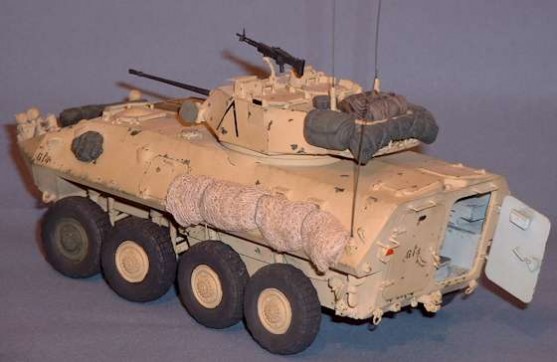 Construction
The Italeri kit is superior in dimensions and detail compared to the old ESCI offering. Italeri has offered a number of different kits of the LAV. Molded in a dark green plastic, the kit provides an interior for the passenger compartment. However, no interior detail is provided for the turret or engine area.
The LAV was assembled according to the instructions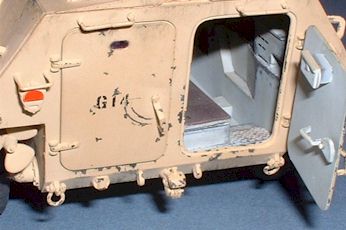 and no extra detailing was done. Fit was good and the basic assembly was completed without problems.
Paint and markings
The interior was airbrushed using Tamiya matt white with a few drops of green. The details like the seats and various fittings were picked out using a number of different colors. wash of brown and black acrylics and a slight dry-brushing of Humbrol aluminium was the final steps. I decided to cut the time needed to finish the passenger area by displaying only one door in the open position. This took some time For the exterior an appropiate shade of desert yellow was mixed from Tamiya desert yellow, yellow and white. The entire model was airbrushed using this mix. A light wash of acrylic brown and black was then applied in selected areas to accentuate detail. Finally a little dry-brushing was done using lighter shade of desert yellow Humbrol paint. A few wheels were finished in a standard olive drab shade of Humbrol to illustrate the use of spare wheels which had not been repainted in the desert color. The tires were finished in a mix of Humbrol matt black mixed with some iron grey.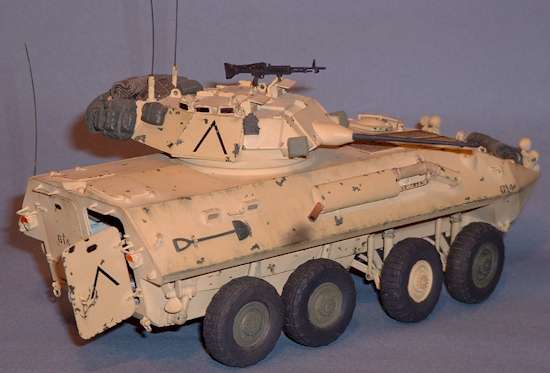 Photos of real LAVs during Desert Storm showed that the paint wore off in certain areas, exposing the original Nato camouflage. To simulate this effect I used the blade of my hobby knife to create scratches and expose the bare plastic underneath. This work took me a long way but I increased the effect further by dry-brushing a few Humbrol shades of green on a number of corners and protruding details. I used powder from a black pastel chalk to simulate the trace of the exhaust on the right side, applied with a brush.
The markings are dry transfers taken from a Verlinden gulf war decal sheet.
Final assembly
With everything assembled and painted I turned to the accessories. Kit bags, rucksacks, boxes and water canteens were taken from various accessory sets and attached to the turret.
Milliput was used to make a sleeping bag. A tarpaulin was made from fine fabric and sewing thread. It was folded using diluted white glue and attached to the front of the LAV. A piece of Verlinden camouflage netting was cut, rolled up and attached to the side of the vehicle, as seen in a photograph.
All accessories were painted in appropriate colors and the whole model was finally dusted with powder from light yellow pastel chalk to make everything blend together.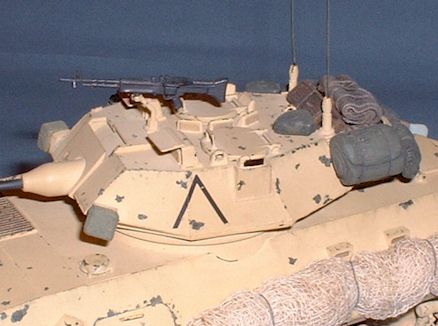 This article was originally published in IPMS Stockholm Magazine in February 2001.