by Janne Nilsson

This vignette was built around an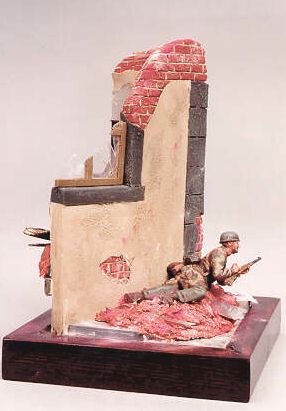 injection moulded figure from Dragon in 1/35 scale.
This one was built for a magazine article describing basic figure painting.
Flesh parts were painted in artist oils and Humbrol enamels, the rest in Humbrol.
The base were created with pieces of cardboard, woodstrips, plaster, Plastic card and whatever else i found handy.
My intention was to show a Fallschirmjäger defending a house ruin, somewhere in Italy in 1944.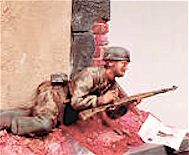 Denna vignette byggdes runt en injektionsgjuten figur från Dragon i 1/35. Denna byggdes för artiklar i Allt om Hobby nr 6 och 7-97. Ansikte målades med oljefärg och Humbrol, allt annat med Humbrol. Basen scratchbyggdes med pappkartong, träprofil, gips, trälister mm.
Min avsikt var att visa en fallskärmsjägare i den miljö som gjorde dem så ökända, nämligen försvar i ruiner, kanske någonstans i Italien, 1944.
This article was originally published in IPMS Stockholm Magazine in December 1998.