by Peter Allen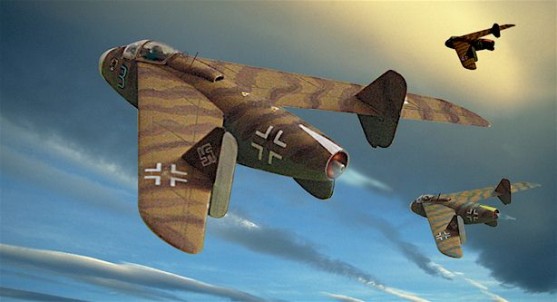 Digital image processing can allow you to set your precious models in action. I have seen and read many excellent articles on how to make digital in-flight pictures and decided I'd give it atry. Not having all the equipment I improvised with what I had available.
Preparation
Not having anything else, I pushed the kitchen table up against a wall. I secured a large sheet of stiff matt white paper with tape to the front edge of the table and the wall behind so it swept up from the horizontal to the vertical with enough flat area to place the model to be photographed.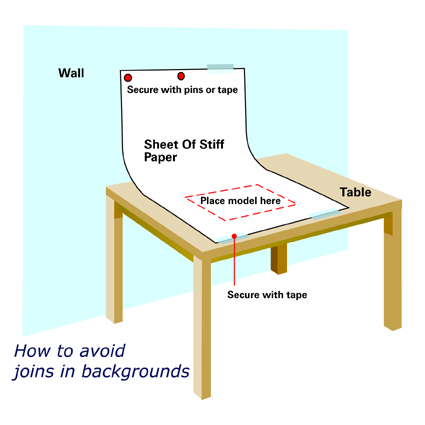 Lighting was pure daylight through the kitchen window. (Note: it is best to commandeer the kitchen when the better half is not cooking). Also if you have a shady spot outside were you could set up the table so much the better. Cloudy days are best so the light is more diffused than strong sunlight.
I shot each model with a with a Sony Cybershot 3.3 megapixel Digicam borrowed from work. I took many pictures from which to make a final selection.
Photoshop
Next step after downloading images on to the computer (mine is a Mac) is to choose the best aircraft image and take it into Photoshop.
I cut out the aircraft from the background and retouched anything that needed re-touching. I build models with undercarriage down so re-touching was necessary for in-flight. I also do not usually build models with pilots or crew so this needed some airbrush work in Photoshop too.
Next I brought together the cut out plane and a royalty-free sky background and adjusted size and angle of the plane. Once I was happy with the aircraft position/angle/size etc and the background, I then added jet exhaust.
Often you will want adjust the brightness/contrast of the background, the superimposed model or both so that they match each other. It is also worth to learn playing with colour balance for even better integration between the two.
Once everything is done I saved both as a Photoshop file and as jpegs. It is also important to save partial results underway often as a glitch in the computer can loose a lot of work.
Plane by plane
Huma 1/72nd Junkers EF128
Once I had cut out the image and pasted it on to the sky background I copied the plane layer twice and reduced them and adjusted the angles and colours. I also retouched numbers to make them appear as different aircraft.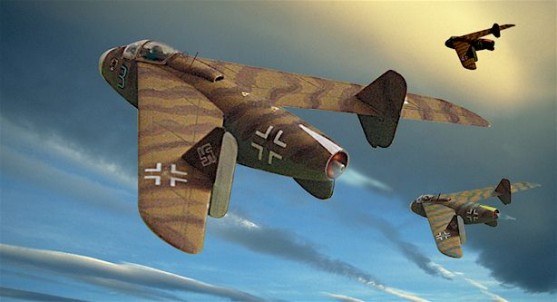 PM 1/72nd Fw Ta183
With this one I wanted to try and give the impression of speed so I added some Motion Blur to the background in from Photoshop filter files .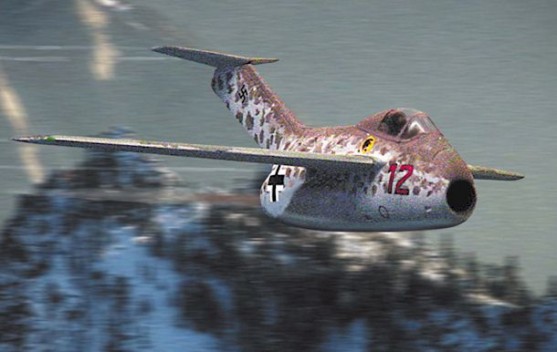 Planet Models 1/72nd Messerschmitt Me P1110/1
Similar process to the Ju EF128. The main image layer was copied and the angle, colours and size adjusted.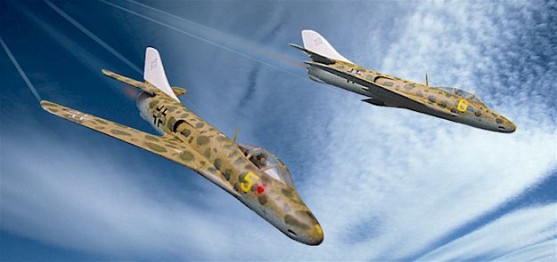 This article was originally published in IPMS Stockholm Magazine in January 2004.