by Göran Kindlund
English translation by Magnus Fridsell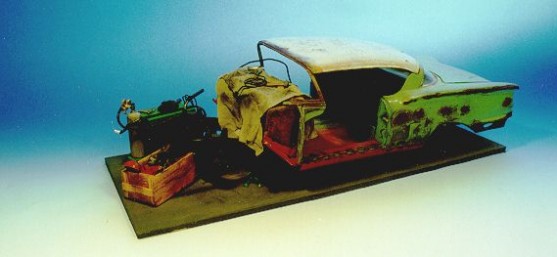 1958 Chevrolet Impala, renoveringsobjekt
När vi startade Capital City Modelers så ordnade vi ett klubbprojekt. Med hjälp av Harambee Hobby fick vi köpa en låda modeller till inköpspris så vi kunde dela ut en modell till samtliga medlemmar. Uppgiften var att bygga modellen efter sitt eget huvud. Resultaten visades i CCMs monter på den årliga Hobbymässan i Sollentuna.

1958 Chevrolet Impala, restoration object
When we started Capital City Modelers club, we arranged a group project. With the aid of a friendly local hobby shop we were able to buy a box of models for a low price. The idea was then that everybody should build the model to his or her own taste and the finished result would then be exhibited at the annual hobby fair in Stockholm.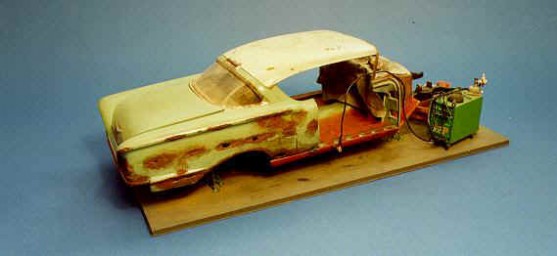 Eftersom amerikanare från 50-talet inte är riktigt min pryl bestämde jag mig för att ta chansen och testa en del idéer om "weathering" som jag hade.
Alla kromlister är bortslipade och där de satt har rostiga fästhål gjorts. Rosten är matt, lite ljusare, brun färg som beströtts med mörkbrun, pulvriserad pastellkrita.

Since American cars from the fifties aren't my main interest, I decided to use the kit to test some new weathering techniques.
All chromed stripes were sanded off; rows of rusty holes show where they have been. The rust itself is matt, rather light, brown paint that has been rubbed over with ground dark brown pastel chalk.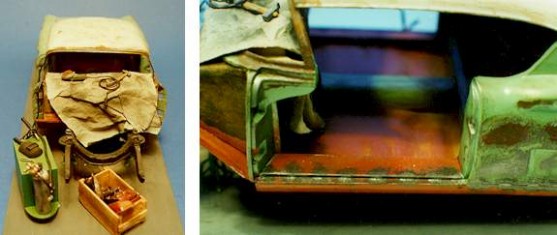 Svetsfogarna målades först med Polished Steel och Burnt Iron varefter de maskerades med flytande Maskol innan färgen sprutades på. Efter att Maskolen tagits bort borstade jag svart, pulvriserad pastellkrita runt kanterna för att illustrera bortbränd färg.
Rostprickarna i lacken åstadkom jag genom att strö mörkbrun, pulvriserad pastellkrita i den våta färgen och sedan spruta på ytterligare lager. När färgen torkat våtslipade jag försiktigt med fint slippapper tills "rosten" kom fram.
Verktygen och de lösa delarna kommer till största delen från olika byggsatser men vinkelslipen är skratchbyggd. Argonsvetsen är gjord med delar från Fujimis verkstadssats samt en gastub från Italeris tillbehörssats (1/35) för militärdioramor.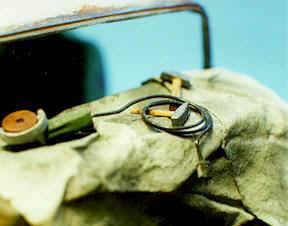 The welds were painted with Polished Steel and Burnt Iron, which was then masked with Maskol before the main body colour was sprayed. After removing the Maskol, I applied black pastel chalk along the edges of the welds to simulate burnt away paint.
I made the rusty crevices in the paintjob by sprinkling dark brown ground pastels in the still-wet paint coat. Further paint coats were later applied on top of the pulver, and when dry sanded carefully until the rust shown through.
All equipment and the loose parts come mostly from various kits. The argon welder is built from Fujimi's workshop equipment kit with a gas tube from Italeri's 1/35 military diorama set.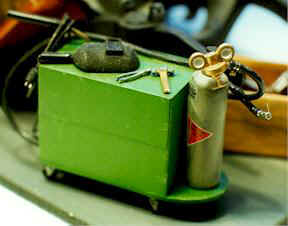 This article was originally published in IPMS Stockholm Magazine in August 1999.