by Martin Waligorski
For modelling Beaufighter fans, there has never been a better time than now. This long-neglected subject by major manufacturers finally arrives with a number of newly-tooled plastic kits. And-what kits!
Tamiya
Tamiya kit boxartIn the fall of 1997, the news spread: Tamiya Beaufighter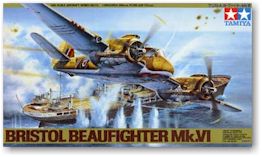 is here! Tamiya took the honour of producing the first injection-molded 1/48 scale kit of the Beaufighter. Was it worth the wait ? Oh yes. This kit is no worse than other recent Tamiya releases, and this means it's excellent!
The kits represents a Mk. VI and contains all the parts necessary to build a night fighter version, with radar antennae, or an attack bomber version, with rockets. Markings are included for 272nd Squadron, 96th Squadron and 600th Squadron.
Although the kit is labeled as a Mk VI, an early Mk X can be made using the extra components that are included but marked in the instruction sheet as not for use. These parts include a thimble nose and propeller nose caps. Judging my the way Tamiya has molded this kit another is on the way, probably an late Mk.X or a Mk.21.
Overall, this kit has quite a few more parts that other recent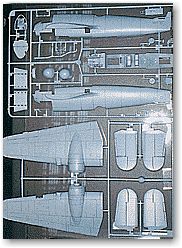 Tamiya aircraft kits due to the nature of the Beaufighter and all the external equipment. Parts are moulded in Tamiya mid-grey and are perfectly crisp with no signs of flash anywhere. Pin marks are generally positioned in hidden places, with notable exception of the interior fuselage ribbing (which you can't see on the finish model) and the insides of the undercarriage well doors (which you can). The radar antennas are extremely fine – be careful when handling them. The engines are basic but crisply moulded. Two identical but quite nicely moulded crew figures are included. Clear parts are very transparent and commandably thin.
The cockpit is nicely detailed, featuring much better detail than the recent Meteor kit from the same company. Tamiya provides sealt belt decals, but of course the 'real' belts fashioned from photoetched parts or metal foil would look much better. Instrument panel detail is raised and good-looking. Canopy can be modelled open or closed.
The wings are moulded in five pieces – two upper and three lower. This gives further evidence that another version is in store. The wings fit very well despite the complex assembly. There are no seperate flap parts.
Undercarriage components are nicely represented. The whole assembly can be inserted into the wheel wells at a final stage after the painting, provided that the undercarriage doors are left off to that stage, too.
On the negative side, the model is really let down by it's decals. The roundel red on the decal sheet is way too dark, almost brown. Also, it happens that the decals are strongly off-register. The modeller would do much better by going for the aftermarket decal sheet, such as currentlky available Aeromaster sheets: Beaufighters: Whispering Death, Pt I and II.
Hasegawa
Hasegawa's new Beaufighter is a little beauty. It compares quite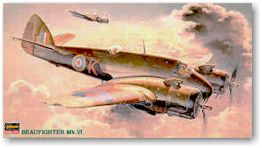 favourably with Tamiya's recent offering in the level of detail despite being in 1/72nd scale!
The kit represents a MK. VI and provides decals and parts to build two different versions of the plane: A Mk.VI F of 89 Squadron in Africa which mounted the nose and wing radar units, and a Mk.VI C of 272 Squadron in Malta, without the radar but sporting a rear seat gun.
Looking at the way the kit has been engineered more Beaufighter variants are to follow, and yes, Hasegawa has already released an Australian Mk.21, and a TF. Mk.X is to follow soon.
The kit is moulded in typical Hasegawa light grey plastic. Engraved surface detail is nice throughout the kit, and in some areas appears to be even better detailed than the Tamiya Beau. The interesting thing is that a direct comparison of both kits reveals that some panels are present on one kit, but not on the other and vice-versa, despite of the fact that both kits represent the very same mark of the aircraft.
The decals are decidedly better than Tamiya's, but for the record, the Aeromester sheets mentioned above are available even in this smaller scale.
(You can also read a detailed review on the constuction of this kit by Nils Mathisrud in this issue of The Magazine – Ed.)
Accurate Miniatures
Accurate Miniatures has announced a whole series of quarter-scale Beaufighter kits to be released. AM will have a tough time beating the Tamiya's offering in terms of overall quality, but who knows, this company has been known for doing marvels before.
Three different kits have been announced, these being a Mk. I in night fighter configuration, Mk VI C and TF Mk. X.
No detailed review can be given as the kits are not yeat available on the market.
Aftermarket products
All the kits mentioned above have already been served well by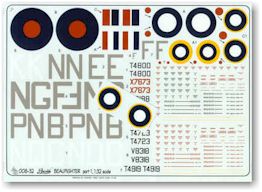 the aftermarket decal and detail sets. Besides the mentioned Aeromaster sheets, ADS Decals has released a two-part set in both 1/48th and ADS Decal sheet1/72nd scales (and even 1/32 for the Revell kit, as illustrated). Aussie produced recently sheets in both scales for Mk. 21 in Australian markings. In 1/72 scale, there is also an extra sheet produced py Czech company Propagteam.
Eduard has always been always quick in releasing photoetched detail sets for new kits, and this one is no exception. The comprehensive 1/48 and 1/72 are already available. The 1/72 set features a lot of cockpit interior detail. A competing set is avaiolable from Airwaves.
Kendall has released two resin sets for the Tamiya kit. One servers an overall improvement of detail nad contains 21 resin pieces. The other one contains flaps and control surfaces. Even True Details and Hi Tech Models have recently produced 1/48 detail sets for the same kit.
For those wishing to convert their 1/48 kit to a Merlin-powered Mk. II,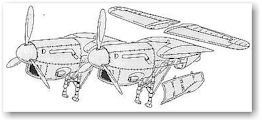 CzechMaster offers a conversion kit featuring new engine nacelles, propellers, spinners and tailplanes.
Vacuum-fromed canopies can be obtained fom Squadron or Falcon.
This article was originally published in IPMS Stockholm Magazine in November 1998.