Part 1: Modelling the History of the Miles Aircraft Company
 by Raúl Hrubisko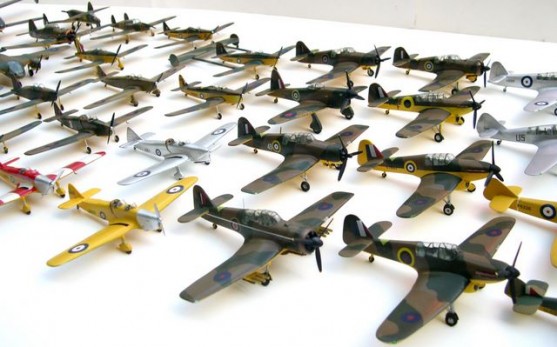 One of the most interesting British aircraft companies was born in 1932, designing and producing airplanes for fifteen intensive years only to collapse and vanish in September 1947.
Two brothers, Frederick George Miles and George Both were the founders of the Miles Aircraft Company. They had an extraordinary and enthusiastic vision in the aircraft design. They started to build light civil aircraft in the 1930's. Few years later and with the clouds of World War II approaching they soon found their experience useful for military trainer, liaison and target tug aircraft.
My challenge was to show their legacy in 1/72 scale as an unique sub-collection in my larger project which aims at modelling all the aircraft in use by the Royal Air Force during the World War II period.
Unfortunately for me, very few Miles aircraft have ever been kitted, be it in plastic, resin or vac-form. A few precious exceptions have been tracked down after an extensive and detailed research. These were the following:
In plastic:
M9 Kestrel Old Pegasus / new Pavla
M14 Magister Frog / Novo
M25 Martinet Pavla
M27 Master III Frog / Novo
M38 Messenger Pavla
In resin:
M2 Hawk Major Dujin
M9 Krestel Rugrat Resins
M12 Mohawk Dujin
M18 (new magister) Dujin
M32 Magna Models (very bad)
M38 Magna Models (bad kit)
M35 JK
M39A Arba
M52 A+V resin
In vacformed plastic:
M20 Maintrack
Project X
M33 Monitor Contrail
M38 Aeroclub (bad)
In order to obtain more information and data, in particular 3-view drawings of the remaining aircraft I bought an excellent book The Archive Photographs series, MILES AIRCRAFT compiled by Rod Simpson. This book is a real treasure and it also contains many not previously published photos. Another source of three draw views was the web site of Museum of Berkshire Aviation.
Making this subcollection of 47 models has pushed my skills to the extreme, particularly with regard to scratchbuilding all the fuselages, wings and cockpit hoods.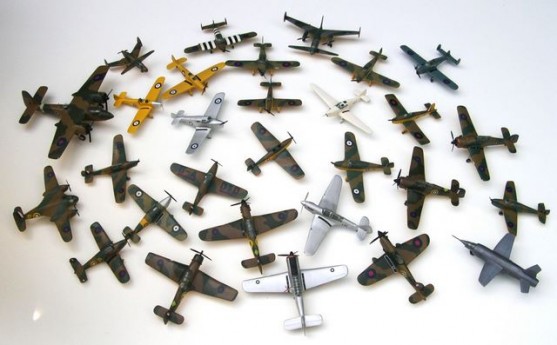 Here is the list of all the aircraft that I modelled.
M 2 Hawk Major DG590
M 3D Gillette Falcon
M 3D Falcon Six GADTD
M 4 Merlin A37-2
M 5 Sparrowhack U3
M 6 Hawkcon K5925
M 7 Nighthawk U5
M 9 Krestel U5
M 9 Master I N3300
M 9 Master Ia F – N7576
M 9 Master Ia N7547
M 9 Master I N7803
M 11 Whine Straight EM999
M12 Mohawk HM503
M 14 Magister I (1st version) L5929
M 14 Magister I (1st version) A15-1
M 14 Magister I (1st version) L8326
M 14 Magister I A – GAFBS
M 14 Magister I L5916
M 14 Magister I P2378
M 14 Magister I N3838
M 14 Magister I P6382
M 15 T.1/37 Trainer P6326
M 16 Mentor L4393
M 17 Monarch U0226
M 18 Trainer U8
M 18 1st production HM545
M 19 Master II AZ104
M 19 Master II DL852/G
M 20 AX834
M 25 Martinet T9/Z – DX134
M 25 Martinet 277 – R6938
M 27 Master III 43 – W8825
M 27 Master III DL630
M 28 Mercury UO232 (P)
M.30 X Minor UO233 (P)
M 33 Monitor NP407
M 35 Libellula U0235 (P)
M 38 Messenger 1 RG333
M 38 Messenger Mariner U0223 (P)
M 39A jet bomber U0245 (P)
M 39B SR392 (P)
M 48 Messenger U0247
M 50 Queen Martinet RH123
M 52 (Project E24/43)
Construction Notes
All Miles aircraft from M2 to M5 shared the same wing, stabilizers and undercarriage. Because of that I made copies of these parts from the Dujin M2 kit. The corresponding tails were made one by one using plastic sheet. To make the M3, M4 and M5 fuselages I copied the M38 fuselage from the Pavla kit in resin and subsequently modified them in profile according to the drawings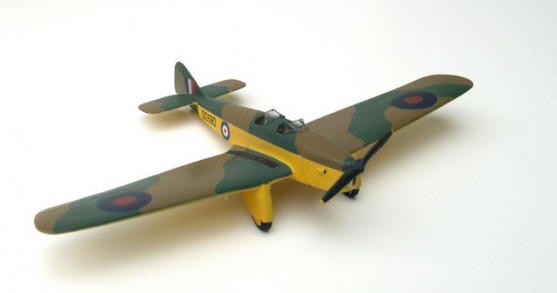 Miles M2 Hawk Major
Miles M3 Falcon Six, M4 Merlin, M5 Sparrowhawk
The M3 Falcon Six wings were copied from the M52 A+V resin kits. By making a canopy mould first I could produce multiple canopies with that characteristic forward-raked windscreen which was so typical for Miles designs.
The M6 Hawkcon was made completely from scratch by only using the 3-view drawings.
Two different scratchbuilds: the Miles M6 Hawkcon and M7 Nighthawk
The M7 was something of a hybrid. I cloned the fuselage from the M38, wings from the M12 and undercarriage from the M2.
The M8 was a twin-engined type which did not take direct part in the war effort, and it had a complex design. Therefore I decided not to make it. Same with the M13 which was only used in the winds tunnel tests by the RAE.
The M9 was designed as an advanced trainer aircraft but its performance was well beyond the call of duty. With a Rolls-Royce Kestrel engine (800 hp) it was capable of the same maximum speed as the Hurricane with a Merlin (1030 hp). I could obtain the kit in resin so it was easy to make it.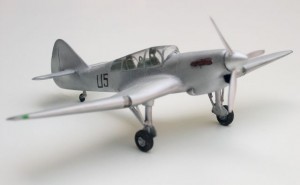 Miles M9 Kestrel from Rugrat Resins kit
The Masters
The Miles Master was arguably the best known of the Miles aircraft due to its role as a mass-produced advanced trainer for the RAF. Like the M9, the initial series M14 Masters were designed to be powered by surplus Rolls-Royce Kestrel engines. However it was soon to be redesigned for a radial Mercury engine as Kestrel supplies dried out, the new version receiving the designation M19 Master Mk. II.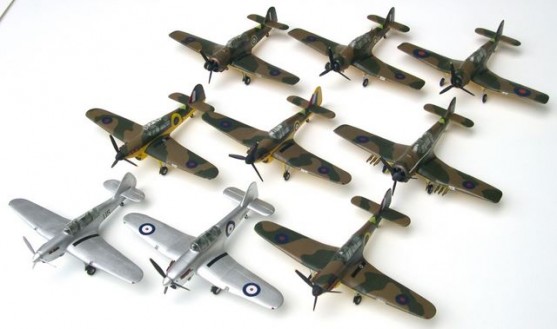 All the Miles Masters, from the Kestrel prototype to Mk. III
The four Miles M14 Master Is and the entire Master collection
The "true" Master I prototype N3300 was made from Pavla's kit with a number of modifications. The others Master I and Ia were made form Pegasus's kits with Pavla's internal components.
Miles Master Mk. I prototype makes an interesting comparison with the M9 preceding it
In sum, I made the original Kestrel, the first series prototype N3300, two Masters Mk. Ia with different colour schemes and an armed Master I which was designated M24, an emergency fighter version of 1940 of which 26 were built.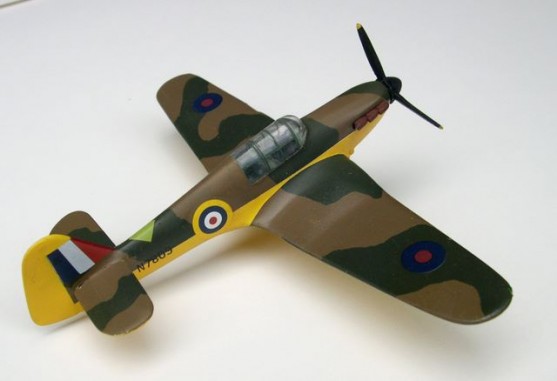 Miles M24
The M11 was modelled in the same way as the M7, meaning combining kit-bashed and cloned components from other models.
The M12 was flown by Charles Lindberg for private purposes but then RAE bought it for evaluation. I used a Dujin kits in resin form.
Miles M11 and M12 Mohawk
Continue to 47 Miles of Scratchbuilding – Part 2: From Basic Trainers to Supersonic Research
This article was originally published in IPMS Stockholms Magazine in January 2007