Sovremenny Destroyer Wreck
Text and Image: Jonas Dalberg
Translation: Lars Befring
Do you remember those images from the Murmansk harbour where the whole russian fleet lay half sunk and rusting after the disintegration of the Soviet Union? It must have been during the 90s that the images was shown on TV. Inspired by those images, and others found on the net, I created this diorama.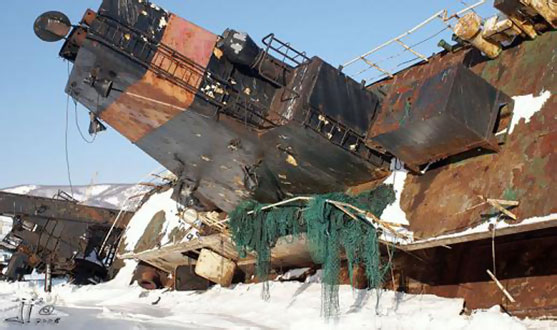 Original inspirational image for feeling and color
The starting point was Broncos Sovremmeny destroyer in 1/200 scale that was given to me, this is a gigantic kit that has to be cut down to fit normal bookshelf! it is over 1 meter long. I added some trucks, figures and a harbor crane from Kibiri in Z-scale( 1/220). Some Railway tracks in 1/450 gives the impression of a narrow gauge industrial railway. And of I Went…
The objective is to create a scene with a russian destroyer sunken by the Murmansk dock. It is winter and the ship is icebound. To get some life in the scene some local rouges will dismantle her to sell the scrap. Spontaneous Russian Recycling!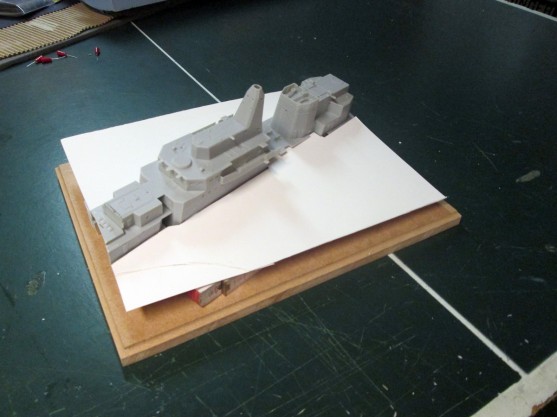 Composition 1

Composition 2

Lots of photoetch, plastic parts and a whole LOT of sawing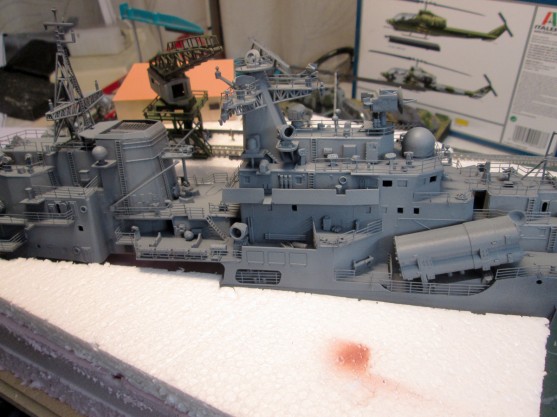 Basic painting with shades of gray and hairspray for chipping


Painting, rust and detailing. The fresh rust is painted with artist oils (Burnt sienna and burnt umber). A small blob is put in place and carefully blended with a solvent moist brush. Whenever it gets to much I remove it with a cotton swab and start over.

The most difficult part of the build so far turned out to be to get a tidy edge on the cut of ship and the landscape. In the end I just built the edge around the ship and then adjusted the base to fit.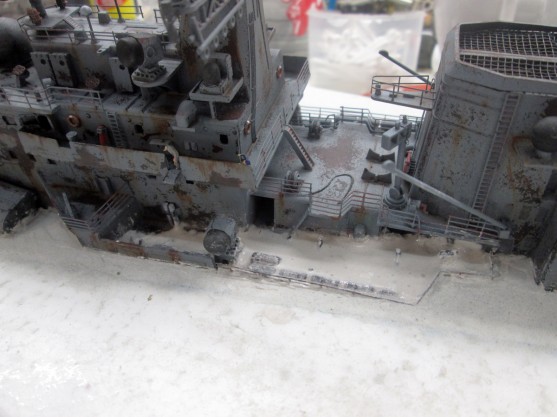 In some of the most hard to reach places I used a thin mix of plaster to get the ship to blend into the ice


The next steps where to:
Dry rust treatment with pigments

Snow on the ship, crane, trucks and building
Details like lamps, pollards etc.
Snow painting and powder snow
The sides of the diorama carefully masked to get a perfect edge between snow and black

And then its done! After adding antennas, tackling, icicles, snow and local recycling experts.
The icicles were done by painting Woodland Scenic water effect on super thin fish line and then letting it dry in tension. Surface frost was done by Tamiya flat base. Figures from Preiser, crane from Kibiri and Ship from Bronco: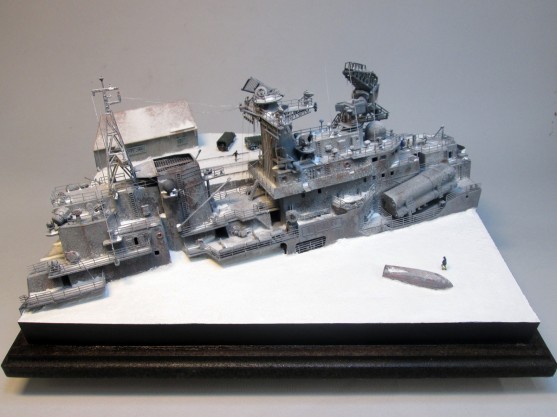 That last image is of course the mandatory scale comparison to a Swedish box of matches
All in all a really fun build!
Jonas